top headlines:
Wednesday, May 08, 2013
California: Privacy Groups Sue LAPD Over License Plate Readers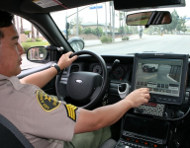 Privacy groups are upset that law enforcement has been using cameras to track the movements of motorists who are not suspected of any wrongdoing. To investigate how this information is used, the American Civil Liberties Union (ACLU) last year formally sought information on automated license plate recognition cameras (ALPR, also known as ANPR in Europe) from law enforcement agencies around the country. The Los Angeles, California Police Department (LAPD) refused to hand over some related documents, so the ACLU joined on Friday with the Electronic Frontier Foundation (EFF) in filing a lawsuit to compel disclosure. Police agencies and politicians claim the high-speed tracking cameras are only used to find stolen cars, but the machines in Los Angeles have already collected 160 million pieces of information on the public, including individuals not suspected of having committed any crime. The ACLU and EFF sought last August to obtain a sample week's worth of the actual data LAPD collected so that the public could judge for itself. "Location-based information like license plate data can be very revealing," EFF attorney Jennifer Lynch said in a statement. "By matching your car to a particular time, date and location, and then building a database of that information over time, law enforcement can learn where you work and live, what doctor you go to, which religious services you attend, and who your friends are. The public needs access to the data the police actually collected to be able to make informed decisions about how ALPR systems can and can't be used." In September, LAPD refused to hand over the sample data, claiming it "contains official information" and was part of an investigative file exempt from the public records law. The Los Angeles Sheriff's Department was even less responsive, refusing to disclose the number of vehicles on the "hot list" and the generic reason why individuals would ever be added to it. The sheriff's office even lost track of the information it was denying on "investigative" grounds by sending information to EFF that it refused to provide to ACLU. The groups point out that the right to obtain government documents is enshrined in California's constitution. "The people have the right of access to information concerning the conduct of the people's business, and, therefore, ...the writings of public officials and agencies shall be open to public scrutiny," Article 1 Section 3 states. Neither the LAPD nor the sheriff's department has filed a formal response. A Los Angeles County Superior Court judge will decide whether these agencies should be forced to hand over the information.


Tuesday, May 07, 2013
Australia: Another Toll Road Goes Bankrupt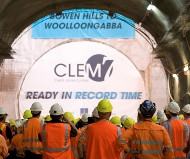 Transportation officials in the United States and around the world remain fascinated with tolling public-private partnerships as a method of financing roads, but tolling continue to prove itself an unreliable choice. Last week, the Rivercity Motorway Group's bankruptcy administrators began soliciting bids for the Clem7 toll road in Brisbane, Australia. The 4.2 mile tunnel links five major area roads at a cost of $8.10 per round trip -- a proposition few residents found worthwhile. A bankruptcy judge with the Federal Court of Australia explained the problem. "I have before me evidence, which I am satisfied discloses the following in relation to the tunnel business and its assets," Justice John Alexander Logan wrote. "Initial modelling and forecasts suggested that the average daily traffic which flowed through the tunnel in or around December 2010 would have been around 90,000 vehicles per day whereas the actual flow in that month was around 25,000 vehicles per day. The value of the tunnel business was written down in the corporate group's financial report for the year ended 30 June 2010 to $258 million." A recent study concluded many tolling projects suffer from the same optimistic forecasts. Here, it resulted in creditors being owed $1.4 billion, as the latest traffic numbers still hover in the 25,000 range. Bids on the road will be taken until May 13. "There is every reason to expect, in the context of a sale in respect of companies in liquidation, that very substantial losses indeed loom in prospect," Justice Logan wrote. Bankrupt toll roads have become a lucrative business for PPB Advisory, the company tapped to run the road until it can be sold. Administrators proposed in 2011 that they be paid $425,000 for their services, given the firm has a great deal of experience with failed public-private partnerships. In February, BrisConnections Group, operator of the Airportlink toll road, went bankrupt. In 2010, Connector Motorways Pty Limited, operator of the Lane Cove Tunnel toll road, went under. In 2007, the Cross City Tunnel toll road went bust. The same phenomenon is common in Europe. In Spain last year, ten toll concessions, including the Madrid-Toledo highway, became insolvent. The Spanish government provided more than a billion euros in bailout money to the tolling firms Abertis, Acciona, ACS, Bankia, Cintra, OHL and Sacyr Vallehermoso. Failures are equally common in the United States, beginning with the toll lanes on the 91 freeway in Orange County, California which had to be bought out by county taxpayers in 2003 for more than the original cost of construction. San Diego's South Bay Expressway went bankrupt in 2010 and was also bought out by county government. In South Carolina, the Greenville Southern Connector went bankrupt in 2010. Transurban, the Australian company that runs the Pocahontas Parkway in Richmond, Virginia, wrote down the toll road as having a value of $0 last year.


Monday, May 06, 2013
Iowa Supreme Court Approves Use Of Tinted License Plate Covers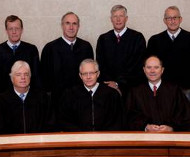 Motorists can use a license frame with a tinted cover, the Iowa Supreme Court affirmed in an April 26 ruling. The court considered the case of Tommy Tyler Jr. whose white Cadillac Escalade was stopped at 2am on October 13, 2010 as it was driving along Merle Hay Road in Johnston. Officer Brad Lowe, who was waiting in the parking lot of Dragon Car Wash, recognized the Escalade that he had pulled over two days earlier over its plate cover. "It appeared the vehicle had a tinted license plate cover on the front of the license plate," Officer Lowe testified. "I then pulled out behind the vehicle and also noticed that it had a license plate cover obstructing the view of the plate on the rear as well." Before getting out of his squad car, Officer Lowe called in the license plate to dispatch, showing he could easily read the plate number and see the registration stickers. Iowa allows traffic stops to occur if, from the standpoint of an objectively reasonable police officer, a traffic violation was committed. Here, Officer Lowe cited Iowa Code 321.37 as the sole basis for the stop, arguing that the state banned tinted plates. The justices ruled this a mistake. "In fact, the cited code section does not proscribe tinted license plate covers. Rather, it proscribes placement of any frame or cover 'which does not permit full view of all numerals and letters printed on the registration plate,'" Justice Bruce B. Zager wrote for the court. "Officer Lowe told Tyler during the stop that he had pulled him over because of tinted license plates. Tinted license plates are not a violation of Iowa law, and the state does not contend otherwise." State prosecutors attempted to provide several arguments in their briefs suggesting the traffic stop was reasonable. One argument suggested there could have been dirt on the license plate that made it unreadable from a distance. The court brushed these aside. "Again, the evidence is to the contrary as the videotape shows no foreign materials on the plate," Justice Zager wrote. "It is not Tyler's responsibility to prove a negative -- that there was no conceivable reason for a stop." At trial, Tyler brought in expert witnesses to prove his plate was clear and readily visible at night. The high court was persuaded that the trial court was wrong and that Officer Lowe could read the plate, contrary to his claim at trial. "The officer's testimony that there was a 'glare' and that the plates were occasionally 'blurry' does not indicate any difference between Tyler's covered plate and an uncovered license plate," Justice Zager wrote. "If we were to hold that an officer's mistaken conclusion that any plate that gave off a glare or was blurry in the intermittent brightness of street lights at 2:00 in the morning had an illegal cover, we would be giving law enforcement officers carte blanche to pull over any motorist at any time, as sunlight could also cause glaring and blurriness on an uncovered plate. We decline to extend the authority of law enforcement officers to execute traffic stops based on the facts as described in this case." The court noted that Officer Lowe admitted he was targeting the Escalade because he had stopped it before. Tyler suggested he was stopped for driving while black. The court let that slide, because with no objectively reasonable fact suggesting the plate was obscured, the evidence from the traffic stop was suppressed leaving prosecutors with no basis to maintain Tyler's drunk driving conviction. A copy of the decision is available in a 125k PDF file at the source link below.
Source:

Iowa v. Tyler (Iowa Supreme Court, 4/26/2013)


Sunday, May 05, 2013
Israel, Poland: Speed Cameras Attacked
Vigilantes near Lodz, Poland painted a speed camera pink on Monday, Polskie Radio reported. The device had been issuing tickets on the road between Gmina Sieradz and Zdunska Wola. A woman about to join the Israeli Defense Forces burned a speed camera in Haifa, Israel last July. She admitted to the act and was sentenced this week by a district court judge. According to Ynet News, she was sentenced to 500 hours of community service and a 25,000 sheckel (US $6970) fine.


Friday, May 03, 2013
Florida Increases Maximum Red Light Camera Ticket Fine To $408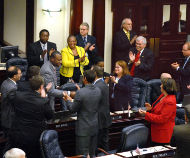 The Florida Legislature on Thursday gave final approval to legislation limiting the due process available to recipients of red light camera tickets and increasing the potential penalty for those challenging a fine to $408. The changes were included in a 220-page omnibus transportation bill which saw more than sixty amendments considered. The final package was adopted unanimously in the state Senate and with only one dissenting vote in the state House. Earlier in the day, the House had approved language that would have entirely banned right turn on red tickets, which remain a major source of revenue for municipalities. This was stripped out and replaced with a less significant provision forbidding municipalities and red light camera companies from issuing limit line "gotcha" tickets that are mailed to drivers who did not stop at the arbitrary painted stop bar but, instead, at the edge of the intersection to look left to check oncoming traffic. "A notice of violation and a traffic citation may not be issued under this section if the driver of the vehicle came to a complete stop after crossing the stop line and before turning right if permissible at a red light, but failed to stop before crossing over the stop line or other point at which a stop is required," House Bill 7125 states. Another change gives vehicle owners sixty days to contest a violation instead of thirty days, but the rest of the bill's changes were authored for the benefit of municipalities and red light camera companies. The bill states if a ticket is dropped in the mail, it constitutes proper "notification," even if the photo ticketing company mails the notice to the wrong address. Instead of having cases heard by judges, cities and counties can set up hearings run by city staff. "Formal rules of evidence do not apply," the bill states. If the designated city or county staff member decides the photo ticket is valid, he can impose $250 in costs on top of the $158 ticket for a total of $408. If someone who files a challenge later decides it is not worth the risk, he will be automatically fined $50 on top of the $158 ticket cost. Under the bill, Florida will suspend the vehicle registration renewal for anyone who fails to pay or never receives a red light camera ticket. The law specifically forbids a challenge to the validity of the underlying ticket from individuals who learn of a the alleged violation while trying to renew a license plate. The new provisions will become law on July 1 if signed by Governor Rick Scott (R). A copy of the bill is available in a 900k PDF file at the source link below.
Source:

House Bill 7125 (Florida Legislature, 5/2/2013)




This is a journal covering motoring issues from around the world from a political perspective.


search tips | about us | site map

Subscribe
Receive free email or RSS news updates.

Key Documents
Documents, studies and memos about camera enforcement.

Archives
View previous news items.

Feedback
Contact the editors.

View Main Topics:

Popular Stories

-Missouri Cop Harassment Video

-Photo Enforcement Bans

-Most Popular Stories

Popular Studies

-Red Light Camera Study Roundup

-2007 Virginia DOT: Cameras Increase Injury Accidents

-2005 Washington Post: Accidents Doubled with Cameras

-2004 North Carolina: Red Light Camera Study (Burkey-Obeng)

-Majority Leader Armey Red Light Camera Report

-Longer Yellows Reduce Crashes (TX Transportation Institute)

-HOV/Carpool Lanes Cause Accidents




Since 1999, Washington, D.C. cameras have issued 4,500,103 tickets worth $312 million (as of 5/30/10).