top headlines:
Monday, November 25, 2013
California: Court Rejects Confrontation Argument Against Cameras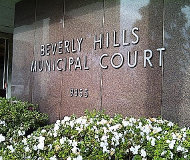 Forget fighting a red light camera ticket with a Confrontation Clause argument in Beverly Hills, California. A three-judge panel of the Superior Court's appellate division in July upheld the citation issued to motorist Tayo Popoola, denying his argument that he was unable to confront the real witness against him, the private, for-profit firm Affiliated Computer Services (ACS, now Xerox). An ACS camera photographed Popoola's car as it went through the intersection at Beverly Boulevard and Robertson Boulevard in West Hollywood on November 1, 2011 after the light allegedly had been red for 0.3 seconds, which is the average amount of time it takes for an eye to blink. Popoola argued to the Beverly Hills trial court that he had a right to cross-examine the ACS personnel who owned and operated the cameras that accused him. Los Angeles Sheriff's Department Deputy Zenon Porche testified that he was qualified to do so because he has helped certify 200,000 automated tickets -- about $50 million worth -- since 1999. ACS performs three maintenance checks a month and Deputy Porche confirms the maintenance logs produced by the company. Twice per month, Deputy Porche inspects each camera intersection himself. At issue is the applicability of the US Supreme Court decision Melendez-Diaz v. Massachusetts which held that the technicians who issue certificates of analysis for evidence must appear as witnesses in a trial under the Sixth Amendment. The 2011 case Bullcoming v. New Mexico applied the issue to a drunk-driving case. "Suppose a police report recorded an objective fact -- Bullcoming's counsel posited the address above the front door of a house or the read-out of a radar gun," Justice Ruth Bader Ginsburg wrote for the majority in 2011. "Could an officer other than the one who saw the number on the house or gun present the information in court -- so long as that officer was equipped to testify about any technology the observing officer deployed and the police department's standard operating procedures? As our precedent makes plain, the answer is emphatically 'No.'" The appellate judges in Los Angeles County distinguished the breath readings, radar gun readouts and lab results as "testimonial" evidence distinct from the generalized information on the data bar of a red light camera photo that shows the yellow timing, time and date, and how long the light had been red at the time of the alleged violation. "At the time the information in the data bar was gathered by the automated red light enforcement system, the driver of the vehicle had not yet been identified," Judge Patti Jo McKay wrote for the court. "Furthermore, there is nothing to show that the information in the data bar was formalized in any manner. As such, the automated red light enforcement system evidence did not implicate defendant's Sixth Amendment rights." The court affirmed the judgment of Popoola's guilt and confirmed the $500 fine, noting that Deputy Porche had personal knowledge regarding the issues about which he testified. A copy of the decision is available in a 1.2mb PDF file at the source link below.
Source:

California v. Popoola (California Superior Court, Appellate Division, 7/25/2013)


Sunday, November 24, 2013
France, Germany, Italy, UK: Speed Cameras Burn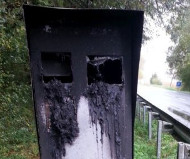 Last week Saturday, a speed camera on the RD1215 in Saint-Laurent de Medoc was set on fire at around 11pm, Sud Oest reported. The fire did not completely destroy the camera. A speed camera was set on fire at 7:30am last week Sunday in Morbihan, Ouest France reported. On Saturday, a camera in Ouges was covered in blue spraypaint, according to Bien Public. Later that evening, a newly installed speed camera on the RD1916 in Verdun was set on fire, according to Lor'Actu. On Monday, three more cameras were attacked along the RD824 running through the towns of Meillan, Saint-Paul-les-Dax and Mees. Sud Oest reports that the camera lenses were spraypainted purple. In Ratingen, Germany last week Saturday vigilantes attacked a speed camera on Kalk Strasse, bending the device at a 45 degree angle, making it impossible for the machine to issue tickets. Police have no idea who might be responsible. Vigilantes in Pavia, Italy shot a speed camera on the Vigentina on Tuesday, La Provincia Pavese reported. In Fermo, speed cameras along the Via San Marco alle Paludi were knocked over. According to Informazione.tv, the devices had not been activated. Vigilantes set fire to a speed camera in Leicestershire, England on November 14, the Loughborough Echo reported. The device was located on the A6 Loughborough Road.


Friday, November 22, 2013
Goldman Sachs Gives Its Own Traffic Camera Executive An Award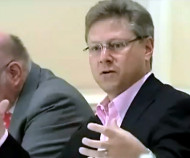 Investment bankers at Goldman Sachs are pleased with the performance of American Traffic Solutions (ATS), the red light camera and speed camera company that it has given the company an award. ATS has picked up business as its primary competitor, Redflex Traffic Systems of Australia, has been bogged down in the wake of multiple bribery investigations. Late last month, Goldman Sachs decided to promote ATS CEO James D. Tuton as one of the "100 most intriguing entrepreneurs of 2013" at the Goldman Sachs Builders and Innovators Summit. "I am honored to have been included with this group of visionaries," Tuton said in his statement upon receiving the award. "The opportunity to be among America's next wave of the best and brightest innovators and share stories and ideas was an inspiring experience." Left out of Tuton's own announcement was any disclosure that Goldman Sachs is the single largest shareholder in ATS. The investment bank bought a 30 percent stake in the photo ticketing firm in 2008 shortly after receiving $5.6 billion in federal taxpayer bailout funds. The buy entitled Goldman to seats on the ATS board of directors, and the cash infusion helped ATS buy out smaller rivals to further expand market share. The second annual Goldman Sachs award event held at the Ritz-Carlton luxury resort outside Tucson, Arizona drew big name guests, including Hillary Clinton. The former secretary of state charges $200,000 to appear at such events to make a speech, but with a net income of $41 billion last year, Goldman could afford the high-dollar guests. As a privately held company, ATS keeps its finances a secret, though it boasts revenue "in excess of $200 million." This is substantially more than Redflex, which reported just $137 million in revenue last year. All is not well for ATS, however. Not long after the summit, however, Tuton lost a key ruling before the Missouri Court of Appeals that has caused a half-dozen cities to freeze their red light camera programs (view ruling). ATS had pushed municipalities in the state to rush red light cameras into service despite the lack of a statewide authorization law. Tuton's own attorney had warned him in 2005 that doing so was likely to be found illegal (view full letter). The potential for refunds in Missouri and Florida could cost ATS, and its largest shareholder Goldman Sachs, millions.


Thursday, November 21, 2013
Oregon: Cracked Windshield Traffic Stop Fails Without Evidence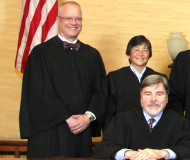 The mere assertion that a cracked windshield might be dangerous does not justify a traffic stop, the Oregon Court of Appeals ruled last week. State prosecutors attempted to use a catch-all safety statute about driving a vehicle with an "obstructed view" to convict George Duane Anderson, who had been stopped after a Jackson County sheriff's deputy saw the windshield of Anderson's pickup truck. "I noticed a large crack going through the windshield of that vehicle and that is why I stopped the vehicle," Deputy McKay testified. "The crack was going from -- stretching from the passenger side across the windshield all the way to the driver's side of the vehicle... So it would have been kind of in the eyesight area." As a result of the traffic stop, Anderson was charged with driving on a suspended license and driving with an obstructed vehicle window. The deputy failed to photograph the windshield, so his testimony served as the only evidence in the trial. The deputy also noted the wrong statute on the citation. Anderson denied the the "driving an unsafe vehicle" and "operation of a vehicle that is loaded or equipped to obstruct the driver" applied to his situation. Jackson County Circuit Court Judge Timothy Barnack disagreed and found Anderson guilty, but the a three-judge Court of Appeals panel found that Anderson was actually right. "The difficulty for the state's position is that there is insufficient evidence about the nature of the crack to conclude that McKay's observations made it objectively reasonable to believe that the windshield created the probable risk of harm or loss necessary to establish a violation," Judge James C. Egan wrote for the appellate panel. It is not enough under Oregon law to claim that a crack in the windshield could possibly cause a dangerous situation. The court found that to be overly speculative, and that police must prove that harm is probable, not possible, which is something the state failed to do. "There was no evidence whatsoever about the size or extent of the spiderwebbing or about its effect on the opacity of the windshield," Judge Egan wrote. "Although there may well be instances where a windshield crack interferes with a driver's vision to the point where driving the vehicle creates a probable risk of harm or loss, the state has not carried its burden to establish that it was objectively reasonable for McKay to conclude that such was the case here. Accordingly, the trial court erred in denying defendant's motion to suppress on the ground that there was probable cause at the time of the stop for McKay to conclude that defendant had violated ORS 815.020." A copy of the decision is available in a 60k PDF file at the source link below.
Source:

Oregon v. Anderson (Court of Appeals, State of Oregon, 11/14/2013)


Wednesday, November 20, 2013
Pennsylvania: Man Arrested For Criticizing Cops Speeding Sues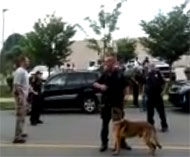 A school teacher is seeking compensation after he was arrested in Pittsburgh, Pennsylvania for criticizing police officers who violated the speed limit. The American Civil Liberties Union of Pennsylvania filed a lawsuit on Tuesday on behalf of Dennis Henderson, who spent twelve hours in jail. On June 26, 2013, Henderson left a community meeting and was standing on the side of the road talking with New Pittsburgh Courier photographer Rossano Stewart. Officer Jonathan Gromek zipped past in his squad car close to the men, so Henderson jumped back and yelled, "Wow." Officer Gromek made a U-turn and confronted Henderson. "I don't even know how he heard that," Stewart said on the day of the incident. "He came back and said, 'You got a problem with the way I'm driving?' ...He got out of the car and he started being aggressive. He started walking towards us." Henderson told Officer Gromek that he wanted to file a complaint and he wanted his badge number. The officer grew angrier. "So he said, 'I tell you what, both of you, you got ID?'" Stewart recalled. "So I showed him my ID. 'You got a problem with that, you can talk about it downtown. Both of you are now under arrest.'" Henderson and Stewart were handcuffed, more police arrived and a crowd gathered. Stewart was released, but Henderson was booked at Allegheny County Jail where he was forced to spend the night on charges of obstruction of highways, disorderly conduct by means of unreasonable noise, and resisting arrest. The city itself admits the arrest was bogus and the charges were dropped. "Based upon our investigation, Officer Gromek was found to have violated the following Pittsburgh Bureau of Police policies; conduct toward the public, conduct unbecoming and incompetency," Pittsburgh's Office of Municipal Investigations Manager Kathy Kraus wrote in an October 1 letter to Henderson. A social studies teacher at Manchester Academic Charter School, Henderson filed the lawsuit to serve as a lesson for more than just the local police. "I want to show my students that, regardless of your neighborhood, ethnicity, attire, age, or socioeconomic status, no one should be harassed, arrested and placed into the criminal justice system by a police officer who operates under a code of profiling, provoking and arresting individuals without just cause," Henderson said in a statement. The ACLU lawsuit alleges Officer Gromek violated Henderson's First Amendment right peacefully to express himself, his Fourth Amendment Right not to be falsely arrested and imprisoned, and his Fourteenth Amendment right to equal protection under the law.




This is a journal covering motoring issues from around the world from a political perspective.


search tips | about us | site map

Subscribe
Receive free email or RSS news updates.

Key Documents
Documents, studies and memos about camera enforcement.

Archives
View previous news items.

Feedback
Contact the editors.

View Main Topics:

Popular Stories

-Missouri Cop Harassment Video

-Photo Enforcement Bans

-Most Popular Stories

Popular Studies

-Red Light Camera Study Roundup

-2007 Virginia DOT: Cameras Increase Injury Accidents

-2005 Washington Post: Accidents Doubled with Cameras

-2004 North Carolina: Red Light Camera Study (Burkey-Obeng)

-Majority Leader Armey Red Light Camera Report

-Longer Yellows Reduce Crashes (TX Transportation Institute)

-HOV/Carpool Lanes Cause Accidents




Since 1999, Washington, D.C. cameras have issued 4,500,103 tickets worth $312 million (as of 5/30/10).