top headlines:
Monday, October 13, 2014
Chicago, Illinois Resists Short Yellow Refunds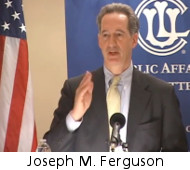 Officials in Chicago, Illinois are doing their best to resist the increasingly loud calls for a refund of 77,000 red light camera tickets issued at intersections where the yellow warning time was illegally short. Joseph M. Ferguson, the city's inspector general, revealed on Friday that tickets were issued at intersections where the yellow time was 2.9 seconds, which falls before the bare minimum 3.0 seconds required under federal regulations. Ferguson was tapped to examine the red light camera program after the Chicago Tribune noticed unexplained spikes in photo tickets. The inspector general found that the spikes were caused by several problems that might have been discovered and remedied had Chicago officials paid attention to what its private, for-profit vendors, Redflex Traffic Systems of Australia and Xerox, were doing. "In this review as well as OIG's previous audit of red-light camera placement, we found that the city has historically been seriously deficient in meeting its duty to actively manage this public safety program, one which directly affects the entire city," Ferguson said. "Outsourcing to the private sector need not and should not be an occasion for benign neglect to actively manage important government functions such as the red light camera program." Chicago's camera vendors issued 5,009,831 red light camera tickets worth $520,289,186 since 2003. Redflex pocketed $126 million from this amount, only to be swept up in an ongoing federal bribery investigation. Xerox was called in to replace Redflex earlier this year. Chicago officials gave the go ahead for Xerox to begin issuing tickets at intersections where the yellow time was 2.9 seconds, something Redflex did not do. Officials cited National Electrical Manufacturers Association (NEMA) standards that allow 0.1 second variance on traffic controllers. This private-industry standard allows signal timing to drop as low as 2.6 seconds before a fault code is triggered. Administrative law judges have thrown out the 2.9 second tickets saying they were in violation of binding federal regulations, regardless of NEMA tolerances. The city temporarily stopped issuing 2.9 second tickets on September 22. The city announced Friday it would end the practice permanently -- without admitting fault that would result in issuing $7.7 million worth of refunds. "Out of an abundance of caution and to support consistency in the program, the city has directed Xerox to cease issuing violations if the measured amber time during the event is under the programmed time, even though the violations are valid and meet nationally recognized standards," Chicago Department of Transportation Commissioner Rebekah Scheinfeld wrote on Friday. The audit report uncovered a number of other problems with the program. At the intersection of 119th Street and Halsted Street, the trigger speed for the camera dropped from 15 MPH to 5 MPH for seven weeks in 2011. That change generated $161,800 worth of tickets. At Lincoln Avenue and McCormick Road, the sensor in the turn lane only functioned intermittently, generating the spikes. At Halstead Street and Fullerton Avenue, there was a spike for two days when the traffic signal pole was damaged, making the red light impossible to see from certain angles. When Xerox took over from Redflex, Xerox erased all the hard drives containing Redflex maintenance records, making it impossible to determine whether the settings on the cameras had been intentionally tampered with. The inspector general recommends that Chicago put online the business rules that Xerox and subcontractor IBM use to determine who is guilty, copies of internal evaluations of the program, documentation explaining camera placement decision and anything else that sheds light on camera operations. The city agreed to make most of this information available. A copy of the audit report is available in a 4mb PDF file at the source link below.
Source:

Red Light Camera Program Review (Chicago, Illinois Inspector General, 10/10/2014)


Sunday, October 12, 2014
France, Germany: Traffic Cameras Bashed, Trashed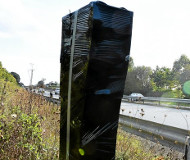 In Drennhausen, Germany vigilantes trashed a traffic camera last week. According to Kreiszeitung Wochenblatt, the automated ticketing machine was left a twisted wreck after being severely bashed. In Pleslin-Trigavou, France, vigilantes completely wrapped a speed camera in black plastic and duct tape on Tuesday. Le Telegramme reports that the same device on the RN176 had been spraypainted yellow last year.


Friday, October 10, 2014
ACLU Sues Delaware Town Over Flashing Headlight Ticket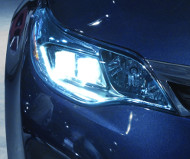 Anthony Jackson is a thoughtful motorist. He noticed a police officer hiding behind a bridge as he drove past the bottom of a hill on Main Street in Smyrna, Delaware on April 19. To save his fellow motorists from the prospect of an expensive traffic ticket, he flashed his headlights, warning traffic in the opposite lane to slow down. Smyrna Police Officer W. Davis was driving north on Main Street when he saw the flash. Incensed, he immediately performed a U-turn across a median strip so he could pull over whoever was responsible for interfering with a fellow officer's speed trap. After Jackson was pulled over, he was charged with violating 21 Delaware Code Section 4155(d), which deals with the flashing of turn signals, not headlights. Jackson appeared at trial to challenge the ticket, but Officer Davis did not show and the complaint was dismissed. He was not going to let the town get away with what he considered a violation of his rights. On Monday, the American Civil Liberties Union of Delaware filed a lawsuit alleging that Smyrna routinely stops motorists for similar non-offenses knowing that nearly all of the accused will pay the fine rather than go through the effort and expense of disputing the ticket. The activist group accuses the town of abusing the law, and the Constitution, to generate revenue. "The First Amendment gives people the right to flash their headlights to send a message," ACLU of Delaware legal director Richard H. Morse said in a statement. Jackson seeks compensation for the two days of wages he lost while attending court hearings. Because he has to drive through Smyrna to get to work, Jackson wants a federal judge to force the town to change its policies. "Jackson fears retaliation from the Smyrna Police and fears that he will be arrested again without just cause while driving within the town of Smyrna, for example if he were to flash his headlights again," the suit alleges. "The above described policies and customs demonstrated a deliberate indifference on the part of policymakers in the town of Smyrna to the constitutional rights of persons within the town, and were the cause of the violations of plaintiffs' rights alleged herein."


Thursday, October 09, 2014
Orange County, California Advances Ordinance Banning Red Light Cameras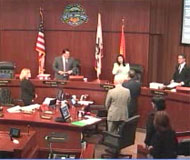 America's sixth most populous county is fed up with red light cameras, and the Orange County, California Board of Supervisors is determined to do something about it. On Tuesday, they unanimously approved to the first draft of an ordinance that outlaws the use of automated ticketing machines on roads within the incorporated areas of the county. This includes Coto de Caza, Ladera Ranch, North Tustin and Santiago Canyon. Board Chairman Shawn Nelson explained that the measure only affects ticket cameras. "It's for the purpose of [banning] traffic enforcement without the involvement of a human being," Nelson said. "It's just automatic. We don't have those here, but I suppose we could." The measure was met with enthusiastic support. "I'm very supportive of this, and I'm glad you brought it forward," Supervisor Todd Spitzer said. "There's clearly a public sentiment that these things need to go." The only red light camera that would have to be removed is at Tustin Avenue and 17th Street. One side of the intersection is in Santa Ana, but the other is within unincorporated North Tustin. Santa Ana voted to dump cameras in March (the program will cease operations when the contract expires next year). This is part of a broader trend in the state and in the county. Anaheim saw 73 percent of voters choose to ban red light cameras in 2010. Newport Beach voters banned them in 2012. Picking up on this trend, the city councils in Laguna Nigel and Orange also voted to prohibit their use. Spitzer called for a broader discussion of the way other types of cameras are used. "This is going to be a big issue for society about how much information are we going to gather on people that's being used for law enforcement justification," Spitzer said. "For some of us it's a real intrusion into our private lives." The measure will go before the board for final approval on October 23. "Automated traffic enforcement systems, as the term is used in California Vehicle Code Section 21455.5, as it now exists or hereinafter may be amended or re-worded, shall not be installed within any locations in incorporated Orange County, used for any purpose on a County street or highway that is within the jurisdiction of the County of Orange, or used for any purpose related to traffic enforcement within the incorporated areas of Orange County," the proposed ordinance states. Throughout California, nearly sixty cities have dropped their red light camera programs, including Bell Gardens, Belmont, Berkeley, Burlingame, Compton, Corona, Costa Mesa, Cupertino, El Cajon, El Monte, Escondido, Emeryville, Fairfield, Fresno, Fullerton, Gardena, Glendale, Grand Terrace, Hayward, Highland, Indian Wells, Inglewood, Irvine, Laguna Woods, Lancaster, Loma Linda, Long Beach, Los Angeles, Maywood, Montclair, Moreno Valley, Oakland, Oceanside, Paramount, Pasadena, Poway, Rancho Cucamonga, Redlands, Redwood City, Rocklin, Roseville, Rowland Heights, San Bernardino, San Carlos, San Diego, San Jose (photo radar), San Juan Capistrano, Santa Fe Springs, Santa Maria, Santa Rosa, South Gate, Union City, Upland, Walnut, Whittier, Yuba City and Yucaipa. The city councils of Laguna Niguel and Orange passed ordinances banning cameras in 2011. Residents of Anaheim, Murrieta and Newport Beach voted to ban red light cameras at the ballot box.


Wednesday, October 08, 2014
Dayton, Ohio Red Light Cameras Exploit Short Yellows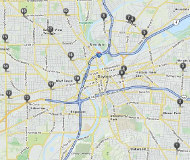 Dayton, Ohio's red light cameras have generated more than $8 million over the past two years. Many of the $85 automated tickets are issued at intersections where the yellow signal warning times fall short of the minimum allowed under state law. In 2008, Governor Ted Strickland (D) signed House Bill 30 into law, requiring yellow times to be one second longer at any intersection where a red light camera was installed. Lawmakers were following the lead of Georgia which had adopted the first of its kind longer yellow law a month earlier. A few cities, including Atlanta, were caught attempting to ignore Georgia's then-new law, which produced an 80 percent reduction in violations in compliant cities. Ohio's signal timing statute requires photo enforced intersections to have yellow durations one second longer than "similar" intersections in the city. Since the minimum yellow timing under federal regulations is 3.0 seconds, any time shorter than 4.0 seconds is automatically in violation of the law. Cities were given until March 12, 2009 to comply with the directive. Dayton has failed to do so. According to documents provided by the city, the yellow time at the intersection of West Third Street and James H. McGee Boulevard is 4.6 seconds -- only a 0.6 increase from the amount of warning time given before 2008. The left turn signal, however, is below the 4.0 second minimum at just 3.5 seconds. The signal timings are identical at North Main Street and Hillcrest Avenue; Salem Avenue and North Avenue; and Troy Street and Stanley Avenue (with Troy Street kept shortened to 4.0 seconds). State law is explicit in requiring longer yellows in turn lanes. "A local authority that uses traffic law photo-monitoring devices to enforce any traffic law at an intersection where traffic is controlled by traffic control signals that exhibit different colored lights or colored lighted arrows shall time the operation of the yellow lights and yellow arrows of those traffic control signals so that the steady yellow indication exceeds by one second the minimum duration for yellow indicators at similar intersections as established by the provisions of the manual adopted by the department of transportation under section 4511.09 of the Revised Code," Ohio Revised Code 4511.094 states. In a review of signal timing throughout the state, most other cities applied the same duration of yellow to the straight-through lanes and the turning lanes. Dayton may also be in violation for failing to add a full second at intersections compared to the yellow durations before the law took effect. Each fraction of a second difference in yellow time can have a significant influence on the number of red light camera citations issued. The majority of straight-through red light "violations" happen when a driver misjudges the end of the yellow light by less than 0.25 seconds -- literally the blink of an eye (view Texas Transportation Institute (TTI) chart). In most cases, a yellow shortened by one second can increase the number of tickets issued by 110 percent, according to TTI (view report).




This is a journal covering motoring issues from around the world from a political perspective.


search tips | about us | site map

Subscribe
Receive free email or RSS news updates.

Key Documents
Documents, studies and memos about camera enforcement.

Archives
View previous news items.

Feedback
Contact the editors.

View Main Topics:

Popular Stories

-Missouri Cop Harassment Video

-Photo Enforcement Bans

-Most Popular Stories

Popular Studies

-Red Light Camera Study Roundup

-2007 Virginia DOT: Cameras Increase Injury Accidents

-2005 Washington Post: Accidents Doubled with Cameras

-2004 North Carolina: Red Light Camera Study (Burkey-Obeng)

-Majority Leader Armey Red Light Camera Report

-Longer Yellows Reduce Crashes (TX Transportation Institute)

-HOV/Carpool Lanes Cause Accidents




Since 1999, Washington, D.C. cameras have issued 4,500,103 tickets worth $312 million (as of 5/30/10).