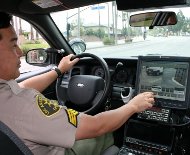 1/28/2016

EFF: Plate Readers Turn Texas Cops Into Mobile Debt Collectors
Commentary by Electronic Frontier Foundation on how Texas police have teamed up with license plate reader companies for profit.


By Dave Maass, Electronic Frontier Foundation Vigilant Solutions, one of the country's largest brokers of vehicle surveillance technology, is offering a hell of a deal to law enforcement agencies in Texas: a whole suite of automated license plate reader (ALPR) equipment and access to the company's massive databases and analytical tools -- and it won't cost the agency a dime. Even though the technology is marketed as budget neutral, that doesn't mean no one has to pay. Instead, Texas police ...




---