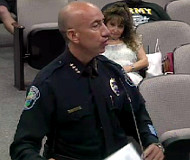 7/14/2015

Florida: Vendor Tries To Save Red Light Cameras Despite Accident Rise
For $100,000, ATS buys itself 60 days to strike a new red light camera deal in Hollywood, Florida.


Accidents are up at the intersections with red light cameras in Hollywood, Florida, but American Traffic Solutions (ATS) is desperate to keep the troubled system alive. City commissioners last week unanimously approved an ordinance to dump the controversial devices, only to back away from the resolution after ATS proposed a last-minute deal. The company will, in effect, pay the council to ignore the city police chief's warning about the impact of automated ticketing since January 2011. "Just ...




---