top headlines:
Monday, August 18, 2014
New Mexico Sheriff Busted Over Brutal Road Rage Traffic Stop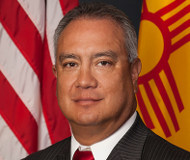 A road rage incident could put the top law enforcement officer in Rio Arriba County, New Mexico behind bars. Federal prosecutors on Friday charged Sheriff Thomas R. Rodella with civil rights violations, brandishing a firearm and falsifying documents related to a March 11 traffic stop of Michael Tafoya on Highway 399. According to the federal complaint, Sheriff Rodella and his son, Thomas R. Rodella Jr, were speeding in a personal Jeep Wrangler SUV when they approached Tafoya's white sedan, which was observing the 35 MPH speed limit. Rodella tailgated the sedan, and Tafoya tapped the brakes, infuriating Rodella. Eventually, Tafoya pulled to the side so Rodella could pass. Instead of passing, Rodella also pulled over, got out of his Jeep and motioned Tafoya to fight. Since Rodella was not in uniform, Tafoya had no idea that he was a law enforcement officer, so he got back in his car and took off at high speed. The younger Rodella got behind the wheel of the jeep and began pursuit, eventually blocking Tafoya into a dead-end private street. Sheriff Rodella allegedly pulled out a revolver, opened Tafoya's car door and began pistol whipping him as the motorist begged not to be shot. The younger Rodella grabbed Tafoya out of the car and threw him onto the ground. "Don't you know that is the sheriff?" the younger Rodella asked. When Tafoya asked to see a badge, Sheriff Rodella slammed it into his face. Deputies were called to the scene, and Tafoya was hauled in to the Rio Arriba County Detention Center and booked, charged with assaulting the Rodellas. "I was concerned for my life and the lives of others as the driver had made more than one attempt to run me over," Sheriff Rodella wrote in his report. The Federal Bureau of Investigation looked into the incident and found evidence that Tafoya's version of events was credible. "As the lead agency for enforcing federal civil rights laws, the FBI wants to make it clear no one is above the law, regardless of what uniform you wear or rank you hold," FBI Special Agent in Charge Carol K.O. Lee said in a statement. "Those charged with upholding the law must and will be held accountable." The Rodellas each face up to twenty years in prison for the falsified document charge and a mandatory minimum of seven years on the weapons charge, if convicted.


Sunday, August 17, 2014
Estonia, France: Speed Cameras Spraypainted, Burned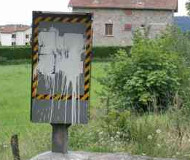 In Vaana-Jyesuu, Estonia, vigilantes disabled a speed camera last week Sunday. According to the Posttimees, white spraypaint covered the automated ticketing machine's lenses, marking the fourth time since August that a speed camera has been damaged in the area. White paint was also the weapon of choice in Bellevue-la-Montagne, France. Mon 43 reported that vigilantes used white paint to disable the automated ticketing machine on the RD906. In Firmi, vigilantes set fire to the Decazeville speed camera just after midnight on Thursday, La Depeche reported.


Friday, August 15, 2014
Redflex Unlawful Termination Lawsuit Kicked Back To State Court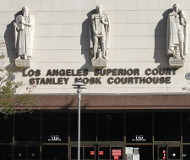 After wasting months of the federal court's time, Redflex and the Australian firm's former executive vice president returned Thursday morning to the Stanley Mosk Courthouse in Los Angeles, California to provide Superior Court Judge Susan Bryant-Deason with an update on their unlawful termination dispute. Redflex fired the first shot in the legal tussle by suing Aaron M. Rosenberg, a former top executive, over his role in the Chicago, Illinois bribery scandal. Rosenberg countersued in a California court, claiming he was merely acting under orders from his superiors at Redflex and that the Australian firm has been using him as a scapegoat. Redflex removed the case to a federal court in May. Rosenberg has been cooperating with federal prosecutors, freely admitting that he bribed clients in a dozen states on the orders of his boss, Karen Finley, who was indicted for corruption on Wednesday. Last month, US District Court Judge George H. Wu granted Rosenberg the right to cross-examine Redflex witnesses to establish whether he was the employee of a legitimate California company, or whether "Redflex California" was a sham. The answer to this question would determine whether the state or the federal court should assume jurisdiction over the ongoing employment dispute. Redflex became uncomfortable when Rosenberg began asking too many questions. "Plaintiff [Rosenberg] has gone well beyond any reasonable boundaries of the court's order allowing 'limited' jurisdictional discovery, by serving two separate notices for lengthy 30(b)(6) depositions with 25 broad topics, in addition to serving separate 26 written discovery requests on each defendant -- 102 total requests," Redflex attorneys complained. "Plaintiff's lengthy, overbroad and unnecessary discovery is plainly designed to harass defendants and to cause a needless increase in the cost of litigation." Rosenberg asked a number of questions about the corporate structure of Redflex and its subsidiaries, focusing on the Culver City office known as "Redflex CA." Rosenberg filed a number of topics of inquiry, such as: "Deposition Subject Number 7: The business practices of Redflex CA, including its solicitation, negotiation and execution of Redflex CA contracts with Redflex CA contracting parties." Redflex would only agree to a single four-hour deposition on "limited topics." It also sought a protective order from the court to guarantee that "trade secrets" would not be revealed by Rosenberg's questions. As soon as Judge Wu refused to grant the protective order, the Australian firm relented and gave in to allow the case to be sent back to the Los Angeles courtroom.


Thursday, August 14, 2014
Redflex Officials Charged With Bribery, Fraud, Conspiracy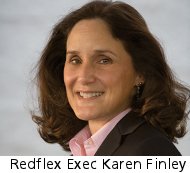 The former head of US operations for Redflex Traffic Systems was indicted Wednesday by a federal grand jury. Karen Finley, 54, was charged with nine counts of mail fraud, three counts of wire fraud, three counts of bribery and one count of conspiracy to use bribes to win and expand a lucrative red light camera contract with Chicago, Illinois worth $124 million. "Rooting out public corruption remains one of the FBI's highest priorities," Robert J. Holley, special agent-in-charge of the Chicago office of the Federal Bureau of Investigation, said in a statement. "Today's indictment underscores our commitment to work in a collaborative effort to promote honest and ethical government at all levels and to prosecute those who allegedly violated the public's trust." In May, federal prosecutors indicted John Bills, Chicago's deputy transportation commissioner, for accepting $643,000 worth of cash and benefits from Redflex in return for his providing essential insider information on how to win the lucrative contract for what became the world's largest municipal red light camera program. The money and gifts were delivered through Martin O'Malley, a Redflex contractor who was friends with Bills and was also indicted Wednesday for his role in the plot. Prosecutors say that they have emails that show Finley not only knew what she was doing, but also that she tried to cover it up in 2007 after O'Malley accidentally sent an invoice to a Redflex employee who was not aware of what was going on. "In an e-mail exchange with Individual A [Aaron M. Rosenberg] regarding the drafting of documents that would give Redflex an advantage in obtaining the contracts, defendant Finley admonished Individual A that Individual A's discussions with O'Malley about the drafts should not be in writing and advised that Finley was deleting her e-mails regarding the drafts as she was sending them," the indictment states. On September 23, 2008, Finley signed an economic disclosure statement for Chicago falsely certifying that no Redflex employee had attempted to bribe any Chicago employees. When Bills retired from the city, Finley and Rosenberg arranged to have the Traffic Safety Coalition, a front group funded and controlled by Redflex, hire Bills. When Bills left the group, Redflex hired his girlfriend. Federal prosecutors are looking to seize $613,400 plus the proceeds of the sale of a condominium in Gilbert, Arizona as funds directly related to the bribery scheme. Finley faces up to twenty years in prison for each count of wire fraud. In a statement to Australian investors on Thursday, Redflex shrugged off the charges by pointing to a hundred jurisdictions that have renewed automated ticketing contracts in spite of the cloud of corruption hanging over the Australian company.


Wednesday, August 13, 2014
Chicago, Illinois: Judge Throws Out Camera Tickets Over Short Yellows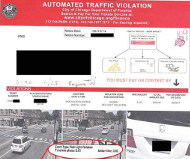 By The Expired Meter and DNAinfo Chicago Some yellow lights are too short in Chicago, Illinois, according to an administrative law judge who said he has thrown out "60 to 70 percent" of the red light camera tickets he has come across. The city says it meets the bare minimum federal standard of having yellow warning signal illuminate for three seconds at intersections. A judge who hears appeals from motorists ticketed by red-light cameras said during a hearing this week that he has seen evidence that yellow times are below the legal minimum at some Chicago intersections with red-light cameras. The hearing lasted three hours Monday after the city sent three attorneys, a law department supervisor, a public information officer and a Chicago Department of Transportation deputy director overseeing the city's traffic camera programs to defend five tickets challenged by Barnet Fagel, a video forensic specialist who helps drivers fight red light and speed camera tickets. This normally would be a brief, attorney-free affair in which drivers present photos and other evidence in the hopes of persuading the administrative law judge that their ticket ought to be thrown out. On Monday, city attorneys Alexis Long and Tom Doran spent the first 30 minutes of the hearing challenging Fagel's expertise and his ability to testify in these matters on behalf of the motorists who were ticketed. Over the objections of the city, Fagel was allowed to present his video evidence on two of the red-light tickets that he said showed yellow light times slightly under three seconds. Judge Robert Sussman dismissed the two red-light camera tickets and then surprised the hearing room by saying the Department of Administrative Hearings has been seeing a large volume of red-light camera violations that listed a yellow light time of under three seconds. "We're having a big problem with these yellow lights," Judge Sussman said. "Sixty to seventy percent are coming up under three seconds." Judge Sussman explained that he has routinely thrown out any ticket for which documentation shows the yellow light lasted less than three full seconds, and he will continue to do so until the timing is fixed. The city says yellow light times at red light camera intersections are set at the federal minimum of three seconds. Judge Sussman went on to say the issue with shortened yellow-light times popped up when Xerox Local Solutions took over the system from the scandal-plagued Redflex Traffic Systems. "What concerns me is for the last six months since Xerox took over we're seeing violations with yellows under three seconds," Judge Sussman said. "Something is going on now. Xerox is saying it's 2.9 [seconds] ... [the city] is saying they haven't changed anything." Fagel, who has seen tickets like this at about ten intersections, agreed that violation notices did not start documenting short yellow light times until Xerox became the city's vendor. "It corresponds to when Xerox took over," he said. Fagel believes Xerox's technology is accurately recording the timing at the intersections, but that the short times are not new. Fagel regularly goes out to document the signal timing at red light camera intersections on video. "The problem goes back more than the last six months," said Fagel. "It's at least six years. I have proof of this. No one has visibly measured the steady yellow light timing at these intersections except for me." After the red light camera tickets got dismissed, the three speed camera tickets were heard. Despite the video evidence Fagel presented and his technical challenges of the city and state's speed camera law, the hearing officer upheld all three speeding violations. Fagel said he believes the crew of lawyers and other officials sent to Monday's hearing is a sign that the city is concerned. "I think the city with all the other things going on -- the Redflex bribery scandal, the Tribune story, the inspector general -- the city is quite concerned," Fagel explained. City representatives at the hearing would not comment. The transportation department, Xerox and the Chicago law department have not yet responded to requests for comment. Detailed coverage of Chicago motoring issues can be found at The Expired Meter and at DNAinfo Chicago.




This is a journal covering motoring issues from around the world from a political perspective.


search tips | about us | site map

Subscribe
Receive free email or RSS news updates.

Key Documents
Documents, studies and memos about camera enforcement.

Archives
View previous news items.

Feedback
Contact the editors.

View Main Topics:

Popular Stories

-Missouri Cop Harassment Video

-Photo Enforcement Bans

-Most Popular Stories

Popular Studies

-Red Light Camera Study Roundup

-2007 Virginia DOT: Cameras Increase Injury Accidents

-2005 Washington Post: Accidents Doubled with Cameras

-2004 North Carolina: Red Light Camera Study (Burkey-Obeng)

-Majority Leader Armey Red Light Camera Report

-Longer Yellows Reduce Crashes (TX Transportation Institute)

-HOV/Carpool Lanes Cause Accidents




Since 1999, Washington, D.C. cameras have issued 4,500,103 tickets worth $312 million (as of 5/30/10).