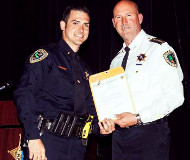 3/9/2018

Louisiana Ticket Quota Caught On Tape
Police officer in Gretna, Louisiana records his superiors ordering him to issue more tickets to make up lost revenue.


Police officials nearly always insist that ticket quotas are a myth. The denials, however, did not hold up in Gretna, Louisiana, where former Officer Daniel Swear produced a set of audio recordings in which his superiors told him in no uncertain terms that he had to step up the production of tickets solely for revenue purposes. "That was my professional adult version of finding out Santa Claus wasn't real," Swear said in a deposition. Swear sued his former employer for discrimination after ...




---