top headlines:
Wednesday, October 22, 2014
Nevada Supreme Court Strikes Down Forced Motorist Blood Draw Law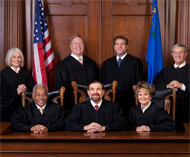 Nevada on Thursday became one of a growing number of states backing off from the practice of drawing blood from motorists by force in light of the US Supreme Court's McNeely decision (view case). The high court forced states to reconsider past rulings that held the natural dissipation of alcohol in the bloodstream automatically constituted an "exigent circumstance" that allowed police to forgo obtaining a warrant before forcefully drawing a motorist's blood.
The Nevada Supreme Court struck down as unconsitutional a part of the state's implied consent law through its review of the case of Michael Dwayne Byars. Nevada Highway Patrol Trooper William Murwin had been running over a speed trap on US Highway 50 in Churchill County on January 12, 2012 when he pulled Byars over.
Standing at the driver's side window, Trooper Murwin smelled marijuana, and Byars admitted to smoking a joint five hours before. Byars was arrested for driving under the influence (DUI), and a handgun was found when his car was searched.
Byars was taken to the hospital where he struggled against having his blood taken. For resisting the blood draw, he was charged with a felony "battery by a prisoner in lawful custody," which was added to the felony firearms charge. Nevada's justices found, in light of the US Supreme Court's directive, that the warrantless search was not justified in this case.
"Although McNeely involves alcohol intoxication and this case involves marijuana, we conclude that the reasoning of McNeely applies here and that, like the natural dissipation of alcohol, the natural dissipation of THC from the blood does not create a per se exigency," Justice Ron D. Parraguirre wrote for the court. "Looking to the totality of the circumstances, we conclude that the state failed to establish exigent circumstances to justify the warrantless blood draw."
Trooper Murwin had waited 30 minutes for a drug dog to arrive to conduct a search for drugs, and the trip to the hospital was a "lengthy process." The judges saw no urgency in the trooper's actions that suggest he was unable to contact a judge to obtain a warrant.
Nevada's implied consent statute allows a police officer to use "reasonable force" to take blood from a driver upon the mere belief that the driver may be drunk or stoned.
"The state's argument that consent is valid based solely on Byars' decision to drive on Nevada's roads is problematic because the statute makes the implied consent irrevocable," Justice Parraguirre wrote. "A necessary element of consent is the ability to limit or revoke it."
Rather than allow Byars to go free, the court applied the "good faith" exception. Since the police were following Nevada law, the court reasoned that it would serve no deterrent purpose to suppress the evidence in this case. The conviction was upheld.
A copy of the decision is available in a 250k PDF file at the source link below.
Source:

Byars v. Nevada (Nevada Supreme Court, 10/16/2014)


Tuesday, October 21, 2014
San Francisco, California To Vote On Anti-Motorist Bond Measure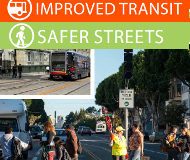 Voters in San Francisco, California will be asked November 4 to approve a $500 million "transportation and road improvement bond," but few of the improvements are meant to benefit motorists. The measure advanced by the San Francisco Board of Supervisors is designed to discourage people from driving.
The details of the proposal are found in the 28-page legislative text of the initiative and a 36-page description of proposed projects produced by the San Francisco Municipal Transportation Agency.
Though it is a very progressive city, the vast majority of San Franciscans commute to work by automobile. According to the US Census Bureau, 81 percent either drive alone or in a carpool to their place of employment. A total of 9.9 percent walk and 3.4 percent bicycle to work, which is well above the national average of 2.8 percent and 0.6 percent respectively.
If two-thirds of voters approve Proposition A, the majority of the cash would be spent on public transit, which takes $358 million of the total amount borrowed. This includes $39 million for upgrades to the local train, enlarging bus stops and extending the hours during which motorists are prohibited from turning left.
Of the remaining $142 million allocated to "road improvement," $68 million is devoted to pedestrian sidewalks, $52 million to "safer, well-defined bikeways" and $22 million to upgraded traffic signals. Even the traffic signal upgrades are targeted at foot traffic, ensuring the new units feature pedestrian countdown timers and audible cues so the blind know when to cross the street.
Under the heading of pedestrian safety, the initiative incorporates the "WalkFirst" campaign which lowers speed limits from 25 MPH to 15 MPH, sets up a ticketing blitz for motorists at crosswalks and funds the installation of traffic calming devices that include speed humps, speed cushions, bulb-outs, channelization and median islands, traffic circles, intersection islands, road diets and edgelines.
"Projects will be screened to ensure that they collectively address social and geographic inequities, including those related to transit access and reliability, safety, air quality, and crime," the proposal states.
To counter the "transit first" policy of the supervisors, residents belonging to the group Restore Transportation Balance successfully circulated Proposition L. If adopted, the initiative would prohibit the city from operating parking meters on Sundays or after 6pm. Fees for parking and public garages would be frozen for five years.
"Traffic laws should be enforced equally for everyone using San Francisco's streets and sidewalks," Proposition L states.
The San Francisco Municipal Transportation Agency board, which is currently dominated by transit interests, would have to have representation from motoring groups, under the initiative.


Monday, October 20, 2014
Controversy Brews As Voters Take on Traffic Cameras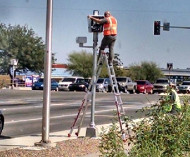 Red light camera and speed camera companies are seeing their market diminish rapidly, and employees are nervous. In two weeks, voters in three states have a chance to outlaw automated ticketing through local ballot measures. Cristian Pop, a technician for Redflex Traffic Systems of Australia will appear in court October 30 on charges that he stole the anti-camera "Vote Yes on 408" campaign sign on Thursday, tossing it into a nearby field.
"He did this on a major street, in broad day light, and without regard for our First Amendment rights or our legal right to campaign," Robert Montgomery, leader of the referendum effort, said. "It's ridiculous. It's wrong. It's disgusting."
The Redflex technician reportedly admitted to Sierra Vista Police that he had taken the sign because he disagreed with the referendum effort. The technician is charged with misdemeanor criminal damage which carries a punishment of up to 4 months in jail and a $750 fine. Despite the interference with his campaign, Montgomery is optimistic about the prospects of the camera ban vote.
"Support pours in daily," he told TheNewspaper. "But I don't take anything for granted."
In Cleveland, Ohio, members of the Camera Removal team "occupied" various intersections last week to raise awareness of ballot Issue 35, which bans speed cameras and red light cameras. The bipartisan effort was sponsored by Black on Black Crime and Liberate Ohio. The city council did not attempt to block the vote after the initiative petition was certified as valid.
The vote is also scheduled in nearby Maple Heights after the state Supreme Court blasted the city for its attempt to block the public from having a say in whether cameras are used. As a result, Proposed Charter Amendment 99 was added to the ballot.
"Shall the charter of the city of Maple Heights be amended to add new Article XXII," the amendment states, "which provides that the city shall not use any traffic law photo-monitoring device for the enforcement of a qualified traffic law violation, unless a law enforcement officer is present at the location of the device and personally issues the ticket to the alleged violator at the time and location of the violation; and that the city shall not enter into, renew, amend, modify, or make any payment under a contract with a vendor for traffic law photo-monitoring devices or services if the contract involves payment to the vendor that is contingent upon the number of tickets issued or the amount of fines levied or; and that qualified traffic violations shall be tried only before a judge in either municipal or common pleas court, and the accused will be afforded all rights then generally afforded to defendants in criminal cases under the constitutions and laws of the United States and the state of Ohio?"
Voters in St. Charles, Missouri will also be asked to amend the county charter to ban automated ticketing machines on November 4.
"Red light cameras or similar photograph devices or automated traffic enforcement systems may not be used in enforcing traffic regulations adopted by St. Charles County or by any municipality within St. Charles County that prohibit drivers from entering intersections when controlled by red traffic lights, and no such municipality may exercise the legislative power to use such cameras or devices or systems," the proposition states.
Cities are reluctant to allow such programs to go to a vote because they are often overwhelmingly defeated at the polls. To date, photo enforcement has been defeated in 27 of 30 election contests (view complete list).


Sunday, October 19, 2014
France, South Africa: Traffic Cameras Smashed and Burned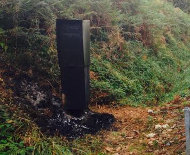 A 32-year-old man damaged a mobile speed camera on October 5 in Nzhelele, South Africa. According to Zoutnet, Freddy Ramulongo was pulled over by police. When the officers took him to see the traffic camera reading, he smashed the device. Ramulongo will face charges on Tuesday.
In Morbihan, France, vigilantes burned a speed camera on Saturday. Ouest France reports that the automated ticketing machine on the RD775 at Vraie-Croix was burnt to a crisp by a gasoline-filled tire at around 4am.


Friday, October 17, 2014
Report Explores Speed Trap Towns In St Louis, Missouri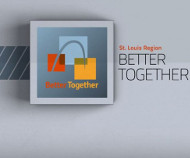 Discontent in the suburbs of St. Louis, Missouri broke into the international spotlight with the August 9 police shooting of Michael Brown. Before that, motorist Brett Darrow exposed extreme police conduct by videotaping traffic stops, including the 2007 rant of a St. George officer which led to the city being disbanded a year later.
The group Better Together St. Louis on Wednesday further explored the issue with a study of the county's 82 separate courts which generated $61,152,087 in revenue, primarily from speeding tickets. This is roughly half of the revenue generated by fines in the entire state, even though only 22 percent of the population lives in the county.
"There is sufficient evidence, both of practice and intent, for the conclusion to be drawn that municipal courts are not being used as instruments of justice and public safety, but rather as revenue generators for municipalities that would otherwise struggle or simply be unable to survive," the report explained. "However, not all revenue from fines comes from residents of the particular municipality collecting the fines. This is especially true of those municipalities that include parts of I-70, I-170, and I-270. A motorist driving to the airport from Clayton or from downtown St. Louis may encounter three or four patrol cars with radar from three or more separate municipalities. These highways may be the most over-policed roadways in the state."
In fourteen municipalities, fines are the biggest single source of revenue. Current law caps the amount of fine revenue that can be generated by a municipality to 30 percent of the budget, but only 8 of the municipalities exceeded that threshold. Better Together's report recommends reducing the trigger to 10 percent, which would force 40 of the 90 municipalities in the area to reduce their ticketing efforts. The report condemns the extreme tactics taken by courts to collect fines, especially from poorer residents.
"These courts frequently go to extreme measures in order to collect fines and fees," the report stated. "Tactics include locking up citizens without the means to pay their fines, and issuing warrants to those who do not appear (often out of fear that their inability to pay will result in them being locked up). While municipal judges are permitted under Missouri law to pursue other methods of collection including private debt collection, the establishment of payment plans, or even the reduction of a fine, these 'softer' methods often go unutilized."
A copy of the report is available in a 3mb PDF file at the source link below.
Source:

Public Safety - Municipal Courts (Better Together St. Louis, 10/15/2014)




This is a journal covering motoring issues around the world from a political perspective.



search tips | about us | site map

Subscribe
Receive free email or RSS news updates.

Key Documents
Documents, studies and memos about camera enforcement.

Archives
View previous news items.

Feedback
Contact the editors.


View Main Topics:

Popular Stories

-Missouri Cop Harassment Video

-Photo Enforcement Bans

-Most Popular Stories


Popular Studies

-Red Light Camera Study Roundup

-2007 Virginia DOT: Cameras Increase Injury Accidents

-2005 Washington Post: Accidents Doubled with Cameras

-2004 North Carolina: Red Light Camera Study (Burkey-Obeng)

-Majority Leader Armey Red Light Camera Report

-Longer Yellows Reduce Crashes (TX Transportation Institute)

-HOV/Carpool Lanes Cause Accidents




Since 1999, Washington, D.C. cameras have issued 4,500,103 tickets worth $312 million (as of 5/30/10).