top headlines:
Wednesday, March 12, 2014
South Dakota Legislature Bans Red Light Cameras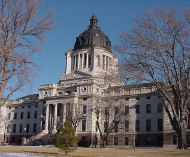 Lawmakers in South Dakota are serious about ensuring residents never again receive a photo enforcement ticket. On Tuesday the state Senate voted 34 to 1 in favor of legislation prohibiting photo ticketing companies from accessing the data needed to issue speed camera or red light camera tickets for alleged violations committed in another state (view bill). On Monday, the state House gave final approval to a ban on red light cameras that now heads to Governor Dennis Daugaard (R) for his signature.
Daugaard has not indicated whether he would sign the bill, but his strong support for the prohibiting other states from issuing red light and speed camera tickets to South Dakotans suggests he would favor an in-state ban as well.
State Representative Peggy Gibson (D-Huron) has been trying to ban automated ticketing machines for the past three years since Sioux Falls decided to allow Redflex Traffic Systems of Australia to issue traffic tickets at intersections, without the permission of the state legislature to do so. In 2010, a lower court judge found this to be illegal (view decision), and the cameras were eventually removed. No other city in South Dakota uses red light cameras or speed cameras, and they will not return if the governor signs the bill.
"No state, county, municipal, or township authority may contract with any private corporation to provide for the use of any photo monitoring device to detect any red light violation," House Bill 1100 states.
The bill remains silent on the use of speed cameras after a state Senate amendment stripped mention of photo radar. The Senate Judiciary Committee killed the original, stronger ban language on a 3 to 4 vote after Larry Nelson, a lobbyist for the Municipal League, convinced senators that the ban would interfere with regular, officer-issued tickets.
"If I had a law enforcement officer stop my client for DUI," Nelson testified last month, "and that car had a camera in it -- every [police] car has a camera in it -- I would ask the court if the stop were for a speeding violation to throw out the stop because the police officer had used a radar device to stop my client and there happened to be a camera in the car."
As a compromise, the speed camera language was removed and the bill rephrased to ban contracts to issue red light camera tickets rather than the tickets themselves. Thus amended, the bill proved popular on the Senate floor when Senate Majority Whip Ryan Maher (R-Isabel) brought it up for a vote.
"You're delivering for the constituents," the senate's presiding officer told Maher. "Way to go."
In the fifteen states that ban photo radar, no conventionally issued ticket has been tossed out because of the presence of a dashcam in the squad car.
A copy of the final bill is available in a 100k PDF file at the source link below.
Source:

House Bill 1100 final version (South Dakota Legislature, 3/11/2014)


Tuesday, March 11, 2014
Georgia Court Reminds Cops To Remember The Pretext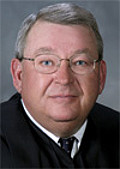 The Georgia Court of Appeals last week reminded local police officers to act concerned about a traffic violation when conducting a pretextual traffic stop. Woodstock police forgot to do this on April 29, 2012, when they pulled over the truck driven by Cynthia Myers, 32, with her boyfriend Adam Bennett, 25, in the passenger seat. The officer claimed he made the stop because the truck was missing its rear bumper.
Officer: "You've got to get a bumper on it, you know that." Meyers: "We're still trying to get it fixed." Officer: "Okay. All right. That's fine."
After this brief exchange, the officer began asking if there were any drugs in the vehicle. Bennett and Meyers said no. Then he asked whether anyone was on probation for drugs, Bennett volunteered that he was. Meyers refused a request to search the truck, so Bennett was ordered to get out and put his hands on top of his head. The officer removed a visible pocketknife from Bennett's pocket and asked if he could search him more thoroughly. Bennett said "no" twice. The officer said he "had to" consent, and a bag of methamphetamine was found.
Bennett challenged the search in court, arguing the officer had no legitimate reason to detain them over the bumper, the alleged reason for the stop. The officer testified that a sunglasses case and the nervous attitude of Bennett and Meyers made him suspicious, creating a new reason to investigate further. The three-judge appellate panel did not buy the officer's explanation.
"Assuming without deciding that the officer could stop the truck and inquire about the missing bumper, nervous behavior and a sunglasses case between the seats are not a sufficient basis for prolonging the stop," Judge Gary Blaylock Andrews wrote in the majority opinion.
Since there was no evidence of drugs when the stop began, and the excuse of the bumper proved implausible, the court decided to grant the motion to suppress.
"Here, the officer told Myers that she needed a bumper on the truck, but did not issue a warning and did not go back to his car to perform a license check; rather, the officer began inquiring about drugs, told both Myers and Bennett to get out of the truck and requested consent to search the truck," Judge Blaylock wrote. "Accordingly, the officer impermissibly prolonged the traffic stop beyond the time necessary to warn Myers to get a bumper. Therefore, the trial court erred in denying Bennett's motion to suppress."
A copy of the decision is available in a PDF file at the source link below.
Source:

Bennett v. Georgia (Court of Appeals, State of Georgia, 3/3/2014)


Monday, March 10, 2014
South Dakota Governor Blasts Iowa Traffic Cameras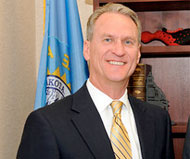 South Dakota Governor Dennis Daugaard (R) is tired of having Sioux City shake down South Dakotans as they pass through Iowa. In a Senate Judiciary Committee hearing Thursday, Daugaard transportation policy advisor Matt Konenkamp blasted Iowa's speed trap tactics and offered an amendment to legislation that would prevent photo enforcement companies like Redflex Traffic Systems of Australia and Arizona-based American Traffic Soluions from accessing the South Dakota driver's license records they need to issue citations. The committee unanimously adopted the recommendation.
"The governor's office finds what Sioux City is doing here abhorrent," Konenkamp told the committee. "They have put together a scheme to allow for them to collect for these tickets without having to prove a criminal violation... This amendment will substantially curtail what they're doing because the manner in which they're getting South Dakota citizens' information is to use a law enforcement agreement for electronic data sharing. They're using that NLETS agreement to collect on civil fines. What this bill does with the amendment is prohibit them from using that. In reality, they're a civil plaintiff."
Daugaard is not picking a fight with his Iowa counterpart, Governor Terry Branstad (R), as Iowa's chief executive has been highly critical of photo enforcement. His Department of Transportation has created new rules designed to severely limit the use of automated ticketing machines on state roads. Branstad has also criticized the camera program in Sioux City as a revenue grab.
"That is absolutely the wrong thing to do," Branstad said.
South Dakota lawmakers and residents piled on Thursday, each telling their own tales of being trapped by the sudden speed limit drop from 65 MPH to 55 MPH on the highway where the camera is positioned in Sioux City.
"As an out-of-stater, I believe I was targeted for the ticket," Jim Melhaff testified. "At the end of the day I decided the only option I had was to pay the $168 and move on. To add insult to injury, I was directed to send the check to an organization in Ohio by the name of 'Sioux City Saves Lives' which was irritating. I put on the envelope, 'Sioux City Extorts Money From Out of State Travelers.' But they cashed the check anyway."
On February 20, the South Dakota House passed by a 69 to 1 vote a bill that would have prohibited speed camera and red light camera systems in other states from using collection agencies to collect fines against South Dakota residents. The measure would also have created a statewide authorization for camera systems in the state. The governor's office came to the rescue by proposing an amendment that forbids state officials from cooperating with speed camera and red light camera companies in issuing out-of-state tickets. The revised measure does not authorize automated ticketing in South Dakota.
"The Department of Public Safety and the Division of Motor Vehicles shall not provide information used to impose or collect a civil fine that results from a violation captured by a red light camera or speed camera through any existing interstate compact that does not specifically allow, or require, information to be shared for that explicit purpose," House Bill 1122 states.
Konenkamp argues that the existing NLETS agreement that allows other states to access driver's license information in South Dakota only allows access for criminal matters. Only California and Arizona treat all photo tickets as criminal charges.
If passed by the full state Senate, the amended bill would have to be re-passed by the state House before being sent to the governor for his signature. A copy of the bill is available in a PDF file at the source link below.
Source:

House Bill 1122 (South Dakota Legislative Assembly, 3/6/2014)


Sunday, March 09, 2014
California, Italy, UK: Traffic Cameras Trashed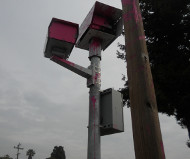 Vigilantes in Oakland, California splashed a pair of red light cameras with pink paint on Wednesday. According to a post on the San Francisco Bay Area Independent Media Center, the Technophobic Women's Action Team attacked the devices to protest the city council's approval of a surveillance system called the Domain Awareness Center (DAC). The painted devices are located at the intersections of 36th Street and Market Street, and Northgate Avenue and 27th Street.
"There are only forty or so of these traffic cameras," the group said in a prepared statement. "The city of Oakland has a limited budget allocated for this project. We can nullify the DAC. We invite you to join us on a grand adventure. Get together with one, two, or three of your closest friends. Not the ones who posture and brag.... Scout out your targets. Decide your means. Do a dry run. Then, starting the 1st, we'll make the whole month of April a time of tomfoolery. We will make the DAC irrelevant."
A speed camera in Lincolnshire, England was set on fire February 23. The Lincolnshire Echo reports that police have charged Adrian Smith, 46, with torching the automated ticketing machine. A speed camera set on fire on January 14 on the A1 in Northumberland still has not been repaired, according to the Newcastle Journal. Another camera on the A1 at Charlton Mires has also been rendered useless. According to BBC News, the Lincolnshire Speed Camera Partnership has spent over £1 million (US $1.7 million) repairing or replacing speed cameras damaged by vigilantes. Four have been attacked so far this year.
In Mogliano Veneto, Italy, vigilantes knocked over a speed camera early Tuesday, Treviso Today reported. The device had been recently installed on the Via Roma.


Friday, March 07, 2014
California Cops Arrested Over Impounding Scam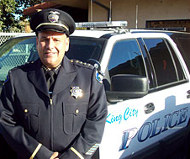 King City, California's former police chief went before a judge with two of his fellow officers Thursday to plead not guily in a car impounding scheme that saw a total of six officers charged with various crimes including embezzlement and bribery. The scandal has rocked the coastal California town of 13,000, especially members of the Hispanic community who found themselves targeted and raised the alarm in meetings last summer.
"As we were investigating various crimes, we began to hear... people saying, 'They take our property; they take our money; they take our cars,'" Monterey County District Attorney Dean D. Flippo said in announcing the charges last week. "We began to receive information, and as we worked on it, investigated it, we made a conclusion that there was an organized scheme where people driving vehicles, they had in general no license, were being stopped and the vehicles were impounded."
According to Flippo, officers used their authority to seize vehicles from low-income motorists who were unable to afford the hefty towing fees, storage fees and fines. When they did not pay, Miller's Towing was called in to take the car to the local impound lot. In total, about two hundred cars were grabbed, and the officers would help themselves to the choicest vehicles.
"The investigation revealed a significant lack of leadership within the King City Police Department," Flippo said. "Most disturbing was that evidence was uncovered of a scheme whereby people participating in the scheme would receive free vehicles that had been impounded by officers within the department."
Brian Miller, owner of Miller's Towing, was charged with bribery. He is the brother of acting chief Bruce Miller, who was charged with accepting a bribe and conspiracy. Former Chief Dominic David Baldiviez and Mario Alonso Mottu Sr were charged with embezzlement. Officer Mark Allen Baker was charged with criminal threats. Officer Jaime Andrade was charged with illegal possession of an assault weapon. Brian Albert Miller of Miller's Towing was charged with conspiracy and bribery.
"You can imagine this was a shock and a disappointment," King City Mayor Robert Cullen said.
The penalty for offering a bribe in California is up to four years in prison. The penalty for taking a bribe is the same, plus a fine equal to double the amount of the bribe. Officials who convicted of accepting a bribe are also barred from holding any government job within the state.




This is a journal covering motoring issues around the world from a political perspective.



search tips | about us | site map

Subscribe
Receive free email or RSS news updates.

Key Documents
Documents, studies and memos about camera enforcement.

Archives
View previous news items.

Feedback
Contact the editors.


View Main Topics:

Popular Stories

-Missouri Cop Harassment Video

-Photo Enforcement Bans

-Most Popular Stories


Popular Studies

-Red Light Camera Study Roundup

-2007 Virginia DOT: Cameras Increase Injury Accidents

-2005 Washington Post: Accidents Doubled with Cameras

-2004 North Carolina: Red Light Camera Study (Burkey-Obeng)

-Majority Leader Armey Red Light Camera Report

-Longer Yellows Reduce Crashes (TX Transportation Institute)

-HOV/Carpool Lanes Cause Accidents




Since 1999, Washington, D.C. cameras have issued 4,500,103 tickets worth $312 million (as of 5/30/10).