top headlines:
Tuesday, September 23, 2014
New Jersey Governor Slams The Door On Red Light Cameras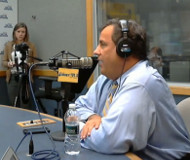 Red light cameras in New Jersey will almost certainly go dark before Christmas. Governor Chris Christie (R) on Thursday said that he was unlikely to support renewal of the program that expires December 16, and his approval is necessary. Christie appeared on New Jersey 101.5 radio's "Ask the Governor" program to deliver the message to state lawmakers that it would not be worth their time to put a reauthorization measure on his desk.
"I have real concerns about it and my inclinations are against continuing that program," Christie said in response to a caller's question. "I will tell you my gut feel on this is, Greg, that I don't favor it."
For the red light cameras to continue after December 16, a majority in the state Assembly and state Senate must send legislation providing for an extension to Christie for his signature. Such a bill has not been introduced and would have a tough time clearing the state Senate Transportation committee which unanimously voted last week to prohibit other states from mailing photo tickets to New Jersey residents. The only outspoken voice in favor of cameras is Assembly Transportation Committee Chairman John S. Wisniewski (D-Parlin), a potential 2017 candidate for governor, who has proposed to let small towns install speed cameras. Christie quickly shot that idea down.
"If my inclination is against continuing that [red light camera] program, I'm certainly not inclined to start a new one [with speed cameras]."
Christie's views on red light camera have shifted in previous interviews. In July 2012 he mocked those who complained about cameras by reducing their argument to their desire to get a "freebie" for running a red light. In October 2012, Christie was sour on the cameras. In September 2013, he flipped to say that the complaints against the cameras were "unconvincing." and that he was not going to get involved. Christie on Thursday denied his view had changed.
"It just doesn't seem that it's being fairly and uniformly administered, and I think that's a real problem," Christie said. "I think that people start to get a little aggravated and begin to have the fears that Greg talked about in his question, which is that it's just an opportunity for municipalities to grab money from people."
A governor's veto can only be overturned with a supermajority vote of 27 of the 40 state senators and 54 of the 80 state assemblymen.


Monday, September 22, 2014
Ohio Supreme Court Slams City That Blocked Anti-Camera Vote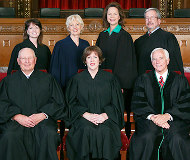 The law director of Maple Heights, Ohio was left with egg on his face as the state Supreme Court wholly rejected the legal arguments he came up with to block a public vote on red light cameras and speed cameras. In a unanimous decision Friday, the six justices insisted that the city's attempts to drag its feet and avoid a public vote on the operation of speed cameras and red light cameras violated the clear legal requirement of the state constitution that the council put a measure on the ballot "forthwith" once the signatures are certified.
"Whether council delayed passage of an ordinance deliberately or negligently is not relevant," the court wrote. "The Maple Heights City Council received verification of the signatures more than two weeks before the constitutional deadline of September 5 and conducted two regular council meetings in the interim. Its failure to enact an ordinance at the second meeting fell well short of acting 'forthwith.'"
The council acted on the advice of law director John J. Montello who petition circulators called "condescending" for his response that belittled petition organizers as if they did not understand the requirements for an initiative.
"To begin, your letter is full of misinformation including the spelling of your own name," Montello wrote in an August 21 letter to petition circulators. "It is obvious that you have not consulted the city charter. Therefore, your request is respectfully denied."
Montello told the city council that losing the cameras would hurt the Maple Heights financially and that the council could not vote on putting the measure on the ballot without holding multiple readings on the proposed ordinance that would put off consideration for months -- well past the November election. This proved to be untrue.
"A municipal legislature may waive that rule at any time by a three-fourths vote of the members," the court noted.
The justices cited a ruling in which the court had previously held that a city council fails in its duty if it does not hold a special session to deal with an election matter before the voting deadline. The justices also insisted that the city to pay the attorneys who represented the petition circulators.
"We hereby grant a writ of mandamus and order the city council of Maple Heights to act immediately to approve an ordinance placing the charter amendment initiative on the November 4, 2014 election ballot," the court ruled. "Relators are ordered to submit a bill and documentation to support their request for attorney fees within ten days of this judgment."
A copy of the decision is available in a PDF file at the source link below.
Source:

Committe for Charter Amendment v. Maple Heights (Ohio Supreme Court, 9/19/2014)


Sunday, September 21, 2014
Missouri, Germany, Italy: Speed Cameras Swiped, Foamed, Toppled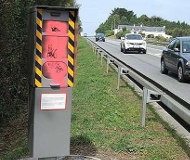 In Columbia, Missouri, the red light camera at the corner of Forum Boulevard and Stadium Boulevard failed to prevent an accident on Friday. KMIZ-TV reports a woman smashed into the automated ticketing machine with her car landing on its side in a parking lot.
In Cleguer, France, vigilantes on Tuesday disabled a speed camera by covering the lenses with pink paint. According to Le Telegramme, the automated ticketing machine has been a frequent target. It was set on fire last year, spraypainted pink in August then spraypainted again on September 8.
Vigilantes in Este, Italy attacked a recently repaired speed camera a second time. The automated ticketing machine in Rivaldolmo had its lenses covered in white paint last month. After being cleaned, it was filled with foam insulation. According to Padova Oggi, the camera housing was empty at the time of the attack.
In Gossweinstein, Germany, vigilantes grabbed a fake speed camera on Tuesday. The device was a dummy housing installed four months ago by the owner of a local hotel, Frankischer Tag reported.


Friday, September 19, 2014
California Workers Sue Red Light Camera Firm Over Poor Pay, Conditions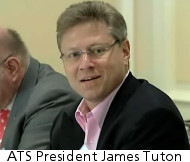 A red light camera vendor may be forced to pay millions in back pay to its employees. A number of them have taken their claim to a San Mateo County courtroom with the dispute creating a rift between American Traffic Solutions (ATS) and the cities that are its customers.
"We're taking advantage of the economic times to grow our business," ATS President James Tuton explained at a Phoenix Business Journal event in 2011. "Services are cheap. Whatever it used to cost us to do trenching and boring is now a tenth of what it used to cost... People are throwing themselves at us now just to keep the people employed. So we're taking advantage of it."
In July, the city of Millbrae decided to withhold $92,654 in red light camera contract payments to ATS over the wage dispute filed by former ATS field service technician Matthew G. Jaime. Under state law, a city must set aside funds to cover the potential damages whenever a claim is made on a public construction project.
ATS paid Jaime $20 an hour to maintain and repair red light cameras in a number of cities from February 2010 through April 2014. Jaime's lawsuit contends this hourly rate was illegally low. Contractors are supposed to be paid higher union rates known as "prevailing wage" on public works projects under California law. In this case, Jaime should have been paid the union rate for the classification of "Electrician: Inside Wireman" which is $39 an hour, or $58 with benefits.
The discrepancy adds up to a significant amount. ATS paid Jaime $35,307 for his work in South San Francisco. He says he is owed another $73,857. In Capitola, ATS paid $15,455, underpaying by $28,066. In Davis, ATS paid $12,500 leaving $19,602 unpaid. ATS denies it owes one cent more.
"Any maintenance or other work performed by Mr. Jaime on ATS' behalf in connection with the program is incidental to the true purpose of ATS' agreement with the city, which is to provide red light monitoring and enforcement services to the city using ATS' Axsis system," ATS project manager Raymond L. Pedrosa said in an affidavit. "Mr. Jaime was not paid the prevailing wage rate because the red light photo program was not and is not a public works project."
The ATS argument has already been rejected by the California Department of Industrial Relations, which has taken action against both ATS and its main rival Redflex Traffic Systems of Australia in more than a dozen cities where the companies ignored the law (view case). Last week, Millbrae demanded that ATS send lawyers to defend the city against Jaime's lawsuit, as the city's contract with ATS requires the company to handle such challenges.
"Pursuant to the provisions of the agreement, it is ATS's obligation to defend and indemnify the city with regard to the lawsuit," Millbrae's attorney Alexandra V. Atencio wrote. "It is important that ATS accept this tender as soon as possible as the city has already or soon will begin incurring attorneys' fees and costs in defense of the lawsuit."
In addition to Jaime, two other former ATS employees, Peter Arroyo and Matthew Richard Borchardt, joined the suit. Together they worked on red light camera projects in Capitola, Davis, Los Angeles, Long Beach, Millbrae, Palm Springs, Riverside, Santa Barbara, San Bernardino, Santa Maria, South San Francisco and Whittier.
The employees say that ATS did not pay them overtime, as required, and were denied meal and rest breaks.
"In doing the acts as alleged herein, in deliberately acting to take each and every plaintiffs' labor without pay and in deliberately acting to take each and every plaintiffs' wages, ATS, and each of them, acted with malice, oppression and with an intent to deny plaintiffs their wages, all in a willful and conscious disregard for the rights of the plaintiffs," Richard E. Donahoo, the employees' attorney, wrote.
The employees are seeking a declaration that ATS has engaged in unlawful and unfair business practices. They seek back wages, plus interest, penalties and attorneys' fees.


Thursday, September 18, 2014
Ohio Supreme Court Briefed On Anti-Camera Referendum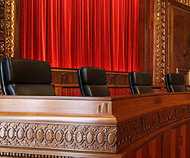 It will be up to the seven justices of the Ohio Supreme Court to decide whether the city of Maple Heights and its traffic camera vendor may deny residents their right to vote on the use of red light cameras and speed cameras. The court's decision will have sweeping ramifications in a state where residents in seven cities -- Ashtabula, Cincinnati, Chillicothe, Heath, Garfield Heights, South Euclid and Steubenville -- have already used initiatives to prohibit automated ticketing. Instead of fighting, Cleveland's city council placed an identical camera ban measure on the November ballot.
On Wednesday, the Cuyahoga County Board of Elections told the court that October 6 is the absolute final day the referendum could be placed on the ballot. Justice Terrence O'Donnell also recused himself from the case.
After being presented last month with verified signatures to put the camera ban on the ballot, the Maple Heights City Council refused to put the charter amendment on the ballot, as required by law. The city's law director, John J. Montello urged this action, saying the city could not afford to lose the cameras.
"As discussed at the numerous budget hearings, the photo monitoring devices are an integral part of our recovery plan submitted to the state for approval," Montello wrote in a memo to the council. "Federal, state and county cuts have crippled the city in addition to the real estate market crash... The mayor and council have decided what is in the best interest of its citizens."
Montello insists that the city charter requires ten percent of registered voters sign the petition, not ten percent of those participating in the last election. Attorneys Curt C. Hartman and Christopher P. Finney countered that the Ohio Constitution overrides the charter, citing several state Supreme Court cases establishing that "ten percent of the number of votes cast at the last preceding general municipal election" is the correct standard, which was met in Maple Heights. Hartman and Finney asked the high court to force the item onto the ballot.
"When, as in the present case, a city council is timely presented with an initiative petition proposing a charter amendment that contains a sufficient number of valid signatures, this court has repeatedly issued writs of mandamus to compel the placement of the proposed charter amendment on the ballot at the next regular election," Hartman and Finney wrote. "In so holding, this court adhered to the principle that municipal charters may not be construed so as to overrule rights guaranteed to the citizens of Ohio by the Ohio Constitution."




This is a journal covering motoring issues around the world from a political perspective.



search tips | about us | site map

Subscribe
Receive free email or RSS news updates.

Key Documents
Documents, studies and memos about camera enforcement.

Archives
View previous news items.

Feedback
Contact the editors.


View Main Topics:

Popular Stories

-Missouri Cop Harassment Video

-Photo Enforcement Bans

-Most Popular Stories


Popular Studies

-Red Light Camera Study Roundup

-2007 Virginia DOT: Cameras Increase Injury Accidents

-2005 Washington Post: Accidents Doubled with Cameras

-2004 North Carolina: Red Light Camera Study (Burkey-Obeng)

-Majority Leader Armey Red Light Camera Report

-Longer Yellows Reduce Crashes (TX Transportation Institute)

-HOV/Carpool Lanes Cause Accidents




Since 1999, Washington, D.C. cameras have issued 4,500,103 tickets worth $312 million (as of 5/30/10).