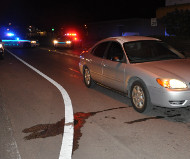 2/17/2017

Florida Traffic Cop Convicted Of Shaking Down Drivers
Florida jury convicts Miami-Dade detective of stealing from drivers during traffic stops.


The tables turned on Miami-Dade, Florida Police Detective William Kostopoulos earlier this month as a jury found him guilty of pocketing money taken from drivers during traffic stops. According to evidence presented at trial, Kostopoulos, a member of the department's auto theft unit, specifically targeted illegal aliens, knowing that they would be hesitant to report the roadside theft.
That expectation unraveled on September 13, 2013 as Hugo Gomez was driving north on 2nd Avenue in Homestead ...




---