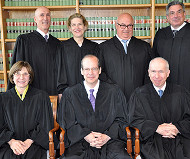 7/26/2016

New Jersey Supreme Court Allows High Beams On Empty Roads
High court in New Jersey finds it unreasonable for police to pull over motorists for using high beams when there is no oncoming traffic.


Driving on a deserted road with high beams on is perfectly legal in New Jersey, according to a ruling from the state's highest court. The justices last week unanimously decided to drop charges against Al-Sharif Scriven, who had been pulled over on November 3, 2013 for driving with her headlights on the brightest setting.
Essex County Sheriff's Officer David Cohen initiated the disputed traffic stop, "just to basically, educate the driver to advise her that her high beams [were] on... you can' ...




---