top headlines:
Friday, January 30, 2015
Brentwood, Maryland Hides Speed Camera Errors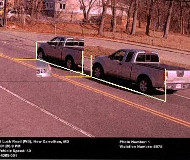 Brentwood, Maryland succeeded in concealing just how plagued with inaccurate readings its speed camera program has been. The town spent more than four years dodging numerous attempts by the Maryland Drivers Alliance to use public information laws to obtain emails and other documents pertaining to problems with the system. Only last week did the city hand over the requested files under the pressure of a lawsuit filed in Montgomery County Circuit Court.
The town claimed it could not comply with the request for emails since it had "lost" the password to the Hotmail account where the messages were stored.
"The town does not have access to these accounts," the attorney for Brentwood wrote in its response to the Maryland Drivers Alliance. "These accounts were apparently utilized by former employees of Brentwood and no current employee of the town can access these accounts."
Many of the emails that were finally provided highlighted problems with Optotraffic, the private vendor that runs every aspect of the program.
"Hi Angie," Brentwood Police Chief David W. Risik wrote in a July 8, 2010 email to the vendor. "You all must have someone new reviewing citations. I am receiving a whole lot of mistakes. Blatant wrong tags with obvious wrong vehicle makes."
Dozens of emails discuss citations wrongly issued to automobiles and buses. Often, the recipient of an erroneous ticket was forced to marshal evidence of his innocence. One motorist sent an email complaining that he received a ticket for a car that he had not driven in twenty-two years.
"Be advised that the tag number shown in subject citation was issued to me by MVA on an 87 Dodge pickup, but as shown on the attached exhibits from MVA, the tags were returned and the registration canceled on 11-21-89," the motorist wrote. "Your prompt attention and correction to this matter will be greatly appreciated."
The driver of a Lexus IS250 complained that he received a ticket for someone else's vehicle, but he was confused because he was told to mail payment to the "Town of Brentwood" at a post office box in Philadelphia, Pennsylvania. The PO box is run by Optotraffic.
"My vehicle was not in Brentwood, or anywhere in Pennsylvania on 02/08/11," the confused motorist wrote. "In fact, I have never driven this vehicle to Pennsylvania."
Others were forced to go to great lengths to document that they were thousands of miles away from Brentwood at the time of the alleged violation.
"I received your January 10, 2011 citation on the above referenced date," an annoyed ticket recipient wrote. "On January 3, 2011, I left the People's Republic of Maryland on a road trip, in my only car, with my grandson. Your certified citation claims my car was in Maryland on the date of the violation. Please find enclosed receipts to prove your claim false. The referenced tag number is mine, however, my tag is on a 2011 Mercedes CLS-550, and your photo is of a car not of this class. The photo of the tag number is not legible and your agent... guessed at what it might be. In the name of safety for women and children it's my recommendation this employee be retrained."


Thursday, January 29, 2015
Ohio: Cops Need A Reason To Interrogate Parked Motorists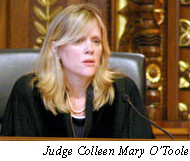 Police officers may not approach and question motorists parked in a driveway unless there is a legitimate reason to suspect criminal activity. That was the decision of a divided Ohio Court of Appeals panel on Monday that overturned the conviction of Jamey D. Dixon after she was arrested while minding her own business in a residential driveway in Kirtland Hills on March 29, 2013.
At around 2am, Officer Nate Reed saw the Dixon's car parked on Kingwood Drive. The vehicle's lights were off, but Officer Reed said he did not know that someone was inside. He considered the car suspicious and decided to investigate. He later told the court that he did so under his "community caretaker function."
Dixon was intoxicated. Although she had pulled over to sober up, she was charged with driving under the influence (DUI) and sentenced to 15 days in jail, a one-year license suspension and a year of probation. She appealed on the grounds that Officer Dixon had no right to question her under the Fourth Amendment. The appellate court agreed.
"The facts did not justify him in approaching and questioning appellant, simply because she was stopped on a private driveway at night," Judge Colleen Mary O'Toole wrote for the majority. "In this case, Officer Reed based his decision to make a stop solely on the facts that some crimes had occurred in the area; that he had not seen a car parked in the driveway of the house earlier, that he had not seen a car parked at that particular point in the driveway before; and, that its lights were off. The area was not a high crime area; the officer was not responding to a call; he had no suspicion of any traffic infraction or any other criminal activity."
The court found that the community caretaker function applies when an officer renders aid to a motorist in distress, as happens when he arrives on the scene of an accident. This exception could not apply in the present case since Officer Reed had no idea that the "suspicious" car was occupied. A car in a driveway is not even all that suspicious.
"These facts are consistent with many perfectly legal reasons why anyone may have pulled into the driveway -- e.g., place a phone call, check directions on a GPS, or send a text message -- activities that are safer to perform when not driving," Judge Timothy P. Cannon observed.
Since neither an investigative nor caretaking stop was justified, the majority reversed the lower court's decision.
A copy of the ruling is available in a 70k PDF file at the source link below.
Source:

Ohio v. Dixon (Court of Appeals, State of Ohio, 1/26/2015)


Wednesday, January 28, 2015
Virginia Considers Mix Of Pro, Anti-Motorist Bills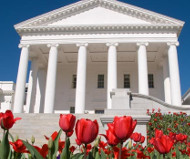 State lawmakers in Virginia are weighing whether to expand or limit the use of photo enforcement among a handful of bills of interest to the commonwealth's drivers. The first bill failed before the state Senate Privileges and Elections Committee last week on an 11 to 4 vote. State Senator Richard H. Black (R-Leesburg) had put forward a bill giving the public a say in whether red light cameras are used in their community.
"The referendum shall be held at the time of the November 2015 general election," Senate Bill No. 756 states. "The question to be placed on the ballot shall be as follows: 'Shall the city of [] use traffic light signal photo-monitoring systems? Yes or No?"
Though that bill failed, the House Courts of Justice Civil Law subcommittee voted 9 to 0 to approve a measure that would allow the recipient of a red light camera ticket to appeal to a circuit court, just like any other traffic infraction. Under existing law, it is essentially impossible for the state Court of Appeals or Supreme Court to hear a red light camera case because a district court's decision on a photo ticket cannot be appealed. Though the measure is likely to pass the General Assembly, Governor Terry McAuliffe (D) vetoed an identical bill last year.
Like the governor, state Senator Mamie E. Locke (D-Hampton) is a booster of automated ticketing machines. Her legislation would eliminate the protections in existing law that require personal service of a citation before any penalty can be imposed. Senate Bill 797 allows the private, for-profit camera operators to send tickets via regular mail and collect late fees within 45 days, whether the notice was received or not.
Such a bill would make it easier to collect the $50 speed camera tickets that state Senator John S. Edwards (D-Roanoke) hopes to authorize. His proposal, Senate Bill 925, would allow private companies to set up photo radar units in school zones and issue tickets without the need for a police officer or city employee to "approve" the violation notice. Under the proposal, ticket recipients would mail cash directly to the private company.
Delegate Bill R. DeSteph Jr (R-Virginia Beach) would cut a break to owners of automobiles not designed to have a front license plate by modifying the state's existing two-plate requirement. House Bill 1832 recognizes that many low-volume European vehicles cannot accommodate the larger US plate design without, in many cases, drilling the bumper or making a similar permanent modification. Owners of such vehicle would be not be ticketed for running only a rear license plate.
Currently, Virginia is the only state in the nation that bans radar detectors. Delegate Dave A. LaRock (R-Hamilton) introduced House Bill 2079 to bring the commonwealth back into line with the rest of the nation by allowing use of the devices.


Tuesday, January 27, 2015
Federal Agency Centralizes License Plate Spying Data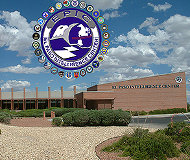 The federal government is harvesting information from a network of hundreds of spy cameras to develop a centralized database that tracks the movement of motorists not suspected of any wrongdoing. The American Civil Liberties Union (ACLU) on Monday released documents obtained from the Drug Enforcement Administration (DEA) that offer new details about how this national tracking program works.
The DEA's National License Plate Recognition Initiative uses a hundred automated license plate reader cameras (ALPR, known as ANPR in Europe) deployed in Arizona, California, Florida, Georgia, New Jersey, New Mexico and Texas. The information by the cameras is supplemented by thousands of cameras operated by other agencies with federal officials most anxious to use the technology to find automobiles and other property to seize.
"The pilot National LPR Initiative has received enormous support from all several government and law enforcement entitles and multiple request have been made to connect LPR devices from state and local law enforcement In anticipation of the pilot National LPR Initiative being utilized by all of DEA as well as federal, state and local law enforcement throughout the United States," a heavily redacted June 2010 DEA email explains. "We want to insure we can collect and manage all the data and IT responsibilities that will come with the work to insure the program meets its goals, of which asset forfeiture is primary."
Information shared between the Customs and Border Patrol agency with the DEA involved 794 million license plate reads over a four-year period. Local, state and federal police departments can search through the accumulated data stored by the DEA's El Paso Intelligence Center, which is accessible 24/7 through a system known as Firebird. The information is collected to "identify travel patterns" of motorists.
According to a July 2012 email, the DEA claims it stores license plate data belonging to innocent motorist for six months. The agency has released no information on what exceptions may apply or whether the policy has changed.
"As is the case with most police and federal law enforcement spy technologies, license plate tracking programs have flown under the radar of courts and legislators for far too long, silently collecting records about ordinary Americans in the cover of secrecy," ACLU analysts Bennett Stein and Jay Stanley wrote. "When programs are secret, we have no way of challenging them or ensuring they conform with our values and the law."


Monday, January 26, 2015
France, Germany, Italy: Speed Cameras Sprayed, Exploited, Distrusted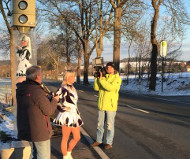 Vigilantes in France sided with free speech last week by attacking a speed camera in Noroy-le-Bourg. According to Est Republicain, the automated ticketing machine on the D9 had its lens covered with pink spraypaint, and the message, "Je suis Charlie" was painted on its side. The phrase expresses solidarity with the newspaper Charlie Hebdo which was attacked by Islamic terrorists on January 7.
In Irfersgrun, Germany, a speed camera was used for a publicity stunt on Tuesday to promote Irfersgruner Carneval-Verein (ICV), which is hosting a festival on November 14. The company attached a poster of dancer Stephanie Dietel to the camera pole while Dietel herself waved and blew kisses to motorists passing the automated ticketing machine, which has proved to be the area's most profitable.
In Treviso, Italy, the local police found themselves in hot water after being accused of tampering with speed cameras. On June 23, a lawyer contesting a ticket convinced Judge Valerio Chiozzi to have the carabinieri investigate. An expert found evidence that the accuracy of the devices was compromised, Blitz Quotidiano reported.




This is a journal covering motoring issues around the world from a political perspective.



search tips | about us | site map

Subscribe
Receive free email or RSS news updates.

Key Documents
Documents, studies and memos about camera enforcement.

Archives
View previous news items.

Feedback
Contact the editors.


View Main Topics:

Popular Stories

-Missouri Cop Harassment Video

-Photo Enforcement Bans

-Most Popular Stories


Popular Studies

-Red Light Camera Study Roundup

-2007 Virginia DOT: Cameras Increase Injury Accidents

-2005 Washington Post: Accidents Doubled with Cameras

-2004 North Carolina: Red Light Camera Study (Burkey-Obeng)

-Majority Leader Armey Red Light Camera Report

-Longer Yellows Reduce Crashes (TX Transportation Institute)

-HOV/Carpool Lanes Cause Accidents




Since 1999, Washington, D.C. cameras have issued 4,500,103 tickets worth $312 million (as of 5/30/10).