top headlines:
Friday, April 24, 2015
Tennessee Legislature Scales Back Future Speed Cameras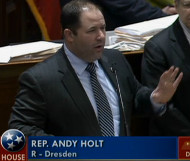 Fewer speed cameras will be installed in the future in Tennessee under rules adopted by the General Assembly on Wednesday. Defenders of automated ticketing in the chamber struck a compromise with opponents that would guarantee continued use of red light cameras and "manned" photo radar vans. The only change that the proposed law makes is that cities will not be allowed to renew contracts after July 1 for fixed speed cameras unless they are in school zones. The bill also carves out an exception for the highly profitable Hixon Pike "S curves" in the city of Chattanooga.
"We don't always get what we want, and that is definitely the case with this," State Representative Andy Holt (R-Dresden) explained on the House floor.
Holt's original bill was a complete ban on red light cameras and speed cameras, but he ran into opposition from state Senator Todd Gardenhire, a Republican who represents Chattanooga, a city that has already budgeted $612,000 in net profit from its photo ticketing program, nearly all of which comes from the speed cameras operated by the Swedish firm Sensys. Gardenhire re-wrote Holt's bill to protect Chattanooga's program in its entirety.
"An unmanned traffic enforcement camera that monitors speed shall not be used to issue a citation to any driver for violating the speed limit on any public road or highway; provided, that this subsection shall not apply to an unmanned traffic enforcement camera within the designated distance of a marked school zone; or on any S-curve of a public road or highway," Senate Bill 1128 states. "This act shall take effect July 1, 2015, the public welfare requiring it and shall apply to contracts entered into or renewed on or after such date."
No speed camera would be immediately removed under the bill. It gives cities until July 1 to adopt new contracts allowing unmanned speed camera use anywhere in their city limits. Once those agreements expire, the devices could no longer be used.
"In S curves and school zones, you would still have the opportunity to renew contracts related to speed cameras," Holt explained. "Otherwise, current contracts on speed cameras will not be infringed upon. At the end of that contract, they will not be allowed to be renewed.
The amended measure was adopted by the state House by a 74 to 16 vote after clearing the state Senate 29 to 1. It becomes law if signed by Governor Bill Haslam (R). A copy of the final bill is available in a 100k PDF file at the source link below.
Source:

Senate Bill 1128 as passed (Tennessee General Assembly, 4/22/2015)


Thursday, April 23, 2015
Illinois, Texas Advance Illusory Red Light Camera Bans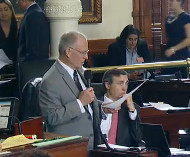 Sixteen states ban photo enforcement (view list), but Illinois and Texas are not likely to join the list this year. Although measures that passed the Illinois House and Texas Senate yesterday are being advertised as "bans" on red light cameras, in practice they would do little to curb automated ticketing if they become law.
In Texas, the state Senate voted 22 to 8 to approve a bill that bans cities from signing new red light camera contracts -- something that cities nationwide have not been doing for the past two years. The bill that passed had been reshaped by camera advocates so that cities that currently use red light cameras could continue doing so indefinitely so long as they revise existing contract expiration dates before June.
"If before June 1, 2015, a local authority had enacted an ordinance under those provisions to implement a photographic traffic signal enforcement system and entered into a contract for the administration and enforcement of the system, the local authority may continue to operate the system under that ordinance and under the terms of that contract until the expiration date specified in the contract as the contract existed on June 1, 2015," Senate Bill 714 now states (view bill, 50k PDF).
In 2009, the last time the Texas legislature threatened to sunset the use of cameras, cities rushed to extend their contracts for up to twenty-five years. The way the bill was drafted deletes many provisions of existing law, including an existing ban on speed cameras, a prohibition on applying license points to tickets and a limitation on the fine amount to $75. A last minute amendment by state Senator Van Taylor (R-Plano) provides an exception for speed cameras as long as they are "actively operated and monitored on site by a law enforcement officer." Lawmakers did not acknowledge the limitations of their effort on Wednesday and instead spoke in broad terms about "banning" cameras.
"Many concepts which sound good on paper fail miserably in their real world application," state Senator Bob Hall (R-Van Zandt County) said. "The traffic camera is one of those concepts... It is clear that unmanned traffic cameras do not improve overall traffic safety."
The state Legislative Budget Board estimated that the bill as written would have netted lawmakers a total of $96,488,000 as undistributed trauma care proceeds from red light camera tickets would be deposited into the general fund, but another last-minute amendment restored the fund so that its fate could be debated as part of a more comprehensive discussion of statewide trust funds.
A similarly weakened red light camera measure passed the Illinois House on Wednesday by a vote of 79 to 26. What started as a complete ban on red light cameras was amended to exclude home rule towns.
"On or after January 1, 2017, no non-home rule unit within a county... may enact or continue to enforce an ordinance providing for an automated traffic law enforcement system to enforce violations of this code or a similar provision of a local ordinance," House Bill 173 states (view bill, 50k PDF).
Under this wording, only about fifty cameras would have to come down, compared to the 384 allowed to operate in Chicago alone. Of the 124 "home rule" cities in Illinois, many already have red light cameras and could keep them. Only a handful of tiny towns would be affected by the language, including: Algonquin (2 cameras), Bensenville (3 cameras), Blue Island, Forest Park, Franklin Park (2 cameras), Hometown (2 cameras), Homewood (4 cameras), Lake Zurich (3 cameras), Libertyville (3 cameras), Lisle (2 cameras), Lynwood (2 cameras), Markham, Olympia Fields (3 cameras), Palos Hills (2 cameras), River Forest (1 camera), Roselle (1 camera), Villa Park (3 cameras), Wauconda (2 cameras), Western Springs (2 cameras), Willowbrook (3 cameras), Winfield (1 camera) and Worth (2 cameras).
These home rule cities and villages could continue using red light cameras: Addison, Alsip, Aurora, Bedford Park, Bellwood, Berwyn, Calumet City, Carol Stream, Chicago, Cook County, Country Club Hills, Countryside, Des Plaines, East Dundee, East St. Louis, Elk Grove Village, Fox Lake, Granite City, Gurnee, Highland Park, Hoffman Estates, Lake in the Hills, Lincolnwood, Maywood, Melrose Park, Morton Grove, North Chicago, North Riverside, Northfield, Northlake, Oak Forest, Oak Lawn, Orland Park, Palatine, Palos Heights, Schiller Park, Skokie, South Holland, St. Charles, Streamwood, Tinley Park, Warrenville, Waukegan, Westchester and Wheeling.
The Illinois measure would have to clear the state Senate, and the Texas measure would have to be passed by the state House, before they could be signed into law by their respective state governors.


Wednesday, April 22, 2015
US Supreme Court Limits Drug Dog Use In Traffic Stops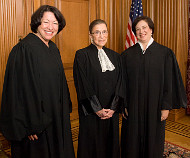 Police may not drag out a traffic stop just to give a drug dog extra time to sniff a vehicle. Tuesday's US Supreme Court decision rolled back lower court precedents that have afforded law enforcement greater flexibility in performing warrantless searches. Here, some of the court's most liberal justices joined with conservatives in tightening the rules.
"We hold that a police stop exceeding the time needed to handle the matter for which the stop was made violates the Constitution's shield against unreasonable seizures," Justice Ruth Bader Ginsburg wrote for the 6 to 3 majority. "A seizure justified only by a police-observed traffic violation, therefore, becomes unlawful if it is prolonged beyond the time reasonably required to complete the mission of issuing a ticket for the violation."
Justice Ginsburg was joined not just by her usual allies, Justices Sonia Sotomayor, Elena Kagan and Stephen Breyer, but also by Chief Justice John Roberts and Justice Antonin Scalia. They agreed that Dennys Rodriguez was held too long at the side of a Nebraska highway when his Mercury Mountaineer was stopped for allegedly swerving around midnight on March 27, 2012.
As Valley Police Officer Morgan Struble questioned Rodgiguez, he developed a hunch that the man was up to something. Officer Struble wrote a warning citation and asked if his drug dog could sniff the vehicle. Rodriguez said "no" about 19 minutes into the stop.
Even though he had received the warning citation, Rodriguez was not free to go. He was made to wait about five minutes for a drug dog to arrive and sniff his car. After a few minutes, the dog detected a bag of methamphetamine. Rodriguez was placed under arrest. The question for the high court was whether this eight minute delay for a drug sniff violated the Fourth Amendment protection against unreasonable searches and seizures.
"The reasonableness of a seizure, however, depends on what the police in fact do," Justice Ginsburg wrote. "The critical question, then, is not whether the dog sniff occurs before or after the officer issues a ticket... but whether conducting the sniff prolongs -- i.e., adds time to -- the stop."
Justices Clarence Thomas, Samuel Alito and Anthony Kennedy objected that this formulation, saying it would lead to arbitrary results.
"The majority's rule thus imposes a one-way ratchet for constitutional protection..." Justice Thomas wrote in his dissent. "Under its reasoning, a traffic stop made by a rookie could be executed in a reasonable manner, whereas the same traffic stop made by a knowledgeable, veteran officer in precisely the same circumstances might not, if in fact his knowledge and experience made him capable of completing the stop faster. We have long rejected interpretations of the Fourth Amendment that would produce such haphazard results, and I see no reason to depart from our consistent practice today."
A copy of the decision is available in a 160k PDF file at the source link below.
Source:

Rodriguez v. US (US Supreme Court, 4/21/2015)


Tuesday, April 21, 2015
Federal Judge Finds No Injury From Redflex Bribery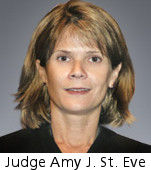 Motorists in Chicago, Illinois cannot cite the federal bribery charges against top Redflex officials as a way to get out of paying a red light camera ticket. US District Court Judge Amy J. St. Eve came to that tentative conclusion earlier this month after Matthew G. Falkner challenged the automated ticket he received in the mail based on a photograph of his Infiniti taken on January 19, 2013. Falkner argued that paying the fine would reward the illegal activities of Redflex.
"Plaintiff argues that he has a legally protected interest in not having the city fund Redflex's wrongfully procured, above-market compensation with the proceeds of his red light ticket," Judge St. Eve wrote in her opinion. "This argument fails because the city's payments to Redflex had no effect on the fines that plaintiff (and the proposed class) paid to the city."
Falkner was fined $100, an amount that has not changed since another vendor took the place of Redflex in running Chicago's 384 cameras. As a result, Falkner could not show that he had suffered any particular injury directly tied to the bribery. One co-conspirator has already entered a guilty plea in the scandal in which Redflex supplied cash and other benefits to a Chicago official in return for landing the contract that generated $500 million in citations. The court was not convinced this sweetheart deal affected Falkner because the city, not Falkner, lost on the deal.
"If the city should have only paid Redflex $80 million, for example, then the city would have kept $420 million, but the proposed class would still have paid the city $500 million," Judge St. Eve reasoned. "Put slightly differently, plaintiff only alleges that the proposed class paid a fixed amount of fines to the city, of which the city distributed too much as compensation to Redflex. Plaintiff does not plead facts establishing that Reflex's alleged bribery caused plaintiff or any of the other proposed class members any injury."
Falkner at first argued that Chicago violated the state's red light camera law in delegating to the Australian firm the power to declare a motorist's guilt. Redflex countered that it does not determine guilt because this function is outsourced to IBM, which performs a "second review" of all citations. Falkner then shifted to say this arrangement, allowed under the Illinois red light camera statute, violates the state constitution.
"Plaintiff cannot have it both ways," Judge St. Eve wrote. "If his claim is that the city followed the statute but the statute itself is unconstitutional, he cannot argue that he has standing because Redflex bribed the city to not follow the statute."
The court did not shut the door on Falkner, giving him a chance to come up with a consistent legal theory.
"While the court will provide plaintiff with one more chance to amend his complaint, this will likely be plaintiff's final opportunity," Judge St. Eve concluded. "Although the court does not address defendant's additional arguments because it finds that plaintiff has not adequately pled facts to establish standing, plaintiff should consider them carefully if he chooses to file another complaint."
A copy of the ruling is available in a 40k PDF file at the source link below.
Source:

Falkner v. Redflex (US District Court, Northern District of Illinois, 4/20/2015)


Monday, April 20, 2015
Australia, Italy: Speed Cameras Disabled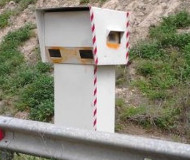 Vigilantes used black spraypaint to disable a speed camera in Western Australia on Thursday. According to the Perth Sunday Times, the automated ticketing machine on the Kwinana Freeway in Murdoch had its lens painted over and graffiti scrawled on its side.
In San Gimignano, Italy, vigilantes on Saturday covered the lenses of three speed cameras. La Nazione reports that a rust-colored paint was used on the automated ticketing machines.




This is a journal covering motoring issues around the world from a political perspective.



search tips | about us | site map

Subscribe
Receive free email or RSS news updates.

Key Documents
Documents, studies and memos about camera enforcement.

Archives
View previous news items.

Feedback
Contact the editors.


View Main Topics:

Popular Stories

-Missouri Cop Harassment Video

-Photo Enforcement Bans

-Most Popular Stories


Popular Studies

-Red Light Camera Study Roundup

-2007 Virginia DOT: Cameras Increase Injury Accidents

-2005 Washington Post: Accidents Doubled with Cameras

-2004 North Carolina: Red Light Camera Study (Burkey-Obeng)

-Majority Leader Armey Red Light Camera Report

-Longer Yellows Reduce Crashes (TX Transportation Institute)

-HOV/Carpool Lanes Cause Accidents




Since 1999, Washington, D.C. cameras have issued 4,500,103 tickets worth $312 million (as of 5/30/10).