top headlines:
Thursday, July 17, 2014
Massachusetts: Smell Of Marijuana No Longer Justifies Car Search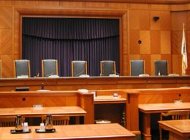 Police in Massachusetts may no longer perform a warrantless search of an automobile merely because an officer says that he smells burned or unburned marijuana. The state Supreme Judicial Court last week decided a pair of cases setting down these rules in light of the commonwealth's move toward marijuana decriminalization in a 2008 ballot initiative. Anthony Craan was minding his own business driving on Gallivan Boulevard in Dorchester on June 11, 2010 when he was stopped at a roadblock. Craan showed no signs of being high or drunk, and he committed no traffic offense. The state trooper manning the roadblock smelled unburnt marijuana and directed Craan to a secondary screening area. There troopers searched the car and found three Ecstasy pills along with a baggie of marijuana. The trunk contained a few rounds of .38 caliber ammunition but no gun. Craan was released and later charged with illegal possession of ammunition and drugs. The state argued that the search was valid because the trooper was "duty bound" to check for more marijuana in the vehicle to prevent Craan from lighting up a joint behind the wheel after driving off. "The mere possibility that more marijuana was present in the vehicle does not amount to probable cause to believe that the defendant had committed, or was committing, a crime, namely possession of more than one ounce of marijuana," Justice Barbara A. Lenk wrote for the court. "We are not persuaded by the commonwealth's suggestion that the search was permissible owing to the trooper's duty to ensure the safety of the roadways and to prevent the mere potential that the defendant could smoke marijuana while driving. Were we to conclude otherwise, it would follow necessarily that police could search any vehicle containing sealed bottles of alcohol, based on a potential risk that the driver could open a bottle and begin drinking while driving." The court also rejected an attempt by the state to cite violations of federal law as a reason to search the vehicle. The court pointed out that the US Department of Justice has put out a memo indicating that it would leave marijuana enforcement to the states. "Given the clear preference expressed in the 2008 initiative that police focus their attention elsewhere, federal law does not supply an alternative basis for investigating possession of one ounce or less of marijuana, especially where the federal government has signaled a lessened interest in prosecuting such conduct," Justice Lenk concluded. Matthew W. Overmeyer was also stopped and searched over the smell of unburned marijuana. On May 19, 2012, Overmeyer's Volvo rear-ended a minivan, and a pair of Pittsfield police officers were sent to investigate. The smell of marijuana from the Volvo was overpowering, so Officer Sean Klink asked Overmeyer to hand over the key to the glove compartment. Overmeyer did so, and Officer Klink found a "fat bag" of marijuana. Based on the strength of the smell, the officers believed there must be more in the car. The officers read Overmeyer his Miranda rights and searched the vehicle, finding more. Overmeyer was charged with possession with the intent to distribute. As with the Craan case, the smell of unburned marijuana did not justify the search. "Such an odor alone does not constitute probable cause to believe that a vehicle contains a criminal amount of contraband or specific evidence of a crime, such that the automobile exception to the warrant requirement may be invoked," Justice Lenk wrote. The justices ruled that police cannot determine the amount of marijuana by the strength of the odor as such judgments are inherently subjective. "In sum, we are not confident, at least on this record, that a human nose can discern reliably the presence of a criminal amount of marijuana, as distinct from an amount subject only to a civil fine," the court concluded. A copy of the Craan decision is available in a 60k PDF file at the source link below.
Source:

Massachusetts v. Craan (Massachusetts Supreme Judicial Court, 7/9/2014)


Wednesday, July 16, 2014
US House Passes Short-Term Transportation Bill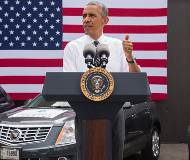 The US House of Representatives on Tuesday voted 367 to 55 on a short-term extension of federal highway funding that is set to run out at the end of the month. The Republican-backed measure keeps transportation projects running through May 31, 2015 without tackling any of the controversial policy issues, such as how to deal with tolling and taxing, that have tied up consideration of a multi-year funding plan. At a speech in McLean, Virginia on Tuesday, President Obama said he would sign the House bill, but he pressured Congress to adopt his "Grow America" initiative that imposes tolls and raises taxes to increase spending on transit projects (view details). "The good news is there are bipartisan bills in both the House and the Senate that would help with a short-term fix," Obama said. "And I support that. At the very least, Congress should be keeping people on the job who are already there right now. But all this does is set us up for the same crisis a few months from now." House Speaker John A. Boehner (R-Ohio) rejected the idea that the House is avoiding the policy issues advocated by the White House. "If the president has a plan for a longer term highway bill, he ought to get the Democrat-controlled Senate to pass it and then we'll take a look at it," Boehner said at his Tuesday press conference. "Until then, giving speeches about a long-term highway bill is frankly just more rhetoric. House Ways and Means Committee Chairman Dave Camp (R-Michigan), author of the House measure, says the House and Senate just cannot agree on taxes right now. "A long-term solution would be my preference, and an important feature of my tax reform discussion draft would provide enough revenue to maintain the solvency of the Highway Trust Fund for eight years," Camp said Tuesday. "In the meantime, I hope all members of Congress can work on a longer-term solution by the end of May next year. This will not be an easy task, so it is important that Congress has time to have a deliberative, open debate about bipartisan solutions rather than trying to hit Americans, who are already paying more for gas, with a gas tax hike." The conservative Heritage Foundation wants more reform than House Republicans have put on the table. In particular, the organization wants to start by shutting down the $819 million Transportation Alternatives Program that pays for trails, bicycle paths and landscaping instead of maintenance and infrastructure building. Heritage is also calling for an end to the process of sending gas tax dollars from the states to Washington and then back to the states -- with strings attached. "The states know their transportation priorities better than Washington does," Heritage analyst Emily J. Goff argues in a highway funding issue brief. "Congress should take the cue, start stepping aside in certain areas, and let the states assume more control."


Tuesday, July 15, 2014
Florida To Ticket Drivers Who Do Not Crawl Past Garbage Trucks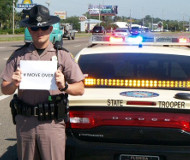 Florida drivers who fail to slam on the brakes to drive past a garbage truck or the cable guy at 5 MPH will receive a $154 ticket and three points under new rules that took effect July 1. The legislature expanded the state's "Move Over" statute which the Florida Highway Patrol used to generate $1.3 million in revenue last year. Previous version of the law only applied to emergency vehicles such as police cars, fire trucks and ambulances with their lights flashing. The new law applies to vehicles that do not necessarily have flashing lights, including sanitation vehicles and "a utility service vehicle [that] is performing a task related to the provision of utility services on the roadside." Drivers who come upon a dump truck or utility vehicle must first determine whether it is simply parked, or performing some function on the side of the road. If that vehicle "bears an emblem that is visible from the roadway and clearly identifies that the vehicle belongs to or is under contract with a person, entity, cooperative, board, commission, district, or unit of local government that provides electric, natural gas, water, wastewater, cable, telephone, garbage, refuse, recycling or communications services," then the driver must make an immediate lane change away from the vehicle on a multi-lane road. If the nearby lane is occupied, or it is a two-lane road, the driver must hit the brakes and scrub off 20 MPH of speed before passing the vehicle. On most neighborhood roads, this means crawling past at no more than 5 MPH, the pace of a brisk walk. Troopers have been taking advantage of motorist confusion over the law by setting up sting operations, pulling motorists over onto the shoulder for the purpose of issuing "move over" tickets that put motorists on the side of the road at risk, as there is no requirement to slow down for ordinary passenger vehicles. According to Florida Department of Highway Safety and Motor Vehicles statistics, 6809 crashes were caused by improper lane changing or failure to maintain one's lane in 2012. Lane departures were seven times more likely to be the primary cause an accident than exceeding the posted speed limit.


Monday, July 14, 2014
Missouri Puts Transportation Funding Measure On Ballot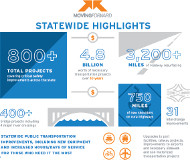 Voters in the Show Me State will be asked next month whether they support a $5 billion sales tax hike to pay for the Missouri Department of Transportation's wish list of spending priorities, including road maintenance as well as a long list of projects unrelated to driving. The funding language will be added to the state constitution if a simple majority of voters approve it on the August 5 primary election ballot. The proposal would raise the state's sales tax by 0.75 percent for the next ten years, mandating that the funds be spent only on transportation. Although the ballot language highlights the money going to "state and local highways, bridges and transportation projects" it does not clearly point out that the list of priorities includes nature trails, trolleys, bus terminals, bicycle lanes and airports. If it passes, the tax would automatically appear again on the ballot for reauthorization by a majority vote in the year 2024 and every ten years thereafter. According to the state funding priority list, the majority of funds would go toward resurfacing and repairing bridges and roads, but very little extra capacity would be added to the road network. In the central region, for instance, Jefferson City would add lanes to Route 53 for $17 million. Route 50 would receive new lanes from California to Tipton at a cost of $91 million. Route 63 would see extra lanes in Rolla for $11 million. In the central region, every transit project would receive $5.4 million to expand service hours. On top of this, Boone County would receive $10.5 million will add two hours to bus service hours. At a cost of $8 million, Jefferson City will get four more bus hours, and the Amtrak station will get $5 million for renovations. Another $5 million would improve Amtrak rail service in Osage. Kansas City would spend $124 million on streetcars, and $24 million on bicycle paths, and $35 million for other bicycle projects. Buses would receive $85 million. St. Louis Mayor Francis G. Slay (D) praised the tax hike plan precisely because it would lavish millions on his city's non-motoring priorities. "For the first time ever, the state would support major funding not just for highways and bridges but also for special transportation needs and opportunities in cities like ours," Slay wrote. If the measure is approved, toll roads would be banned from Missouri for ten years or more. "The state highways and transportation commission shall not authorize, own or operate a toll highway or toll bridge on a state highway or bridge while the sales and use tax authorized by this section is in effect," Proposition 7 states. "A county or municipality shall not authorize, own or operate a toll highway or toll bridge on any highway or bridge under its jurisdiction while the sales and use tax authorized by this section is in effect." A copy of the ballot measure is available in a 1.8mb PDF file at the source link below.
Source:

Proposition 7 (State of Missouri, 7/13/2014)


Sunday, July 13, 2014
France, UAE: Speed Cameras Painted and burned.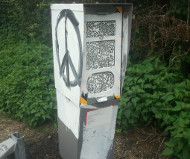 In Condezaygues, France, vigilantes disabled a speed camera on Tuesday. According to Sud Ouest, the camera lens was covered with green spraypaint marking the third time it has been disabled this year. On Monday, a speed camera in Canapville was covered in white and black spraypaint, and a giant peace symbol was painted on the side, Le Pays d'Auge reported. Fire was the tool used in Daoulas on Monday at around 1am in destroying the speed camera on the RN165, Le Telegramme reported. According to The National, a 24-year-old man set fire to a speed camera in the United Arab Emirates on Tuesday. Police arrived quickly at Khalifa bin Zayed Road in Fujairah and were able to catch a suspect near the scene.




This is a journal covering motoring issues from around the world from a political perspective.


search tips | about us | site map

Subscribe
Receive free email or RSS news updates.

Key Documents
Documents, studies and memos about camera enforcement.

Archives
View previous news items.

Feedback
Contact the editors.

View Main Topics:

Popular Stories

-Missouri Cop Harassment Video

-Photo Enforcement Bans

-Most Popular Stories

Popular Studies

-Red Light Camera Study Roundup

-2007 Virginia DOT: Cameras Increase Injury Accidents

-2005 Washington Post: Accidents Doubled with Cameras

-2004 North Carolina: Red Light Camera Study (Burkey-Obeng)

-Majority Leader Armey Red Light Camera Report

-Longer Yellows Reduce Crashes (TX Transportation Institute)

-HOV/Carpool Lanes Cause Accidents




Since 1999, Washington, D.C. cameras have issued 4,500,103 tickets worth $312 million (as of 5/30/10).