top headlines:
Thursday, February 26, 2015
Federal Bill Promotes Speed Cameras Over Red Light Cameras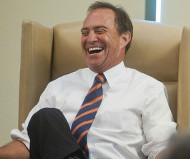 A member of Congress wants to establish a federal preference for speed cameras over red light cameras with a new law. US Representative Ed Perlmutter (D-Colorado) last week introduced what he called a bill to prohibit automated traffic enforcement, but the actual text of the legislation gives federal approval to the use of certain types of speed cameras. The proposal would, if enacted, allow state or local government authorities to deploy photo radar on "any segment of roadway open to traffic and immediately adjacent to land on which repair, maintenance, construction or related work is being conducted" or "any segment of roadway that is not more than 300 feet from the property of a school." Perlmutter's bill would ban all red light cameras and some speed cameras, but Perlmutter's description of his bill makes no mention of the exceptions it contains for school and repair zone photo radar. "Police officers are the only sure way to apprehend seriously impaired, reckless or other dangerous drivers," Perlmutter said in a statement. "All of us are concerned with reducing accidents and reckless driving but it is not evident photo radar cameras improve highway safety, reduce accidents or improve traffic flow... My constituents tell me these cameras are excessive and seem to do little to improve public safety." While a ban on red light cameras would be a setback for the photo enforcement industry, speed cameras generate far more revenue and represent a more important business opportunity. The language of Perlmutter's bill is similar to that found in Maryland, where "school zone" cameras are frequently placed where there are no children, such as adult education centers and administrative offices where no classes are held. The photo ticketing industry has on several past occasions advanced its legislative agenda through bills that appear on the surface to be restrictions on the use of photo enforcement. In Tennessee, for example, the General Assembly never directly authorized the use of red light cameras. Lawmakers instead introduced a one-sentence bill that prohibited the issuance of points on the licenses of photo ticket recipients. The courts and the state attorney general (view opinion) said that was proof of the legislature's acceptance of widespread red light cameras and speed camera use. A copy of House Bill 950 is available in a 250k PDF file at the source link below.
Source:

House Bill 950 (US House of Representatives, 2/23/2015)


Wednesday, February 25, 2015
Texas Bill Would Reform Toll Roads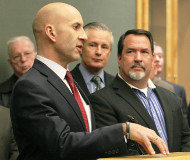 One of the least commonly fulfilled political promises is that a road's tolls will go away once the construction loans have been paid off. The officials making such assurances know that they will be long gone before the loans are paid twenty to ninety years in the future. Texas state Representative Matt Shaheen (R-Collin County) hopes to change the state of affairs with legislation forcing the conversion of toll roads into freeways with a bill he introduced on Monday. Most commonly, toll road obligations are continually extended so that they are never fully paid off. In California, for instance, the floundering Foothill-Eastern Transportation Corridor Agency decided to refinance the bonds for the 241, 261 and 133 toll roads in Orange County. So instead of the roads returning to the taxpayers in 2040, as originally promised, they cannot return until 2053 -- or later, if the debt is restructured again. The Texas proposal would outlaw this form of refinancing. "A toll project entity may not amend a financing or other agreement in a manner that would extend the date by which a toll project would become part of the state highway system," House Bill 1734 states. The measure would prevent government entities from dipping into the "surplus revenue" of toll projects to fund anything other than maintaining the turnpike and paying off its debt. It would also mandate that a toll road become a freeway once the costs of acquisition and construction of the road are settled. "House Bill 1734 returns tolling to its traditional purpose: a temporary funding mechanism that is removed once the roads are fully paid-off," Shaheen explained in a statement. "We cannot allow the toll fees for roads we use every day to become a de facto tax into perpetuity." Some toll roads are returned to the public after they are paid off. Motorists had been paying tolls for twenty years on the GA 400 near Atlanta, Georgia. The construction bonds had been paid off in 2009, but transportation officials insisted on continuing toll collection. Governor Nathan Deal (R) intervened, ordering the toll booths demolished in 2013. A copy of the legislation is available in a 60k PDF file at the source link below.
Source:

House Bill 1734 (Texas Legislature, 2/23/2015)


Tuesday, February 24, 2015
Germany, Canada: Speed Cameras Trashed, Bashed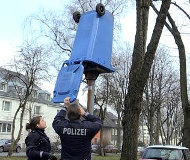 Vigilantes in Essen, Germany on Sunday found a unique way to keep the local traffic camera from issuing tickets. Rheinische Post reports that a blue trash can was placed atop the automated ticketing machine on Heisinger Strasse, knocking it out of commission. Because of the height of the camera pole, police officers responding to the scene had difficulty removing the obstruction. They have no idea who might be responsible. Vigilantes in Edmonton, Canada smashed the rear window of a speed camera van last week. According to CHED Radio, the speed trap had been station near Yellowhead Trail and 77th Street.


Monday, February 23, 2015
Iowa Supreme Court Backs Speed Cameras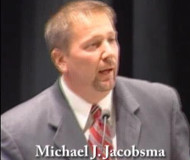 The Iowa Supreme Court stepped in Friday to save red light cameras and speed cameras from the challenge of lawyer and motorist Michael Jon Jacobsma. The justices fell back on their 2008 decision that gave municipalities permission to use automated ticketing machines, even though the state legislature had declined to do so (view 2008 ruling). Jacobsma brought due process concerns that the court had not previously considered. He said the speeding tickets that Redflex Traffic Systems, an Australian company, issued on behalf of Sioux City were being sent to individuals who were not responsible for the alleged violation. Redflex sent Jacobsma a ticket on August 6, 2012 after photographing a car registered in his name. The Sioux City ordinance would not allow him to escape liability unless he mailed in a stolen vehicle report. For added authority, the Iowa court cited the highest court in Washington, DC, which enthusiastically backed the city's lucrative camera program as well as the Seventh Circuit US Court of Appeals decision in Chicago (view ruling). The Iowa court determined that Jacobsma did not lose anything important if he was fined for an offense that he did not commit. "Jacobsma does not appear to have a conventional liberty interest," Justice Appel wrote. "He can drive his car anywhere he wants, subject to the laws of the road. He can loan his car to anyone he wants. His right to self-fulfillment or his right to be left alone do not seem implicated by the Sioux City ATE ordinance in any meaningful sense." The court sidestepped the question of the justice of fining people for offenses that they did not commit by saying that Jacobsma did not affirmatively prove that he was not the driver. Jacobsma rested on the notion that the prosecution had the burden of proving that he was the driver. "But because Jacobsma offered no evidence beyond the stipulations that he was the owner of the vehicle and that the vehicle was involved in an infraction, the questions of whether and how a defendant may rebut a city's case and whether the ordinance comports with due process when faced with evidence that someone other than the registered owner was operating the vehicle at the time of the infraction, pose purely academic questions that are not before the court," Justice Appel wrote. That was enough for the court to preserve Iowa's photo ticketing systems -- for now. "In contrast, the presumption in this case that, absent proof to the contrary, the registered owner was the driver of the vehicle at the time of the infraction is not very complicated and is eminently reasonable," Justice Appel wrote. "We therefore conclude there is no due process violation under article I, section 9 of the Iowa Constitution... We reserve for another day the question of whether an ordinance that strictly imposes vicarious liability in all circumstances offends the due process clause of the Iowa Constitution." A copy of the decision is available in a 170k PDF file at the source link below.
Source:

Sioux City v. Jacobsma (Iowa Supreme Court, 2/20/2015)


Friday, February 20, 2015
California Cities Continue To Dump Red Light Cameras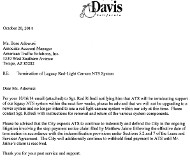 Red light cameras are on their way out in California. To date, more than sixty towns in the Golden State have sent the private, for-profit companies that run the automated ticketing programs packing. On February 27, the cameras in Stockton will be coming down after the city quietly terminated the contract with Redflex Traffic Systems of Australia. "Please contact Lieutenant James Chraska, Stockton Police Department Traffic Section, to coordinate removal of the photo red light enforcement equipment from the city of Stockton," City Manager Kurt O. Wilson wrote in a letter to Redflex last month. After having spent a great deal of effort convincing residents that red light cameras were necessary, some cities often prefer to let the change of mind go unnoticed. The photo enforcement contracts expire and the programs slip away without any public notice. That happened late last year in Davis, California, where American Traffic Solutions (ATS) tried to convince the city to pay an extra $1000 to $1500 per camera monthly fee for an "upgraded" system. Davis was not interested. "Please be advised that we will not be upgrading to a newer system and no longer intend to use a red light camera system within our city at this time," Davis Assistant Police Chief Darren Pytel wrote in an October 20, 2014 letter to ATS. "Please be advised that the city expects ATS to continue to indemnify and defend the city in the ongoing litigation involving the stop payment notice claim filed by Matthew Jaime following the effective date of termination... The city will additionally continue to withhold final payment to ATS until Mr. Jaime's claim is resolved." Davis and a number of other cities have been sued because ATS and Redflex allegedly underpaid employees in violation of the state's prevailing wage law. The suit was based on a ruling by the California Department of Industrial Relations that found the companies in violation (view ruling). Such ongoing legal troubles continue to dog Redflex, a company whose former top US employee is facing trial on federal corruption charges in Chicago. More than sixty California cities have decided cameras were not worth keeping. These towns include Belmont, Bell Gardens, Berkeley, Burlingame, Compton, Corona, Costa Mesa, Cupertino, El Cajon, El Monte, Escondido, Emeryville, Fairfield, Fresno, Fullerton, Gardena, Glendale, Grand Terrace, Hayward, Highland, Indian Wells, Irvine, Laguna Woods, Lancaster, Loma Linda, Los Angeles, Long Beach, Maywood, Montclair, Moreno Valley, Oakland, Paramount, Pasadena, Poway, Rancho Cucamonga, Redlands, Redwood City, Rocklin, Roseville, Rowland Heights, San Bernardino, San Carlos, San Diego, San Jose (photo radar), San Juan Capistrano, Santa Fe Springs, Santa Maria, Santa Rosa, South Gate, Union City, Upland, Walnut, Whittier, Yuba City and Yucaipa. The city councils of Laguna Niguel and Orange passed ordinances banning cameras in 2011. Residents of Anaheim, Murrieta and Newport Beach voted to ban red light cameras at the ballot box.




This is a journal covering motoring issues from around the world from a political perspective.


search tips | about us | site map

Subscribe
Receive free email or RSS news updates.

Key Documents
Documents, studies and memos about camera enforcement.

Archives
View previous news items.

Feedback
Contact the editors.

View Main Topics:

Popular Stories

-Missouri Cop Harassment Video

-Photo Enforcement Bans

-Most Popular Stories

Popular Studies

-Red Light Camera Study Roundup

-2007 Virginia DOT: Cameras Increase Injury Accidents

-2005 Washington Post: Accidents Doubled with Cameras

-2004 North Carolina: Red Light Camera Study (Burkey-Obeng)

-Majority Leader Armey Red Light Camera Report

-Longer Yellows Reduce Crashes (TX Transportation Institute)

-HOV/Carpool Lanes Cause Accidents




Since 1999, Washington, D.C. cameras have issued 4,500,103 tickets worth $312 million (as of 5/30/10).