top headlines:
Monday, November 17, 2014
Australian Autobahn Pilot Project Proves Successful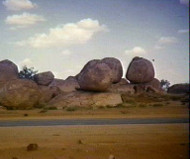 Driving the barren roads of Northern Territory, Australia is faster and safer than ever. In February, the Country Liberal Party government fulfilled a campaign promise by creating a one-year trial restoration of speed limit-free roads on a 126 mile stretch of highway between Alice Springs and Barrow Creek. Officials deemed the test so successful -- there were no speed-related crashes -- that they recently extended the limit-free zone to a total of 171 miles, adding a section south of the Ali Curung Rail Overpass. According to government statistics, most road deaths in this region were attributed to not wearing a seatbelt, 63 percent, or use of alcohol, 31 percent, not speeding. Between 2001 and 2011, there were six fatalities and 62 serious injuries on the stretch of road, none of which were directly related to speed. Officials decided to beef up patrols to counter drunk driving instead of running speed traps. "We are bringing responsibility back to motorists -- they need to be able to drive to the road conditions and their capabilities," Transport Minister Peter Styles said in announcing the pilot project. "Open speed limits mean driving to the road conditions -- everyone should drive within their own capabilities, the condition of the road, prevailing weather conditions and the standard of their vehicle." Between 1991 and 2006, rural roads in the Northern Territory had no speed limits. The Labor government imposed a speed limit of 80 MPH beginning at the end of 2006. After the change, the number of accidents increased, contrary to the predictions of speed limit advocates. Returning to the unrestricted highway has long been a goal of the Country Liberal Party, which stands for less intrusive government policies, private enterprise and individualism. To prepare the road for high-speed travel, the transportation department repainted lane markings, upgraded signage and removed obstructions such as trees from the roadside. The government also set 80 MPH speed limits near roadhouses or truck stops that are set far back from the road. Limits drop as slow as 50 MPH when they are near the road.


Sunday, November 16, 2014
France, UK: Traffic Cameras Torched And Spraypainted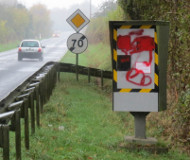 In Flintshire, Wales, vigilantes set fire to the speed camera on the A5104 in Coed Talon Wednesday morning, the North East Wales News reported. The device was the county's second most profitable camera. In Durcet, France, vigilantes last weekend covered the speed camera on the D924 with red spraypaint, L'Orne Combattante reported. On Wednesday, brown spraypaint was the color of choice in Epenoy. According to Plein Air, the camera on the RD461 was disabled for the first time since the beginning of the year. Fluorescent yellow was used to disable the speed camera in Bellenglise on Tuesday, L'Aisne Nouvelle reported. In Bains, vigilantes torched the speed camera on the RD906 on Thursday. Mon 43 reports that a tire placed around the automated ticketing machine was set on fire. The same technique was used on Wednesday in Joue-les-Tours to destroy the camera on the D7, according to La Nouvelle Republique.


Friday, November 14, 2014
Redflex May Leave The Photo Ticketing Business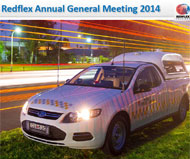 Ongoing fraud investigations and vanishing profits sparked a revolt at the annual shareholder meeting of Redflex Traffic Systems in the suburbs of Melbourne, Australia on Thursday. Investors voted against the re-election of Michael McConnell to the red light camera firm's board of directors, rejected the company's executive bonus and payment plan and voted down a planned stock award to newly appointed CEO Paul Clark. Clark suggested Redflex may leave the photo ticketing business entirely. Company officials put on a brave face at the annual meeting, letting the market know that more legal troubles are on the horizon. "As much as we'd like to close this sobering chapter of the company's history, Redflex still faces a potential legal risk as a result of the investigative findings," Redflex Chairman Adam Gray said. "We don't know the timing or potential actions of various authorities, and cannot quantify the potential exposure at this time, but we will update you as, and when, appropriate. I think the key takeaway is that we are making solid though difficult progress to move forward and I am proud of the work our team has done." Redflex last year posted a $3.8 million operating loss, which the company blames on public sentiment, which has turned against automated ticketing in the United States, the source of 68 percent of the company's business. "North America (particularly the US), where the bulk of our asset base, EBITDA and cash flow resides, continues to be a low/no-growth market made more challenging by public pushback against photo enforcement," Gray explained. The loss of lucrative contracts around the nation to voter referendum efforts and the decisions of city councils was only part of the problem. The ongoing Redflex bribery scandal in Chicago, Illinois cost the company $9.7 million in lost revenue, plus $2.4 million in legal costs. The "Student Guardian" school bus camera flop has cost $4.3 million. The New Jersey class action lawsuit settlement and being caught underpaying wages in California has cost $1.5 million. The search for a new CEO and a new business strategy cost $1.5 million. The company hopes to move away from the constant turmoil. "Over just the past three years, this company has seen seven directors leave the organization, has had three chairmen and is on its third group CEO," Gray said. "Seven directors. Three chairmen. Three CEOs. Over three years." Clark cited "negative publicity" along with "negative community reaction driving contract terminations (not new contracts), legislation changes, lower enforcement levels and multiple class actions" for the company's woes. "Redflex needs to be de-risked," Clark explained. "Revenue volatility, geographic and product concentration risks, class actions, federal investigations, different technology platforms all create a high risk business... [our objective is] to move into the non-photo enforcement market, organically or inorganically." Redflex competitor American Traffic Solutions has already diversified its portfolio by becoming a player in the toll road market with PlatePass and systems that photograph drivers to bill them for tolls. Redflex was originally a defense contractor, but the company sold its military communications equipment division in 2006.


Thursday, November 13, 2014
Florida: Traffic Camera Firms Beset By Lawsuits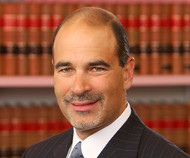 A series of decisions by Florida's second-highest court last month has thrown red light camera programs in the state into a state of disarray. Several jurisdictions, including Palm Beach County and Juno Beach, have suspended issuing tickets after the Court of Appeals ruled that the contracts between cities and counties and for-profit vendors such as American Traffic Solutions (ATS) violate the law. So far, three federal class action lawsuits have been filed seeking refunds based on the court's finding that a city may not delegate police power to ATS to review and issue red light camera tickets (view ruling). A second ruling struck down the practice of issuing uniform traffic citations to drivers who rented a car (view case). Last week, Harold Goldberg filed the most recent suit in the US District Court for the Southern District of Florida. It cites the recent appellate decisions as the basis for securing refunds for every vehicle owner who has been ticketed by ATS since July 1, 2010. ATS operates in an estimated 70 Florida towns. "ATS, acting as a contractor to and agent for various Florida municipalities and counties, under color of state law, violated plaintiffs' right to due process of law under the US Constitution," Goldberg's lawyer, Keith A. Goldbaum, wrote in his complaint. "Although section 316.0083 of the Florida Statutes authorizes the use of red light cameras to enforce violations, its language specifically requires that a TIEO [Traffic Infraction Enforcement Officer] review the alleged violation and issue any NOV [notice of violation] or UTC [uniform traffic citation] arising out of the alleged violation. The statute makes clear that only a TIEO is to review images or video to determine whether a violation has occurred -- there is no carve-out for a vendor to perform a preliminary analysis." ATS had sent Goldberg a $158 ticket after his car was photographed on July 17, 2011 in Miami-Dade County. He says he is entitled to a refund since the ticket was issued in violation of the law. The lawsuit adds a separate state charge that the "unconscionable acts" of ATS violate Florida's Deceptive and Unfair Trade Practices Act. The suit seeks a permanent injunction to put a halt to ticket issuance to stop the unfair practices and unjust enrichment. Before any suit can proceed as a class action, a judge must "certify" the class and it must withstand the motion to dismiss that ATS lawyers are expected to file.


Wednesday, November 12, 2014
UK Town Voters Overwhelmingly Reject 20 MPH Speed Limit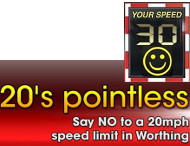 Voters in the West Sussex, England town of Worthing this week rejected lowering the speed limit on residential roads to 20 MPH. The move comes after New York City, New York lowered its citywide limit to 25 MPH on Friday. In both cases, the lowering was promoted as a "safety" measure. Unlike in New York, the Worthing County Local Committee sent ballots to all 50,365 households before acting to see whether they supported the idea. Out of the 18,911 who answered, 69 percent voted no, and 30 percent voted yes. The proposal lost out in all nine of Worthing's major neighborhoods, with Northbrook most opposed at 82 percent. The county council will formally vote on the 20 MPH proposal next week, but staff are recommending rejection of the proposal. "Recommendation: That the County Local Committee note the result of the consultation and on the basis of this majority response agree to not progress the proposed introduction of a town-wide 20 MPH speed limit in Worthing," the staff report states. The pressure group 20's Plenty for Worthing lobbied extensively for the reduction, which triggered the public consultation. The group issued a statement rejecting the judgment of voters. "To cancel plans for a 20 mph scheme based on the results of this flawed consultation would be an injustice," the group insisted. The counter-group 20's Pointless advertised against the speed limit lowering on buses, claiming that the speed limit lowering proponents are out of touch with the community. "It appears to us that the 20's Plenty for Worthing campaign is becoming increasingly desperate in response to the tide of public opinion turning against them," the group 20's Pointless said in a statement. "They are failing to win the public over with their arguments." About half of the responses received during the consultation included written comments. The most common statement was that the lowered limit would increase pollution, fuel consumption and require the installation of unsightly signs. "I believe a 20 MPH speed limit should be used very sparingly –- only in a few key places," one commenter explained. "Overuse will cause immensely more congestion in and around the center of Worthing –- it is bad enough now! Free flowing traffic conditions are critically important for businesses and private people alike, as passing trade is vital to the economy. Once congestion arises people will avoid coming to the town -- devastating." Others suggested the change would decrease, rather than increase, road safety. "There may be confusion in switching from the main 30 MPH to 20 MPH with drivers getting distracted looking for speed signs and checking their speedometers, rather than driving with full awareness of road hazards and adjusting their speed to that," another commenter explained.




This is a journal covering motoring issues from around the world from a political perspective.


search tips | about us | site map

Subscribe
Receive free email or RSS news updates.

Key Documents
Documents, studies and memos about camera enforcement.

Archives
View previous news items.

Feedback
Contact the editors.

View Main Topics:

Popular Stories

-Missouri Cop Harassment Video

-Photo Enforcement Bans

-Most Popular Stories

Popular Studies

-Red Light Camera Study Roundup

-2007 Virginia DOT: Cameras Increase Injury Accidents

-2005 Washington Post: Accidents Doubled with Cameras

-2004 North Carolina: Red Light Camera Study (Burkey-Obeng)

-Majority Leader Armey Red Light Camera Report

-Longer Yellows Reduce Crashes (TX Transportation Institute)

-HOV/Carpool Lanes Cause Accidents




Since 1999, Washington, D.C. cameras have issued 4,500,103 tickets worth $312 million (as of 5/30/10).