top headlines:
Monday, January 19, 2015
France, Italy: Speed Cameras Sprayed, Toppled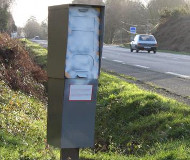 In Kervignac, France, vigilantes disabled a speed camera on Tuesday. According to Ouest France, white spraypaint was used on the automated ticketing machine on the D781. A pair of cameras were similarly painted in the area last September. The same paper reported a camera on the RD524 in Mesnil-Clinchamps had its lenses painted gray last week Sunday. In Bologna, Italy, vigilantes knocked over a pair of speed cameras last week Sunday. According to Il Resto del Carlino, the bright orange automated ticketing machines in Baricella and San Gabriel were found lying in the grass on the side of the road. Some passerby even placed a handmade sign next to the fallen San Gabriel camera saying, "You are great" to express approval of the attack.


Friday, January 16, 2015
Puerto Rico Dumps Traffic Cameras, Orders Refunds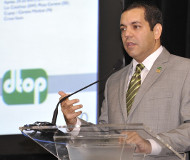 The public in Puerto Rico complained so loudly about the photo enforcement program that the territory's government listened. Red light cameras went up at three intersections in October dealing out $250 tickets for making rolling right turns, speeding or having a recently expired vehicle registration. On Thursday, Governor Alejandro Garcia Padilla (D) had his transportation department refund every ticket issued. "Since this was a pilot project, as we've always said, it was subject to continuous evaluation," transportation secretary Miguel A. Torres Diaz explained in a statement. "Taking into account the experience of these months and following the guidance of the governor... we decided to cancel the contract without delay." Haste was important, since the program had not become fully operational. A contract clause allowed the transportation department to cancel the deal without paying the $6 million termination fee at any time before the installation was complete. Transportation officials also insist that the photo ticketing firm failed to deliver on its end of the bargain. A no-bid contract was awarded to International Traffic Systems, which also operated in Puerto Rico under the name "National Public Safety Consortium." In the United States, this entity goes by the name InsureNet, a company run by Jonathan Miller of Georgia. InsureNet sells automated license plate readers and has unsuccessfully lobbied to have automated cameras issue tickets to drivers whose insurance or registration has lapsed in states like Oklahoma and Illinois. Miller's deal with Puerto Rican officials raised eyebrows. He would take over ticketing responsibilities in Puerto Rico for the nominal fee of $1. In return, his firm would collect all the revenue and give back a 55 percent cut to the government, an amount that would grow to 70 percent after becoming "fully functional." By November, cameras were issuing tickets at eight intersections. The expectation was that the cameras would soon multiply to fifty intersections in the capital city of San Juan before expanding to cover roads throughout the entire island under the contract that ran until March 30, 2019. The transportation and public works department (DTOP) will set up a hotline to assist vehicle owners in securing their refunds.


Thursday, January 15, 2015
Missouri Lawmakers Consider Banning Traffic, License Plate Cameras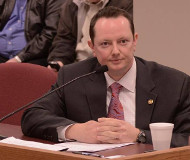 A pair of Missouri lawmakers want to keep automated cameras from watching motorists in the Show Me State. A bill introduced by state Representative Eric Burlison (R-Springfield) would ban photo enforcement, while state Senator Rob Schaaf (R-St. Joseph)'s proposes to outlaw automated license plate readers (ALPR, known as ANPR in Europe). The use of ticketing and spy cameras remains highly controversial. American Traffic Solutions (ATS), the for-profit Arizona company that operates most of the red light cameras in the state, recently agreed to settle a class action lawsuit over the firm's illegal operation of cameras. The Missouri General Assembly never gave municipalities permission to use either red light cameras or speed cameras. Burlison's proposal would prohibit any other state from mailing a photo ticket to a Missouri resident, a concept borrowed from the South Dakota law enacted last year specifically to protect South Dakotans from the predatory photo radar vans stationed on the interstate highway running through Sioux City, Iowa. Since the legislature of one state cannot pass a law that binds another, the South Dakota law and Missouri proposal each make it impossible for companies like ATS to access the license plate records needed to mail a citation. "The department [of revenue] shall not enter into any voluntary agreement with another state, or governmental entity located in another state, to provide information used to impose or collect a civil fine that results from an alleged violation captured by a red light camera or speed camera," House Bill No. 421 states. "The department [of revenue] shall not provide information used to impose or collect a civil fine that results from a violation captured by a red light camera or speed camera through any existing interstate compact that does not specifically allow or require information to be shared for that explicit purpose Schaaf's proposal goes after the cameras used to photograph passing vehicles for the purpose of storing the time, place and location of vehicle owners so that a massive database can store the travel patterns of every driver. These devices have spread throughout the nation with little public notice or oversight. The proposal would constitute one of the nation's toughest bans. "No government entity shall install or utilize an automated license plate reader system or an automated traffic enforcement system to enforce red-light or speed limit violations or collect captured motor vehicle data," Senate Bill No. 196 states. The proposal gives local governments thirty days to dispose of existing data collected on drivers through license plate readers. It would allow existing information to be shared with federal agencies only pursuant to a warrant and with "specific and articulable facts" presented to a judge certifying that the vehicle data is relevant to an ongoing criminal investigation. A copy of both proposals is available in a 180k PDF file at the source link below.
Source:

House Bill 421 and Senate Bill 196 (Missouri General Assembly, 1/14/2015)


Wednesday, January 14, 2015
West Virginia Front Seat Passenger Busted For Riding Under The Influence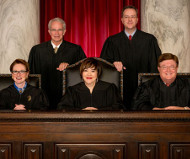 Motorists in West Virginia will lose their right to drive if someone else drives their car while drunk. The state Supreme Court of Appeals on Friday in a 3 to 2 decision upheld the administrative penalty imposed on Jason F. Uhl, whose crime was riding in the passenger seat of his SUV while someone else was driving it under the influence of alcohol (DUI). Uhl's troubles began on October 15, 2010. He joined two of his friends, Robert Lee Morris and Randy Spurlock, for what was supposed to be a fun night at a casino in Charleston. They drove together, but each went their separate ways until the end of the night. The casino was giving away free drinks, and Uhl realized that he had far too many to get behind the wheel. Morris, who says he had six beers that evening, offered to drive. Uhl said there was no way he could have known how much Morris had to drink. "He looked fine to me," Uhl said. So all three hopped into Uhl's white Jeep Cherokee for the ride home. When the trio reached Interstate 64, they passed a speed trap operated by state Trooper R.A. Phillips who says he clocked the Cherokee at 71 MPH in a 50 MPH zone. They were ordered to pull over. During the traffic stop, Trooper Phillips could smell alcohol. Morris flunked the standard battery of field sobriety tests, and a portable breathalyzer showed that he was well over the legal limit. There were eight cans of cold beer in the SUV, half of them opened. That was enough, the high court majority reasoned, to find Uhl guilty of a state law making it a crime for a vehicle owner to knowingly allow his car to be used by a drunk driver. Initially, the Department of Motor Vehicles (DMV) suspended Uhl's license, but the Office of Administrative Hearings (OAH) found the DMV did not have sufficient proof to establish Uhl's guilt. The high court reinstated the punishment. "The OAH was clearly wrong to rely upon [Uhl's] denials in spite of overwhelming circumstantial evidence that petitioner knowingly permitted Mr. Morris to drive his vehicle while under the influence of alcohol," the unsigned high court majority decision explained. "This is not a situation where the permission to drive was remote in time or place. [Uhl], his car, and Mr. Morris were all in the same place for the entire evening. The evidence to support this finding is not negated by the self-serving testimony of petitioner. There is substantial circumstantial evidence in the record that [Uhl] was aware that Mr. Morris was consuming alcohol, and could be impaired." A copy of the decision is available in a 20k PDF file at the source link below.
Source:

Uhl v. Reed (West Virginia Supreme Court, 1/9/2015)


Tuesday, January 13, 2015
Missouri: ATS Settles Illegal Red Light Camera Tickets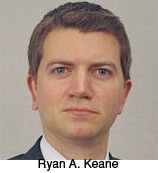 American Traffic Solutions (ATS) began issuing red light camera tickets in Missouri nearly a decade ago knowing what it was doing was illegal. Lawyers hired by the firm advised against acting without legislative authorization (view legal memo), but ATS pressed forward anyway, eager to seize the "first mover" advantage. ATS did lock up most of Missouri's contracts, and the firm's less daring competitors missed out. Now ATS is paying for its haste in the form of a partial refund. As part of a class action settlement, ATS will pay 20 cents on the dollar for each of those illegally issued tickets in return for a release from all liability. Recipients of these citations have until February 28 to ask for their refund of about $20. What they will not receive is an apology. "ATS has strenuously denied and continues to deny all charges of wrongdoing or liability against it arising out of any of the conduct, statements, acts or omissions alleged, or that could have been alleged, in the litigation and believes the claims asserted against it in the litigation are without merit," the settlement states. In April, the Missouri Supreme Court allowed the Court of Appeals decisions in a series of red light camera cases to stand as final. The rulings held that automated ticketing ordinances conflicted with state law because they converted a moving violation into a parking ticket, failing to impose license points as state law requires for all moving violations. This was the very view expressed by ATS lawyers in their 2005 memo. Postcards have been sent to several hundred thousand ticket recipients who must request their refund online at www.Morelcenforcement.com. Unless a ticket recipient specifically opts not to receive this refund or participate in the settlement, he gives up his right to sue ATS over the ticket in the future. Ryan A. Keane of the Simon Law Firm and Russell F. Watters of Brown and James will split $2 million from ATS to cover the costs of bringing the litigation. The settlement applies to the cities and towns of Arnold, Bellerive Acres, Bel-Nor, Beverly Hills, Brentwood, Bridgeton, Calverton Park, Clayton, Country Club Hills, Creve Coeur, Dellwood, Ellisville, Excelsior Springs, Ferguson, Florissant, Grandview, Hazelwood, Kansas City, Moline Acres, Northwoods, Richmond Heights, St. Ann, St. John, St. Joseph, St. Louis, Sugar Creek and Washington. ATS and Redflex settled a similar lawsuit in New Jersey in 2012.




This is a journal covering motoring issues from around the world from a political perspective.


search tips | about us | site map

Subscribe
Receive free email or RSS news updates.

Key Documents
Documents, studies and memos about camera enforcement.

Archives
View previous news items.

Feedback
Contact the editors.

View Main Topics:

Popular Stories

-Missouri Cop Harassment Video

-Photo Enforcement Bans

-Most Popular Stories

Popular Studies

-Red Light Camera Study Roundup

-2007 Virginia DOT: Cameras Increase Injury Accidents

-2005 Washington Post: Accidents Doubled with Cameras

-2004 North Carolina: Red Light Camera Study (Burkey-Obeng)

-Majority Leader Armey Red Light Camera Report

-Longer Yellows Reduce Crashes (TX Transportation Institute)

-HOV/Carpool Lanes Cause Accidents




Since 1999, Washington, D.C. cameras have issued 4,500,103 tickets worth $312 million (as of 5/30/10).