top headlines:
Sunday, July 06, 2014
Arizona, Germany, Italy: Speed Cameras Attacked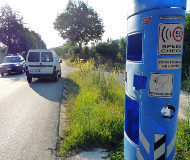 Vigilantes in Montecchio Precalcino, Italy disabled a speed camera last week Sunday. Vicenza Today reports the device was ripped out of the ground, causing 4000 euros (US $5440) in damage to the automated ticketing machine. In San Ginesio, vigilantes set fire to a speed camera on Tuesday. According to Cronache Maceratesi, the "Speed Check" machine on the Provinciale 77 in Macchie was disabled. In Ochtrup, Germany a traffic camera on the Landstrasse 510 was nearly destroyed last week Saturday. Police in Steinfurt reported gasoline was poured over the device and set on fire. Officials have no idea who might be responsible. In Phoenix Arizona, vigilantes slashed the tire of a photo radar van on Tuesday, according to the Arizona Republic.


Thursday, July 03, 2014
Idaho Court Criminalizes Sleeping It Off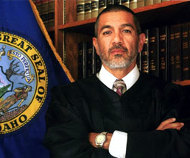 States around the nation are sending the message that it is better to attempt to drive home drunk than to sleep it off in a parking lot. The Idaho Court of Appeals on Monday added the state to the list with a ruling condemning Arlyn V. Orr for refusing to say the alphabet backwards and stand on one leg after Madison County Sheriff's Deputy Shawn Scott roused him from a deep sleep in a public parking lot at 12:20am on March 11, 2011. Deputy Scott banged on the car window several times before opening the car door to shake Orr and make him wake up. Orr smelled of alcohol, had bloodshot eyes and "exhibited poor judgment," but he would not get out of the car on the chilly 33 degree night to perform field sobriety tests. So a second officer arrived and blasted Orr with pepper spray so he could be placed under arrest. Orr was found guilty of obstructing the officers and driving under the influence of alcohol (DUI). Orr appealed, arguing that he had a constitutional right to refuse to perform the field sobriety tests. The three-judge appellate panel disagreed, setting a high bar for Orr of having to prove that the deputy's warrantless search of his car was illegal. "Because an unlawful act is not considered a 'duty' under the statute, an individual may peacefully obstruct or refuse to obey an officer's unlawful act without violating the statute," Chief Judge Sergio A. Gutierrez wrote for the court. "An individual may not, however, use force or violence to resist." The court cited the 2008 Appeals Court decision Idaho v. Buell which held that an individual accused of driving drunk has no right to refuse to perform field sobriety tests. "Deputy Scott possessed the requisite reasonable suspicion to investigate Orr for driving under the influence," Judge Gutierrez wrote. "It therefore follows that the officer's attempt to administer field sobriety tests (and order Orr out of the vehicle to do so) was a permissible component of his investigation -- and thus was a lawful act that may comprise the basis of a resisting and obstructing charge." Orr had argued that the legislature gives a non-criminal penalty for refusing to take a breathalyzer test, so it would make no sense to turn refusal to take a field sobriety test into a more severe criminal offense. The three-judge panel concluded there was no case law supporting this position and upheld Orr's conviction. Field sobriety tests are inherently subjective, as a driver may "pass" the test and still be convicted of DUI, as the Tennessee Supreme Court ruled in February (view ruling). A copy of the decision is available in a 50k PDF file at the source link below.
Source:

Idaho v. Orr (Court of Appeals, State of Idaho, 6/30/2014)


Wednesday, July 02, 2014
North Carolina Sheriff To Stand Trial For Harassing Hispanic Motorists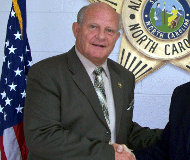 Trial preparations are underway for the Alamance County, North Carolina sheriff who allegedly ordered his deputies to stop and arrest motorists who appeared to be Hispanic. The US Justice Department brought the charges against Terry S. Johnson after interviewing more than 125 victims and personnel over the course of several years. The investigation found that drivers who were Hispanic were being pulled over at an alarming rate for minor traffic infractions. "A Latino driver in Alamance County is as much as ten times more likely than a similarly situated non-Latino driver to be stopped by an ACSO deputy for committing a traffic infraction," the Justice Department argues. Sheriff Johnson is also accused of ordering roadblocks in Hispanic neighborhoods where minority drivers were delayed while white motorists were waved through. Statements from deputies present during staff meetings and internal emails are being used to build the case establishing a pattern of discrimination. "If you stop a Mexican, don't write a citation, arrest him," Sheriff Johnson reportedly said during a 2008 staff meeting with supervisors. Federal prosecutors will also argue that the culture in the sheriff's office was seen in what happened on the streets. In 2010, a Hispanic woman was pulled over and showed a valid North Carolina driver's license to the deputy. "You stole it," the deputy reportedly said. "The woman in the picture is pretty and you're ugly. We're going to deport you." Sheriff Johnson insists it is all a misunderstanding. Lieutenant Chris Crain is expected to testify that the statements his boss made at the meetings were taken out of context. "There had been reports of car break-ins and vandalism in a mobile home park by a Mexican gang," the sheriff's lawyer, Karlene S. Turrentine, told the court on Friday. "The sheriff upon hearing that Mexican gang members were committing the crimes, instructed his two officers, 'Well, then, go get them Mexicans.' Lt. Crain understood the sheriff to mean, 'to go get the people that were responsible for the crimes.'" The defense will also attack the credibility of the Justice Department's expert witnesses and their study that identified motorists as Hispanic based solely on their appearance or the name on the tickets. Doing so accurately, Sheriff Johnson's lawyers say, is "virtually impossible." US District Judge Thomas D. Schroeder ruled on June 20 a trial was needed to determine the truth. "When the evidence is viewed in the light most favorable to the government, as it must be at this stage, the record supports claims of a pattern or practice of unconstitutional behavior occurring through 2013," Judge Schroeder ruled. "It is clear that the government has presented evidence which, if credited, demonstrates both disparate impact and discriminatory intent, but there are genuine disputes over material facts." The county has 123 sworn officers and 147 civilian employees.


Tuesday, July 01, 2014
For Redflex, A Summer Of Lawsuits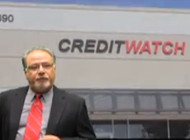 The legal bills for Redflex Traffic Systems continue to mount. Between July 1, 2013 and the end of December, the Australian red light camera operator reported spending $1.1 million to defend itself against an ongoing bribery investigation in Chicago, Illinois. One of the central figures in the investigation, former Redflex Executive Vice President Aaron M. Rosenberg, is separately suing Redflex for defamation over its handling of the public relations fallout from the scandal. The litigation is taking a financial toll. After the firm was caught violating California labor laws, Redflex had to pay $705,000 to settle the matter. It paid $814,000 to settle lawsuits in New Jersey over the illegal operation of red light cameras. Two more ongoing federal cases will keep the legal bills coming. In Ohio, Redflex attorneys were scheduled to update US Magistrate Judge Norah McCann King at 1:30pm today regarding a workplace discrimination suit, but the lawyers on both sides made a last-minute request for a time extension. Former Redflex sales manager Catherine Petzel is suing her former employer for having an anti-Australian bias at its US office. Ousted Redflex executive Karen Finley was deposed for the suit on April 30. In New Mexico, motorists are suing over the Australian firm's use of robocalls to collect on unpaid photo tickets. The drivers say the unsolicited calls violate the Telephone Consumer Protection Act, which prohibits prerecorded calls to cellphones without prior consent. Redflex has balked at a request to provide records related to the collections process. "Plaintiffs' request for immediate production is unreasonable under the circumstances of this case," Redflex attorney Candice M. Tewell wrote on June 13. "Plaintiffs' document requests have required Redflex to collect and process well over 30,000 documents, which Redflex is reviewing for responsiveness, privilege, and confidentiality. That type of review takes time -- certainly more than the 10 days plaintiffs suddenly demand in their reply." Rob Treinen, attorney for motorists Amber Fosse and David Willett, insists the company is stalling. "Redflex seeks delay upon delay upon delay," Treinen told the court. "On March 14, 2014 plaintiffs served their first set of discovery on Redflex. It is now three months later. Redflex has still not produced any documents, except for one from which it redacted the very information requested." US Magistrate Judge Robert Hayes Scott largely sided with the motorists, giving Redflex until July 14 to respond to the request. The court said Redflex must hand over the name and address of everyone that was contacted by the collection agency Creditwatch over photo tickets so that the list can be used to file the lawsuit as a class action. Redflex must also turn over all of its communications with Creditwatch.


Monday, June 30, 2014
ATS Sues Xerox Over Document Production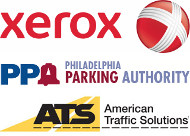 The red light camera program in Philadelphia, Pennsylvania has spawned multiple lawsuits in state and federal courts. The former vendor is suing the city, the city is suing the former vendor and the former vendor is suing the new vendor. In the latest suit, ousted red light camera provider American Traffic Solutions (ATS) is demanding that the new provider, Xerox, hand over documents related to its communications with the city. The copier giant says it will only hand over the records if ATS pays $60,750 up front to cover the cost of retrieving the data. On June 20, ATS petitioned the US District Court for the District of Maryland to intervene. ATS wants emails and documents sent between Xerox and the Philadelphia Parking Authority as part of a lawsuit over the company losing the contract to run the red light camera program. The city is suing ATS to order the company to hand over the underground wiring used to hook up the cameras so that Xerox can use it. ATS refuses to do so, claiming the wiring and conduit belongs to ATS. ATS is fighting an uphill battle. A Pennsylvania state court last month upheld the city's right to switch vendor (view ruling), but the often acrimonious dispute continues in federal court. When ATS served a subpoena for the documents in last month, Xerox Vice President Wes E. Wadle questioned the sincerity of ATS in handing the legal paperwork to Customer Service Specialist Lauren Rupkey in the Baltimore office of Corporation Service Company, Xerox's registered agent, rather than sending it to the general counsel's office at Xerox directly. "Your statement about our sincerity in serving the subpoena is baseless and ridiculous," ATS attorney Gerald E. Burns responded in a May 13 email. "If anything, it is your 'sincerity' that is in question." After a week, Xerox said it would provide the documents as soon as it receives a check for $60,750 from ATS. "As we discussed yesterday, Xerox will not begin collecting electronic data until ATS agrees to pay for the costs incurred," Xerox attorney John C. Grugan wrote in a May 21 email. "I understand that ATS is taking the position that it is not required to do so, but I believe a fair reading of the case law supports Xerox's position." ATS insists that, at a minimum, that Xerox should turn over the paper documents in the copier company's possession, which Xerox has the capability of producing and reproducing. Xerox says the documents are proprietary or covered by attorney-client privilege and the ATS request overly broad.




This is a journal covering motoring issues from around the world from a political perspective.


search tips | about us | site map

Subscribe
Receive free email or RSS news updates.

Key Documents
Documents, studies and memos about camera enforcement.

Archives
View previous news items.

Feedback
Contact the editors.

View Main Topics:

Popular Stories

-Missouri Cop Harassment Video

-Photo Enforcement Bans

-Most Popular Stories

Popular Studies

-Red Light Camera Study Roundup

-2007 Virginia DOT: Cameras Increase Injury Accidents

-2005 Washington Post: Accidents Doubled with Cameras

-2004 North Carolina: Red Light Camera Study (Burkey-Obeng)

-Majority Leader Armey Red Light Camera Report

-Longer Yellows Reduce Crashes (TX Transportation Institute)

-HOV/Carpool Lanes Cause Accidents




Since 1999, Washington, D.C. cameras have issued 4,500,103 tickets worth $312 million (as of 5/30/10).