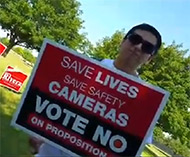 5/5/2015

Texas: Company Pays Outsiders To Campaign For Cameras
American Traffic Solutions front group pays $18 an hour to bus in support for red light cameras in Arlington, Texas.


Early voters are already heading to the polls to decide the future of red light cameras in Arlington, Texas. A charter amendment on the May 9 ballot would ban photo enforcement, and city officials and their vendors are not happy about it. American Traffic Solutions (ATS) has spared no expense to ensure the measure fails, even busing in paid outsiders to influence voters on the way to the polling stations. Through its various front groups, ATS hired the firm Extreme Marketing and Promotions to ...




---