top headlines:
Wednesday, August 27, 2014
Texas To Vote On Toll-Free Road Funding Amendment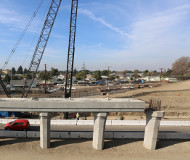 Voters in Texas will decide on November 4 whether they want highway funds to go only to general purpose roads and not to bicycle paths and infrastructure for foreign-owned tolling companies. Texas Secretary of State Nandita Berry announced last week that Proposition 1 had qualified for the ballot. If approved by voters, the measure would reflect a major reversal from Governor Rick Perry's push for tolling that included plans for a massive Trans Texas Corridor toll road that stalled after stirring widespread opposition. The proposition would create a temporary constitutional amendment drawing about $1 billion per year from the state's "rainy day fund" through 2018 and depositing the cash in the highway fund for the sole use of building and repairing new roads that are free for use by all residents. The rainy day fund currently has $6.2 billion from state oil production tax. "Revenue transferred to the state highway fund under this subsection may be used only for constructing, maintaining, and acquiring rights-of-way for public roadways other than toll roads," Proposition 1 states. Compared to the rest of the nation, the Texas economy has been booming, with the the governor boasting that his state created 29 percent of the nation's net new jobs over the past decade, primarily in the energy sector. This growth has stressed the existing road infrastructure. Between 2006 and 2011, vehicle miles traveled dropped 2.2 percent nationwide while Texas held steady, down just 0.3 percent. More growth is forecast in the decades ahead. The Inrix Traffic Scorecard ranks Austin just below Los Angeles and San Francisco for the worst traffic in the nation, with Houston and Dallas earning a spot in the top twenty-five gridlocked cities. As in most states, Texas frequently diverts "transportation funds" to projects that have nothing to do with transportation, such as building a park. The group Empower Texans recently criticized the Texas Department of Transportation for requesting $50 million for research into "drones, jetpacks, a hyperloop and hover cars." Legislation adopted to implement the proposition would create a committee to monitor the rainy day fund to ensure it remains at a "sufficient balance" given the state's needs. The measure re-allocates funds so that 25 percent of the oil tax revenue would go to the general fund, and, of the remainder, 75 percent would go to transportation and 25 percent to the rainy day fund.


Tuesday, August 26, 2014
Kentucky: Lawsuit Restored Against Cop Caught Lying About Traffic Stop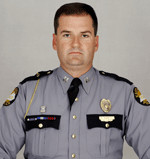 Videotape proved essential for Freddie Gregory, a motorist falsely accused of traffic violations by a high-ranking Kentucky State Police trooper. The US Court of Appeals on Friday allowed Gregory to pursue false arrest charges against Lieutenant Phillip Burnett. Since February 2009, Lieutenant Burnett had stopped Gregory on three occasions under what the motorist considered to be bogus circumstances. The 53-year-old decided to install a video camera to document the harassment. The device was ready on April 4, 2009, when Gregory decided to take his granddaughter to lunch in his pickup truck. As he was leaving his driveway, Gregory spotted Lieutenant Burnett about twenty yards away. Gregory stopped his car and removed his seatbelt to reach the on switch for his camera. Lieutenant Burnett pulled alongside the pickup truck and demanded to see Gregory's license. After pointing out he was on his own property, Gregory produced his license and complained about the traffic stops.
GREGORY: I'll tell you this: You're gonna quit this harassment. BURNETT: Do what? GREGORY: You're gonna quit this harassing me, because I ain't done nothing illegal. BURNETT: Well, let's see here. Your window is tinted. And you're getting ready to get out here, and you didn't have your seat belt on. So I can stop you now. Okay? GREGORY: Where you see my windows tinted at? Where you see my windows tinted at? BURNETT: Look right here. Look right here. You can't even see through that. GREGORY: Well, I can't help it that you got them dark glasses on and can't see nothing. BURNETT: I'll tell you what. I'm gonna take you to jail for menacing.
Gregory was searched, given a seatbelt ticket and arrested for menacing and disorderly conduct. Gregory spent three hours in jail. After seeing video of the incident, Bell County Prosecutor Neil Ward dropped the charges. Although the US District Court for the Eastern District of Kentucky rejected Gregory's malicious prosecution lawsuit against Lieutenant Burnett, a three-judge appellate panel reinstated it. "A review of the tape shows that Gregory did nothing that would legitimately constitute either disorderly conduct or menacing," the panel wrote in its decision. "Gregory had a protected right to request that Burnett stop harassing him, and a jury could conclude both that Burnett's conduct in arresting Gregory was in response to Gregory's exercising that right and that the arrest would deter a person of ordinary firmness from exercising that right." The appellate court cleared the way for Gregory's claims to be resolved by a jury at trial. Instead of sanctioning Lieutenant Burnett for his conduct, Kentucky State Police promoted him to captain in 2012 and put him in command of all troopers in Bell, Harlan and Knox counties last year. A copy of the decision is available in a 300k PDF file at the source link below.
Source:

Gregory v. Burnett (US Court of Appeals, Sixth Circuit, 8/20/2014)


Monday, August 25, 2014
California: Red Light Camera Companies Ignore Reporting Law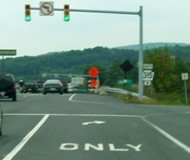 Red light camera companies have been ignoring new reporting requirements set by California law, and the judiciary has overlooked the ongoing violation. In 2012, the state legislature adopted a measure that was supposed to "make sure that drivers' rights are protected." Among other things, it required camera vendors to file an annual report with the state Judicial Council listing the number of violations captured; the number of citations issued with a breakdown of how many were right-hand turns; the percentage of tickets tossed out by the court; and the number of collisions before and after camera installation. The Highwayrobbery.net website last month asked the Judicial Council for a copy of all of the reports that should have been filed. The council could provide no documents. "At this time, no reports required by Vehicle Code section 21455.5(i) have been submitted to the Judicial Council," a spokesman for the judiciary said on July 21. Word of the Highwayrobbery.net request spread, and Redflex Traffic Systems, with its former executives under indictment for corruption, decided belatedly to send in reports on August 12. The Australian firm runs more of the camera programs in the Golden State than any of its competitors, including American Traffic Solutions, which has not complied with the statute. "We have not yet received reports from other suppliers," a spokesman for the Judicial Council explained. "Hopefully, additional reports will be available in the near future." The report Redflex supplied showed that the Australian firm issued 269,324 tickets in 38 cities worth $126 million last year. Thirty-eight percent of the total, or $48 million, came from right-hand turns. Data from federal agencies (view report) and the city of Los Angeles (view report) show rolling right hand turns rarely cause accidents. Some cities earn almost all their revenue by allowing Redflex to issue right turn tickets. Elk Grove, Newark and San Leandro are at the top of the chart, with over 90 percent of profit coming from rolling rights. A total of fourteen cities earned more than half their revenue from boulevard stops. Only Santa Clarita, Los Alamitos and Del Mar obtained less than 10 percent of revenue from right turn tickets. An analysis of Redflex-issued citations in California is available in a 60k PDF file at the source link below.
Source:

Redflex-issued citations in California (TheNewspaper, 8/25/2014)


Sunday, August 24, 2014
France, Italy: Speed Cameras Spraypainted, Knocked Over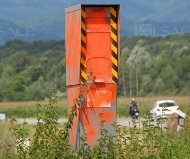 Vigilantes in Guewenheim, France disabled a speed camera on Saturday last week. L'Alsace reported that the automated ticketing machine on the RD 466 was completely covered in orange spraypaint. In Aveyron, Midi Libre reported that the speed camera on the RD992 was disabled for the sixth time by being spraypainted gray on Wednesday. Green was the paint color of choice in Pouru-Saint-Remy where the camera on the D8043 was disabled on Monday, according to L'Union-L'Ardennais. In Mogliano, Italy, a speed camera was knocked over at around 4:30am last week Sunday. According to Treviso Today, police accused a thirty-year old man of ramming the automated ticketing machine on Via Marconi.


Friday, August 22, 2014
Sierra Vista, Arizona To Vote On Banning Traffic Cameras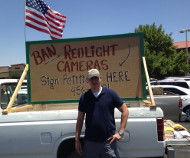 The city council in Sierra Vista, Arizona voted last week to put an initiative measure on the ballot that would, if adopted, kick out the vendor currently at the center of a $2 million bribery scandal in Chicago, Illinois. Karen Finley, the former head of US operations for Redflex Traffic Systems, was indicted for corruption just hours before the council made its decision. Robert Montgomery spent three months collecting the signatures needed to force the council, which is in full support of automated ticketing machines, to let voters decide whether the machines ought to be kept. Montgomery decided to get involved after being incensed by a pro-camera article in the local newspaper. He complained about it to people he met. "It turns out I wasn't the only guy mad about the cameras," Montgomery told TheNewspaper. "It was the same reaction everywhere." At meetings Montgomery attended, he brought up the issue and polled attendees whether he ought to do something, and the response was overwhelming. He filed the paperwork and began circulating the petition with the goal of collecting 2493 valid signatures. "What I learned on the first day was that I did not have to give a speech to convince anybody to sign the petition," Montgomery explained. "People ran over to me and stood in line to sign. After about an hour I learned to shut up and let them do the talking, and boy did I hear stories." Volunteers joined in the circulation effort, including city council candidates Craig Mount and Tony Wenc pulling in 3448 signatures by last month. That was a thousand more than needed to put Proposition 408 on the ballot. "The use of any camera or video camera device, whether fixed on a roadway, state highway in city limits, intersections or positioned in a mobile vehicle, shall be prohibited for use for the purpose of issuing any type of motorist moving violation that carries any type of monetary fine or penalty as listed in any Sierra Vista code of ordinances or Arizona Revised Statute," the initiative states. Photo ticketing companies often fight hard to block such votes, going so far as to sue their former municipal customers. Houston, Texas residents had to pay $4.8 million to settle such a suit. The contract between the Sierra Vista and Redflex, personally signed by Karen Finley during the period the Department of Justice accuses her of being involved in a conspiracy, specifically says the agreement can be canceled if a "citizen's initiative" bans the use of cameras, eliminating the worry of legal wrangling. Arizona was home to the very first referendum to outlaw the use of cameras. In 1991, 70 percent of voters in Peoria moved to prohibit the use of photo radar.




This is a journal covering motoring issues from around the world from a political perspective.


search tips | about us | site map

Subscribe
Receive free email or RSS news updates.

Key Documents
Documents, studies and memos about camera enforcement.

Archives
View previous news items.

Feedback
Contact the editors.

View Main Topics:

Popular Stories

-Missouri Cop Harassment Video

-Photo Enforcement Bans

-Most Popular Stories

Popular Studies

-Red Light Camera Study Roundup

-2007 Virginia DOT: Cameras Increase Injury Accidents

-2005 Washington Post: Accidents Doubled with Cameras

-2004 North Carolina: Red Light Camera Study (Burkey-Obeng)

-Majority Leader Armey Red Light Camera Report

-Longer Yellows Reduce Crashes (TX Transportation Institute)

-HOV/Carpool Lanes Cause Accidents




Since 1999, Washington, D.C. cameras have issued 4,500,103 tickets worth $312 million (as of 5/30/10).