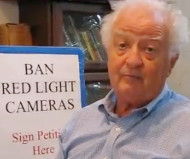 8/7/2015

Arizona: Tucson Voters Will Decide Fate Of Traffic Cameras
Voters in Tucson, Arizona will decide on November 3 whether to ban the use of red light cameras and photo radar.


Residents of Tucson, Arizona will be asked whether they want to keep or eliminate the city's automated ticketing machines on November 3. The city council unanimously agreed Wednesday to place citizen's initiative on the ballot, as required by state law. If the public approves the measure, American Traffic Solutions (ATS) would no longer be allowed to issue traffic citations in the city based on photographs. John Kromko, a former Democratic state lawmaker turned political activist, kicked off ...




---