top headlines:
Friday, September 12, 2014
Federal Government Pours $25 Million Into New York Anti-Driving Campaign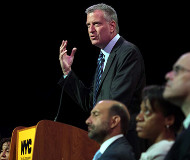 New York City Mayor Bill de Blasio's controversial "Vision Zero" program of deploying speed cameras, reducing speed limits and massively ramping up the issuance of traffic tickets has received the blessing of the Obama administration. On Tuesday, the US Department of Transportation announced $25 million in federal gas tax funds would be given New York City Department of Transportation in support of the mayor's initiative. Last week de Blasio announced a major expansion of school zone speed cameras under Vision Zero. Additional privately owned and operated cameras will be deployed until the limit set by the state legislature of 140 photo radar units is reached. Additional revenue will come from expanding red light camera deployment to 150 high-volume intersections, all timed at the bare minimum 3.0 second yellow time allowed under federal law. "We're installing speed cameras in school zones citywide," de Blasio said at a news conference last week. "The last thing you want to worry about is a car speeding by and potentially endangering the lives of children. That's why this is such an important part of our Vision Zero initiative." So far this year, just twenty cameras have issued 183,000 tickets generating $9.2 million in revenue. At that rate, the full deployment of cameras would bring in $80 million in annual profit. In addition to the cameras, Vision Zero legislation lowered the city's default speed limit to 25 MPH. The city Department of Transportation created twenty-five "slow zones" and install 250 speed bumps. Traffic signals will be retimed to force drivers to hit more red lights. The new federal cash will covers thirteen specific projects including "traffic calming" items like speed bumps and the building of bicycle paths. The idea is to encourage residents to give up their cars and take other forms of transportation. "This grant will go a long way in making the city's Vision Zero initiative a reality and I thank Secretary Foxx for recognizing the need to invest in this critical effort," US Representative Joseph Crowley (D-New York) said in a statement. New York is just the start. US Transportation Secretary Anthony Foxx this week announced an eighteen-month campaign creating a "road diet" through which space for automobile lanes will be removed from roads around the nation so that they can be "redesigned to add space for bicycle riders and pedestrians."


Thursday, September 11, 2014
DC Speed Cameras Have Not Improved Traffic Safety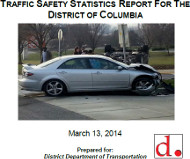 Washington, DC has been using speed cameras for more than a decade, but traffic safety has not improved. The city's private vendors have mailed more than 7 million photo tickets and collected a half-billion dollars in revenue, injury accidents have not declined as they have throughout the rest of the country. According to an analysis released in March by Howard University's Transportation Safety Data Center, there were 18,428 collisions in the city in 2012. Of these, 18 were fatal and 5258 involved injuries. Many of the photo radar units are stationed at high volume locations that are among the city's safest roads. The District has, for instance, speed cameras on Interstates 295 and 395, even though only 87 of those 18,428 collisions happened on an interstate, none of which proved fatal. The city's focus on speed enforcement does not match the District Department of Transportation's own statistics which show speed was a factor in only 3.1 percent of accidents. Red light cameras are also stationed throughout the city, even though red light running caused 2 percent of accidents, and right turns are red were implicated in 0.08 percent of collisions. At most the use of speed cameras could have an impact of 3 percent on the accident rate and red light cameras a 2 percent difference. Driver inattention, on the other hand, was the most frequent cause of a fender bender at 16.1 percent of incidents. The use of a cell phone, being distracted by passengers, interacting with loose cargo, reading behind the wheel (or by a pedestrian), interacting with a pet and personal grooming were all examples of common causes of an accident. Three collisions were caused while drivers or pedestrians were writing on a piece of paper. Nationally, accidents, injuries and fatalities have been on a steady decline. Between 2008 and 2012, the injury rate per mile traveled dropped 15 percent in the United States. The injury rate is 150 percent higher in the District, and the rate did not drop at all between 2005 and 2011 -- a steady 203 incidents per 100 million vehicle miles traveled (compared to 75 nationally). Washington only beat the national average in fatal accidents. With streets frequently gridlocked in the nation's capital, the most common types of accident are sideswipes followed closely by rear enders. The majority of incidents happen on a clear, sunny day during medium to heavy traffic. About 5 percent of accidents involve a pedestrian and 3.5 percent a bicyclist. Drivers holding DC licenses are involved in 37 percent of accidents, Marylanders 33 percent and Virginians 13.8 percent. A copy of the report is available in a 4mb PDF file at the source link below.
Source:

Traffic Safety Statistics Report for the District (Howard University, 3/13/2014)


Wednesday, September 10, 2014
France: Facebook Users Stand Trial For Anti-Speed Camera Posts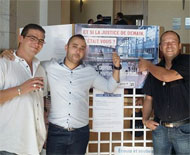 Fifteen Facebook users in France will have to wait until December to find out whether a criminal court judge deems them to be illegal radar detectors. A packed courtroom in the southern town of Rodez heard the case against the leaders of the 10,000-member page "The group that tells you where the police are in Aveyron on Tuesday. Officials were infuriated by the memes posted on the page mocking automated ticketing and warning members where speed traps in the area are lurking. The charges were filed in May in the unique complaint. "For the first time, a prosecutor decided to hunt down members of a group of citizens on the Internet," said the owners of a separate Facebook group designed to support the accused. Prosecutor Yves Delperie asked the court to suspend the drivers licenses of the defendants and to impose a 500 euro fine (US $645) on each. He cited a law banning the use of radar detectors, arguing that it applies to the Facebook page because it is accessible through a mobile app and lets the public know where cameras are operating -- just like a radar detector. Delperie insisted that the word "device," as used in the radar detector law, applies to the Facebook site. Section R413-15 of the highway code which bans the possession of a "device or product" that detects or informs of the presence of speed cameras. Remy Josseaume, lead lawyer for the defense, argued that his clients are people, not radar detectors. "In this case, one gets the feeling of having a prosecutor who wants to make a splash," Josseaume said. "But his argument doesn't work." Other local police forces in France use their own Facebook pages to advertise radar deployment, including police in Yvelines. The defendants argued that it was hypocritical for prosecutors to charge them for doing what other police departments have been doing. Despite the legal heat, the anti-camera Facebook page has never slowed down. Users continued discussing the case and local radar traps, which are now referred to with code names such as "blue," throughout the trial.


Tuesday, September 09, 2014
DC Inspector General Blasts City Over Bogus Camera Tickets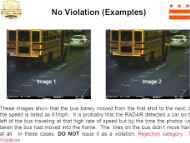 Speed cameras, red light cameras and parking tickets generate big cash for the District of Columbia. The city's inspector general on Monday issued a report questioning the diligence of city officials and private vendors in ensuring that the 2,398,136 tickets issued in 2013 -- nearly four tickets per resident, worth $171,680,640 -- were valid. At most of the speed camera locations in the city, the cameras owned and operated by American Traffic Solutions (ATS), an Arizona company, use radar to guess a vehicle's speed without being able to tell which vehicle within the radar's field of view produced the reading. "The OIG [office of the inspector general] learned that in those instances when multiple vehicles appear in the violation image(s), MPD [Metropolitan Police Department] reviewers decide, with what the OIG believes is a lack of precision and certainty, which vehicle was speeding and whether there is sufficient distance between the violating vehicle and others in the images to justify issuance of a ticket," the report found. The police training manual for the camera system includes a speed camera photo of a bus that is nearly stationary. The photo radar unit "clocked" the bus at 61 MPH, but reviewers are instructed to throw out such tickets. "In many situations, one or two speed camera images cannot tell an accurate story, and when such situations are left to a reviewer's interpretation and judgment, arbitrary and erroneous ticketing decisions will result," the report found. "Once the ticket is issued, however, the onus is on the recipient to disprove an erroneous interpretation of events, or simply pay the fine." The odds of mistakes are high, since DC's ticket reviewers processed on average between 100 and 500 tickets per hour. That means in some cases the "review" is a glance lasting 7 seconds. "MPD's ATE training manual also instructs reviewers to accept violations and issue tickets in certain instances where the type of vehicle captured in the ATE images does not comport with information obtained through MPD's search of vehicle registration databases," the report found. "The OIG believes that MPD should discontinue this practice because it leads to the issuance of erroneous tickets, which then puts a recipient of such a ticket in the challenging and frustrating position of trying to prove to a hearing examiner -- without having vehicle registration information that MPD has access to or an understanding of how his or her vehicle was identified -- that he or she is not the owner of the subject vehicle." City officials have also failed to make clear to meter maids whether it is legal for a driver to park at a broken meter. "Skeptical members of the public might believe that the District's failure to inform them on this subject is intentional: without clear criteria of the District's ticketing policy, a ticketed motorist is unable to prove that DDOT enforcement officers failed to follow proper procedure," the report found. One of the top officials in the city explained to the inspector general that the skeptical view is the correct view. "One of the beauties of parking, it's like the [Internal Revenue Service]," the official said. "If you get a parking ticket, you are guilty until you have proven yourself innocent... That has worked well for us." A copy of the report is available in a 1.3mb PDF file at the source link below.
Source:

Parking and Automated Traffic Enforcement Ticket Issuance Practices (Washington, DC Inspector General, 9/8/2014)


Monday, September 08, 2014
Federal Appellate Judge Slams Justice Department Over Immigration Checkpoint Detention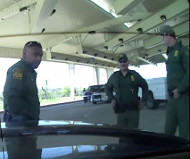 The Fifth Circuit US Court of Appeals on Tuesday heard a Justice Department official argue that agents have the right to indefinitely detain "uncooperative" motorists at border roadblocks far from the actual border. US Air Force Major Richard Rynearson was stopped on March 18, 2010 when he came to an immigration checkpoint on Highway 90 in Uvalde, Texas, 67 miles from the border with Mexico. The Justice Department attorney got off to a bad start with the three-judge panel. "To take the position of plaintiff in this case, this court would have to hold that, as plaintiffs and amicus insist, that they have a right to say nothing," Justice Department attorney Steve Frank said. "To just pull up at a checkpoint stop..." At this point, Judge Jennifer Elrod interrupted. "That's not true," Judge Elrod said. "That's just absolutely not true. We would not have to hold anything so broad. We would have to hold if you cooperate you can't be held for thirty minutes in what's supposed to be a quick stop and that everybody should know that if you don't have probable cause you, can't keep holding someone there for lengthy periods of time after you produce your identification." Immigration roadblocks are supposed to be for the sole purpose of establishing US citizenship at the border, but the courts have expanded the definition of "border" to include anything within 100 miles of the border. Although Rynearson offered a military ID, passport and driver's license, Border Patrol agents were peeved that Rynearson did not fully roll down his window and asked if he was being detained. "Basically, for a large part of the time the gentleman was not answering questions," the government lawyer said. Judge Elrod interjected a second time. She had seen exactly what happened during the stop on a video that Rynearson recorded and uploaded to YouTube (view video). "That's not true, counsel," Judge Elrod said. "He never once did not answer a question posed to him, did he counsel? There is not a single incident where he was asked a question and did not respond, is there, sir? ...I don't understand what he did that contributed to the lengthy time that they just sat there." A large part of the delay came while Border Patrol agents called to complain to the decorated combat veteran's commanding officer. "What is the purpose of going to call the commanding officer at the military base?" Judge Elrod asked. "What does that have to do at all with citizenship?" The district court threw out the case, denying a discovery request that would have taken depositions to find out what was said on the phone calls. Rynearson is asking the three-judge panel to send the case back to the district court so a jury can decide whether the Border Patrol agents should pay for violating Rynearson's Fourth Amendment rights. "At one point the officer tells Mr. Rynearson that they don't need probable cause to hold him," Judge Elrod said. "Is that legally correct? ...Could you hold someone overnight at the border stop?" The Justice lawyer argued that because there was no "clearly established precedent" saying a stop longer than five minutes was unconstitutional that the officers could not be held personally liable for their conduct. "There's no law here," Frank said. "There's no law that says how long you can detain someone, what kind of questions you can ask."




This is a journal covering motoring issues from around the world from a political perspective.


search tips | about us | site map

Subscribe
Receive free email or RSS news updates.

Key Documents
Documents, studies and memos about camera enforcement.

Archives
View previous news items.

Feedback
Contact the editors.

View Main Topics:

Popular Stories

-Missouri Cop Harassment Video

-Photo Enforcement Bans

-Most Popular Stories

Popular Studies

-Red Light Camera Study Roundup

-2007 Virginia DOT: Cameras Increase Injury Accidents

-2005 Washington Post: Accidents Doubled with Cameras

-2004 North Carolina: Red Light Camera Study (Burkey-Obeng)

-Majority Leader Armey Red Light Camera Report

-Longer Yellows Reduce Crashes (TX Transportation Institute)

-HOV/Carpool Lanes Cause Accidents




Since 1999, Washington, D.C. cameras have issued 4,500,103 tickets worth $312 million (as of 5/30/10).