top headlines:
Tuesday, February 18, 2014
Missouri Lawmakers Consider Legitimizing Traffic Cameras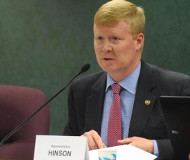 Red light camera and speed camera companies in Missouri are very afraid. In 2006, American Traffic Solutions (ATS) deployed cameras in the city of Arnold in 2006 without waiting for legislative approval, against the advice of the firm's own legal counsel (view legal memo). Now the courts have caught up to the situation. In the past six weeks, the state Court of Appeals has issued four separate opinions finding photo enforcement programs in violation of state law, and local judges have issued injunctions. The state Supreme Court is unlikely to be sympathetic, as it struck down the photo ticketing program in Springfield in 2010 (view ruling). The state House Rules Committee will decide later today whether to let ATS off the hook. In light of the situation, some Missouri state lawmakers are doing their best to rescue ATS. After taking a $800 in campaign donations from the company (most recently on December 11), state Representative Dave Hinson (R-St. Clair) introduced a bill that would instantly clear the photo enforcement industry's legal troubles, if enacted. The measure cleared the House Crime Prevention and Public Safety Committee last week and is scheduled for a Rules Committee hearing later today. "Any conviction for an infraction based solely upon evidence obtained from an automated traffic enforcement system shall not have a point value... and no court having jurisdiction over such violations shall forward a record of any plea or finding of guilt of any person in the court for such infraction to the department of revenue," House Bill 1557 states. The ban on the issuance of points overturns the Court of Appeals ruling that found, in the absence of action by the General Assembly, photo tickets were invalid because they do not issue license points. House Bill 1557 is couched in language that appears to limit the use of cameras, which was the technique that photo enforcement lobbyists used in Tennessee to sneak through legislative approval for red light cameras and speed cameras in 2008. Both the state attorney general (view opinion) and Tennessee Court of Appeals (view ruling) found that the "no points" language constituted a legislative blessing for the use of red light cameras and speed cameras that dismissed all legal action against the photo ticketing firms retroactively. "Because Tennessee statutory law specifically authorizes owner liability for violations detected by traffic light monitoring systems, local ordinances so providing are not susceptible to challenge on the preemption grounds," Tennessee Attorney General Robert E. Cooper Jr wrote. Hinson's bill also includes a number of features designed to appear to limit the use of cameras but that actually codify existing practices. The bill requires adoption of an ordinance before using a red light camera, something cities already must do. The bill also states that yellow signal times must be "in accordance with the Manual on Uniform Traffic Control Devices," which is already required under federal law. It requires a "public awareness campaign" for photo ticketing, something that is already part of every photo ticketing company's service offerings. Tickets would be set at $135. A copy of House Bill 1557 is available in a 70k PDF file at the source link below.
Source:

House Bill 1557 (Missouri General Assembly, 2/18/2014)


Monday, February 17, 2014
Ohio Appeals Court Overturns Speed Camera Ticket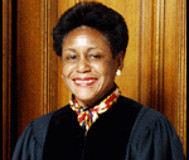 Photo enforcement programs have been losing legal support in Missouri over the past several weeks, and now the judicial skepticism has spread to Ohio. On Thursday the state Court of Appeals overturned a speed camera ticket that had been issued by Xerox Corporation on behalf of the city of Cleveland. Xerox had mailed the ticket to Darrell E. Dawson, claiming his car was traveling 49 MPH in a 35 MPH zone on June 17, 2012. When Dawson appealed, he had his father James G. Dawson, a lawyer, attend the administrative hearing run by a Cleveland employee of the Parking Violations Bureau. James Dawson argued that there were nine specific errors in accusation against his son, but the city employee looked at a sheet of paper that claimed Dawson's car was speeding and imposed a $100 fine. Dawson appealed to an actual trial court, and the trial court held the hearing officer's findings of fact were sufficient. Dawson appealed again to the Court of Appeals, which agreed that the entire process was constitutionally flawed, citing an appellate decision made in January. "Because this appeal presents yet another challenge to the constitutionality of a city's automated camera civil traffic enforcement system, we will follow this court's most recent decision in Jodka v. Cleveland," Judge Patricia Ann Blackmon wrote for the three-judge panel. "In Jodka, we found that Cleveland Ordinance 413.031 unconstitutionally usurps the authority of the Cleveland Municipal Court to adjudicate certain traffic infractions. As such, we sustain Dawson's facial challenges to Cleveland Ordinance 413.031 and reverse the trial court's decision." Article IV, Section 1 of the Ohio Constitution gives the General Assembly the sole and exclusive power of establishing courts and defining their jurisdiction. State law gives municipal courts power to hear cases about the "violation of any ordinance of any municipal corporation within its territory." The statute has a specific exemption for parking violations, which can be heard by a parking violations bureau. The January 23 Jodka decision (view opinion, 120k PDF) held that the parking ticket exception only applies to citations that have to do with the "stopping, standing or parking of vehicles," which does not apply to speeding citations. The three-judge appellate panel in Jodka found it reasonable that speed camera tickets should not be treated like parking tickets. "The automated camera system captures this fleeting moment in time," Judge Kenneth A. Rocco wrote for the court. "Because the vehicle operator is unaware of the camera's action, he or she cannot adequately mount a challenge to the accuracy of the device." Cleveland intends to appeal. A copy of the Dawson ruling is available in a 40k PDF file at the source link below.
Source:

Dawson v. Cleveland (Court of Appeals, State of Ohio, 2/13/2014)


Sunday, February 16, 2014
France, Germany, Italy, Saudi Arabia: Speed Cameras Attacked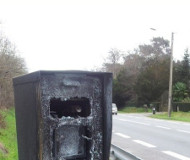 In Rovigo, Italy, vigilantes found a creative way to stop the speed camera on the Strada Statale Romea. Il Resto del Carlino reports that a three-foot wooden rod was used to hold the photograph of a topless woman in front of the camera lens. When cars passed last week Saturday, the device took a photograph of the photograph. Vigilantes in Amelungsborn, Germany smashed a traffic camera on Wednesday. According to Stader Tageblatt, a hammer or similar tool was used to break the glass lens of the device. Vigilantes burned a speed camera in Mergnac, France early this morning. According to Sud Ouest, the automated ticketing machine on Marcel Dassault Avenue was completely destroyed. On Wednesday, a speed camera in Lafox was spraypainted black. Sud Ouest reported that the same device on the RD813 was attacked on December 7. In Chateauneuf-d'Ille-et-Vilaine on December 31, vigilantes used a burning tire to set fire to a speed camera. According to Ouest France, the device suffered only minor damage. All together, the number of speed operational cameras dropped sharply in 2013, according to a report by the Minstry of the Interior. In February, the 95 percent of speed cameras were operational, but by June 2013 the figure plunged to 80 percent. Speed cameras generated 647 million euros (US $886 million) in profit in France. Vigilantes shot a speed camera in Saudi Arabia on Monday. According to Al Watan, the device was issuing tickets on the Prince Fahd bin Sultan road in Tabuk Province.


Friday, February 14, 2014
Kansas Appeals Court Overturns Forced Blood Draws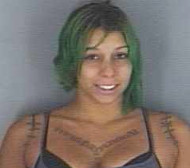 Many states have enacted laws allowing police to take blood by force from any motorist involved in a serious traffic accident, but the second highest Kansas court in Kansas says the practice is unconstitutional. Last Friday, the Court of Appeals rejected the argument that drivers give their "implied consent" to such searches when they accept a driver's license. A three-judge panel considered the case of Aryanna Declerck who swerved off the road and rolled a Dodge Ram pickup truck on Interstate 470 on November 5, 2011 at 2pm. Declerck was buckled up and survived, but her passenger, Shaylee Oxy, was not. She was ejected from the vehicle and died. The Kansas Highway Patrol officer who arrived on the scene asked Declerck to take a blood test. She refused, and the officer had the blood taken by force without a warrant at Stormont-Vail Hospital. Declerck was subsequently charged with felony manslaughter while driving under the influence of marijuana (DUI). One witness at the scene, Gregory Roy, testified that there was nothing reckless or unusual about Declerck's driving. Trooper Marcus Seirer concluded Declerck lost control while trying to pass a car and could have been cited for making an unsafe lane change. Marijuana was found in a search of the wrecked truck. Declerck filed to suppress the blood test evidence on the grounds that the search was made without probable cause. State prosecutors conceded that they lacked cause, but they insisted it was sufficient to cite state law. "Any person who operates or attempts to operate a vehicle within this state is deemed to have given consent... to submit to one or more tests of the person's blood, breath, urine or other bodily substance to determine the presence of alcohol or drugs," Section 8-1001 states. "A law enforcement officer shall request a person to submit to a test... if the person was operating or attempting to operate a vehicle and such vehicle has been involved in an accident or collision resulting in serious injury or death of any person and the operator could be cited for any traffic offense." Under the statute, the traffic offense is considered the probable cause for the blood draw. The three-judge appellate panel found that every case cited by the prosecution upholding the implied consent law involved incidents where police had probable cause to believe alcohol or drugs were involved. "We are acutely aware the statute in question attempts to address the terrible toll impaired drivers inflict on our state's highways, but we are reminded of the 'truism that constitutional protections have costs,'" Judge Anthony J. Powell wrote for the court. "While the state does have a significant interest in preventing accidents involving drugs and alcohol on the road, [this law] does not further that interest. A traffic infraction plus an injury or fatality, without more, does not constitute probable cause that drugs or alcohol were involved in the accident." The court reasoned that the "implied consent" doctrine also fails because Declerck explicitly withdrew her consent. The court upheld the suppression of the blood test. Alaska, Arizona, Georgia, Illinois, Indiana, Maine, Mississippi and Pennsylvania have found similar blood draw statutes unconstitutional. A copy of the decision is available in a 135k PDF file at the source link below.
Source:

Kansas v. Declerck (Court of Appeals, State of Kansas, 2/7/2014)


Thursday, February 13, 2014
Judge Shuts Down St Louis, Missouri Red Light Cameras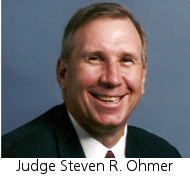 Red light cameras and speed cameras are in trouble in Missouri. The state Court of Appeals recently reversed course on the legality of automated ticketing machines, issuing four separate opinions finding photo enforcement programs in violation of state law. On Tuesday, Missouri Circuit Court Judge Steven R. Ohmer decided to enforce the law with an order prohibiting the city of St. Louis and its vendor, American Traffic Solutions (ATS), from issuing automated citations. Motorists Sarah Tupper and Sandra Thurmond filed suit last year after receiving tickets in the mail. On the same day a court hearing was scheduled, the city and ATS dismissed the tickets, thinking this would render the class action lawsuit moot. Judge Ohmer would not let the matter drop. "Here, the issue of red light camera enforcement is of general public interest because it affects all drivers and owners of automobiles in St. Louis," Judge Ohmer wrote in his order. "The issue will also evade review if respondents continue to dismiss tickets when an injunction seems likely... Here, it is clear that the city dismissed the petitioners' tickets for the sole reason of avoiding an injunction in this matter, which the court was poised to enter following the November hearing. Voluntary cessation of certain conduct does not render a case moot if there is a reasonable expectation the wrong will be repeated..." The wrong is question is St. Louis enforcing the red light camera ordinance that the Court of Appeals ruled was "void for failure to comply with the Supreme Court rules." The decision became final on October 30, 2013 when the Supreme Court refused to hear the city's appeal. In response to the ruling, St. Louis made a slight change to the ordinance and continued issuing citations. "Despite the Court of Appeals clearly stating that the ordinance was 'invalid' and 'void,' the city has asserted the position that it could continue to enforce the ordinance," Judge Ohmer wrote. "The Court of Appeals said the ordinance was void. It did not say, as defendants argue, that the ordinance was valid except for the notice; in fact, it declined to rule on such issues as whether the ordinance violated due process, reasoning that it did not need to determine such issues because the ordinance was already found to be void and as such, unenforceable." Judge Ohmer found the re-written ordinance was still deficient and, even if it were valid, it would still conflict with the recent appellate decisions finding the rebuttable presumption that a photo ticket recipient is guilty violates Article I, Section 10 of the Missouri Constitution (view ruling). "Respondent city of St. Louis is hereby prohibited from proceeding with any enforcement of the red light camera ticket ordinance," Judge Ohmer wrote in his permanent injunction. On Wednesday, the city issued a statement indicating it does not intend to follow Judge Ohmer's ruling. "We have a court of appeals opinion from June 2013 that found only one small flaw with our program, which we fixed," said City Counselor Michael Garvin. "On Tuesday, a lower court judge issued a ruling, which conflicts with the court of appeals decision. We are trying to follow the various courts' decisions, but because there are so many conflicting rulings, it is difficult. So, this issue remains on a path to be decided by the Missouri Supreme Court." A copy of the order is available in a 1.3mb PDF file at the source link below.
Source:

Tupper v. St. Louis (Missouri Circuit Court, City of St. Louis, 2/12/2014)




This is a journal covering motoring issues from around the world from a political perspective.


search tips | about us | site map

Subscribe
Receive free email or RSS news updates.

Key Documents
Documents, studies and memos about camera enforcement.

Archives
View previous news items.

Feedback
Contact the editors.

View Main Topics:

Popular Stories

-Missouri Cop Harassment Video

-Photo Enforcement Bans

-Most Popular Stories

Popular Studies

-Red Light Camera Study Roundup

-2007 Virginia DOT: Cameras Increase Injury Accidents

-2005 Washington Post: Accidents Doubled with Cameras

-2004 North Carolina: Red Light Camera Study (Burkey-Obeng)

-Majority Leader Armey Red Light Camera Report

-Longer Yellows Reduce Crashes (TX Transportation Institute)

-HOV/Carpool Lanes Cause Accidents




Since 1999, Washington, D.C. cameras have issued 4,500,103 tickets worth $312 million (as of 5/30/10).