top headlines:
Monday, April 06, 2015
Australia, Belgium, Italy, Russia, UK: Speed Cameras Disrespected, Destroyed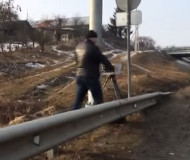 A man in Victoria, Australia flashed a speed camera on January 26. Victoria Police last Monday released images of a man in his 30s who stripped naked and danced in front of the automated ticketing machine on Kelletts Road in Rowville. In Vladivostok, Russia, a man -- fully clothed -- was filmed making lewd advances toward a mobile speed camera unit on the M60. The video is available on YouTube. In Gallarate, Italy, vigilantes disabled a speed camera with a feminine hygiene product. La Provincia di Varese reports that a tampon was glued over the lens of the automated ticketing machine on Viale Milano. In Wallonia, Belgium, vigilantes used a grinder to destroy a speed camera on Wednesday. According to 7 Sur 7, the automated ticketing machine on the E42 was completely destroyed in the attack. Vigilantes in West Yorkshire, England scorched a speed camera at around 3:40am on Friday. The Huddersfield Daily Examiner reports that a tire was placed on the automated ticketing machine on Wakefield Road in Huddersfield and set on fire.


Friday, April 03, 2015
ATS Accused Of Discriminating Against The Disabled

Within the red light camera industry, Redflex Traffic Systems is spending the greatest amount of time in the courtroom. The company faces a federal bribery trial in Chicago, Illinois, a lawsuit over anti-Australian bias and a nasty legal battle with the company's own former executive vice president. Now Redflex competitor American Traffic Solutions (ATS) is being drawn into federal court to answer charges that it discriminated against Marie A. Mdamu, who worked as a violation processor for the Arizona-based firm from 2008 to 2012. When first hired, Mdamu says she had to fill a quota of 70 tickets per hour, an amount that increased 57 percent to 110 citations per hour in 2011. Mdamu says the constant clicking required to convict motorists took a physical toll. "This rapid paced data entry required plaintiff to use her hands on a keyboard toggle and a mouse continuously throughout her working hours," Bradley D. Gardner wrote in the complaint. "Sometime in 2010, Plaintiff began experience wrist pain in both wrists. This pain increased in intensity when performing her data entry work." A doctor prescribed the use of wrist braces and physical therapy to treat her tendinitis and tenosynovitis. Mdamu asked her supervisor for a reasonable accommodation of a break each hour so she could rest her hands, as her physician suggested. According to the lawsuit, her supervisors Scott Darnell and Alicia Carrithers, refused to ease the ticket quota. "Since the time plaintiff reported her disability, she was constantly harassed by Mr. Darnell about meeting quotas despite her inability to do so based on her disability," Gardner wrote. "On several occasions, Mr. Darnell would stand over plaintiff's shoulder and watch her as she performed her work. During one such instance, Mr. Darnell became frustrated with plaintiff because of her inability to reach the hourly quotas and he told her that she needed to take responsibility and to 'own it' when referring to her quota." Mdamu applied for other jobs within the company that did not require wrist movement, including working in the mail room and as a trainer. The human resources department told her she was not eligible. ATS fired Mdamu on August 29, 2012. In November, the Equal Employment Opportunity Commission reviewed Mdamu's retaliation charges and cleared the lawsuit filed last month in the US District Court for the District of Arizona.


Thursday, April 02, 2015
Nevada Needs More Traffic Tickets To Pay Judicial Salaries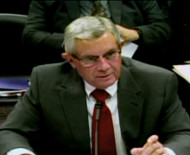 Nevada courts are out of cash because police are not writing enough speeding tickets. State Supreme Court Chief Justice James W. Hardesty sounded the warning before the state Joint Subcommittee on General Government on March 11, telling lawmakers that the coffers are running dry at an alarming rate. "We thought the decline would be about three or so percent," Justice Hardesty explained. "We budgeted for a five percent decline in the budget that the governor recommended. We now believe based on the numbers we're seeing that the decline will actually be ten percent. This is a serious problem, not only for the Supreme Court's budget, but also for those budgets in the state general fund that are supported by administrative assessments." In 2010, 615,267 traffic and parking tickets were issued statewide. This dropped to just 484,913 last year. The 21 percent reduction in revenue is hitting the courts hard. "We probably will be close to 400,000 in 2015," Justice Hardesty told committee members. "I mean this is the concern that all of us together, senator, need to address.... With all due respect to the citizens of Nevada, I don't think anyone is driving better. I think the truth is, we're seeing less traffic violations because law enforcement's priorities have changed dramatically." The judicial branch spends $51 million each year to operate, with all but $20 million coming from the state general fund. Roughly the same amount, $21 million, pays the salaries of the state's justices and judges. The chief justice believes paying judges out of traffic fines is the wrong way to fund the courts. "The Supreme Court is the one who's encouraging people to violate the law so we have enough money to operate," Justice Hardesty observed. "That seems like an oxymoron. I would urge the legislature to give serious consideration to changing the manner by which the Supreme Court is funded." The chief justice told lawmakers that it was their constitutional duty to fund the courts and that the $1.4 million budgetary shortfall should be paid from the general fund, instead of encouraging more ticket-writing statewide. "If this issue is not addressed before May 1, the court will not have sufficient cash to operate," Justice Hardesty warned. "Do you want me to close the judicial branch of government at the state level on May 1? ...If we don't fix this problem, the Supreme Court will be broke in the next biennium."


Wednesday, April 01, 2015
Georgia Supreme Court Questions Implied Consent Law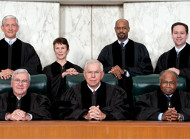 Georgia's implied consent law may not be around much longer. On Friday, a unanimous state Supreme Court laid the groundwork for a future ruling that could effectively nullify the statute that imposes automatic punishment on motorists who refuse to provide a blood sample or breath test upon demand. The implied consent law helps police investigate drunk driving (DUI) cases by allowing what are considered searches under the Fourth Amendment to take place without a search warrant. John Cletus Williams learned about this after a Gwinnett County police officer pulled him over for swerving on September 22, 2012. "Georgia law requires you to submit to state administered chemical tests of your blood, breath, urine, or other bodily substances for the purpose of determining if you are under the influence of alcohol or drugs," the officer told Williams. "If you refuse this testing, your Georgia driver's license or privilege to drive on the highways of this state will be suspended for a minimum period of one year." Williams agreed to the blood draw, thinking he had no choice. The officer called the incident an ordinary DUI and admitted there were no unusual or exigent circumstances with the case. A county judge convicted Williams based on the blood evidence, saying the implied consent law rendered Fourth Amendment concerns irrelevant. The high court disagreed. "The state court's analysis is flawed," Presiding Justice P. Harris Hines wrote for the court. "A suspect's right under the Fourth Amendment to be free of unreasonable searches and seizures applies to the compelled withdrawal of blood, and the extraction of blood is a search within the meaning of the Georgia Constitution." In Missouri v. McNeely (view case), the US Supreme Court held that the natural dissipation of alcohol in the bloodstream did not automatically create "exigent circumstances" that absolve police of their duty to obtain a search warrant before drawing a suspect's blood. The justices required police to either get a warrant or cite a legitimate emergency justification for not doing so. There were no exigent circumstances in the Williams case, so the Georgia high court was left to rule on whether Williams voluntarily consented to having his blood drawn after being read the implied consent notice that told him that he had no choice. The justices said they needed more information. "In considering Williams's motion to suppress, the state court failed to address whether Williams gave actual consent to the procuring and testing of his blood, which would require the determination of the voluntariness of the consent under the totality of the circumstances," Justice Hines concluded. "Consequently, the judgments of the state court are vacated and the case is remanded to that court for proceedings consistent with this opinion." A copy of the ruling is available in a PDF file at the source link below.
Source:

Georgia v. Williams (Georgia Supreme Court, 3/31/2015)


Monday, March 30, 2015
Gemany Italy, UK: Speed Cameras Oiled, Painted, Exploded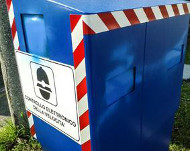 Vigilantes set fire to a speed camera in Minsterworth, England on March 20. According to the Gloucester Citizen newspaper, the automated ticketing machine on the A48 only suffered cosmetic damage, and the blaze was extinguished by 9 pm. In Wisbech, the Wisbech Standard reported that a man was injured by a speed camera warning sign. Jim McDonald had been walking on a path when he was forced to dodge a cyclist. Because the sign is mounted too low, he cut his head on the sign, which is covered in green mold. In Arezzo, Italy, vigilantes last week came up with a new way to disable speed cameras -- cooking oil. La Nazione reported that the liquid was poured into the automated ticketing machine on the 71, effectively disabling the device. In Castellanza, blue spraypaint was used to block the lenses of a trio of speed camera last week. According to Legnano News, the automated ticketing machines had just been installed a week earlier on the Viale Borri, Via Nizzolina and Via Don Minzoni. In Nenndorf, Germany, vigilantes blew up a speed camera. According to Harburg police, explosives were used to take out the fixed radar unit on Bremer Strasse at about 4 am.




This is a journal covering motoring issues from around the world from a political perspective.


search tips | about us | site map

Subscribe
Receive free email or RSS news updates.

Key Documents
Documents, studies and memos about camera enforcement.

Archives
View previous news items.

Feedback
Contact the editors.

View Main Topics:

Popular Stories

-Missouri Cop Harassment Video

-Photo Enforcement Bans

-Most Popular Stories

Popular Studies

-Red Light Camera Study Roundup

-2007 Virginia DOT: Cameras Increase Injury Accidents

-2005 Washington Post: Accidents Doubled with Cameras

-2004 North Carolina: Red Light Camera Study (Burkey-Obeng)

-Majority Leader Armey Red Light Camera Report

-Longer Yellows Reduce Crashes (TX Transportation Institute)

-HOV/Carpool Lanes Cause Accidents




Since 1999, Washington, D.C. cameras have issued 4,500,103 tickets worth $312 million (as of 5/30/10).