top headlines:
Monday, March 31, 2014
South Dakota Enacts Most Sweeping Photo Ticket Ban In US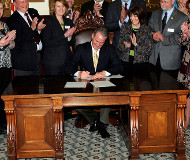 Sixteen states ban the use of red light cameras and speed cameras by statute or state court rulings (view list), but none of these prohibitions are anywhere near as sweeping as a pair of bills signed into law last week by South Dakota Governor Dennis Daugaard (R). Not only are South Dakotans protected from red light camera tickets within state borders, as of July 1 they will be immune to automated citations issued in most other states. Lawmakers in Pierre overwhelmingly favored a straightforward ban on the use of red light cameras. Earlier this month, the state Senate voted 26 to 9 on the ban that had cleared the state House in February by a 69 to 1 margin. "No state, county, municipal, or township authority may contract with any private corporation to provide for the use of any photo monitoring device to detect any red light violation," the new law, House Bill 1100, states. South Dakota's experiment in photo ticketing ended in 2010 after a circuit court judge struck down the red light camera operation in Sioux Falls as illegal (view decision). The judge ruled that the city violated state law in creating a program that turned the misdemeanor of red light running into a civil penalty without authorization from the legislature. Though the problem was solved, South Dakota lawmakers have been besieged with complaints from constituents hit with speed camera tickets in traps set on the freeway traveling to and from Iowa. State Representative Anne Hajek (R-Sioux Falls) came up with the idea of prohibiting collection agencies from calling South Dakota residents about camera tickets. Her bill was amended to say that a jurisdiction attempting to enforce a judgment against South Dakotans would have to provide evidence that "all due process requirements such as notice, hearing, and opportunity" have been met. Objections were raised about the constitutionality of a South Dakota law imposing requirements on another state. Daugaard came up with a solution. His aides, calling Iowa's speed traps "abhorrent," proposed legislative language blocking other states from converting a license plate into the name and address of a South Dakota vehicle owner, cutting off the ability to ticket residents. The new law will do so by refusing to turn this information over to NLETS, the system used by photo ticketing companies, for the purposes of processing a red light camera or speed camera ticket. "The Department of Public Safety and the Division of Motor Vehicles shall not enter into any compact to provide to another state, or governmental entity located in another state, information used to impose or collect a civil fine that results from an alleged violation captured by a red light camera or speed camera," the new law, House Bill 1122, states. "The Department of Public Safety and the Division of Motor Vehicles shall not provide information used to impose or collect a civil fine that results from a violation captured by a red light camera or speed camera through any existing interstate compact that does not specifically allow, or require, information to be shared for that explicit purpose. " The language would block photo tickets not just in Iowa, but also any other state that uses cameras with the possible exception of Arizona and California where tickets carry license points in addition to the "civil fine" and are treated as criminal charges. The statutes will take effect on July 1. A copy of the final version of the law is available in a 20k PDF file at the source link below.
Source:

House Bills 1100 and 1122 as signed (South Dakota Legislature, 3/30/2014)


Sunday, March 30, 2014
France, Saudi Arabia Speed Cameras Disabled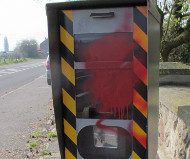 In Amagney, France, vigilantes used gray spraypaint to disable the speed camera on the RD683 on Saturday, Ma Commune reported. In Strazeele, vigilantes spraypainted a pair of cameras on opposite sides of the A25 on March 18. According to La Voix du Nord, in one direction the camera was painted blue and in the other it was painted red. In Saudi Arabia, a video clip is circulating showing a man run from a car to knock over a mobile freeway speed camera unit, known as "Saher," Akhbaar 24 reports. View video.


Friday, March 28, 2014
Illinois Supreme Court: Cop Cannot Pull Over A Man Looking For A Woman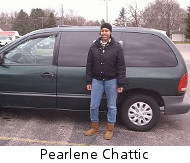 A police officer who pulls over a car he believes is driven by a wanted woman must end the traffic stop once he realizes the driver is actually a man. The Illinois Supreme Court came to this conclusion last week in deciding 5 to 2 that Derrick A. Cummings had his constitutional rights violated when he was stopped and arrested on January 27, 2011. Cummings had been driving a van that belonged to Pearlene Chattic through the city of Sterling. Although Cummings violated no traffic laws, Officer Shane Bland pulled behind and decided to run the van's license plate. "It appeared that the registration on the vehicle had expired," Bland testified. The registration, in fact, was perfectly valid, but Chattic, the vehicle's owner, had an outstanding warrant for her arrest. Officer Bland tried looking in the van's window while driving, but he could not tell whether a woman or man was behind the wheel. He hit his emergency lights and conducted a stop. As he approached the car on foot, he immediately realized his mistake. He proceeded with the stop anyway, asking Cummings for his license and registration. Cummings did not have a license, and he was arrested. Prosecutors insisted that asking for a license during every traffic stop is "standard operating procedure" and that briefly continuing the traffic stop to ask Cummings to show identification was reasonable. The high court disagreed, saying just because it is legitimate to ask for ID in most cases does not mean it is acceptable to do so in all cases. "To pass constitutional muster, a request for identification must be tethered to, and justified by, the reason for the stop," Justice Mary Jane Theis wrote for the court majority. "Here, Officer Bland had reasonable suspicion that the vanís registration was expired, but that suspicion disappeared when he conducted a computer check. The check, however, revealed the outstanding arrest warrant for Chattic, the registered owner of the van, whom Bland knew was a woman. Officer Bland could not determine whether the driver of the van was a woman, so he had reasonable suspicion that the driver was subject to seizure. That suspicion, like the first, disappeared when he saw that the defendant was not a woman and, therefore, could not be Chattic. Requesting the defendant's license impermissibly prolonged the stop because it was unrelated to the reason for the stop." The high court majority acknowledged that other state and federal courts have leaned toward the proposition that asking for papers during a traffic stop is automatically acceptable, but the practice will not take hold in Illinois. "Such a broad rule, however attractive in its simplicity and valuable in its potential to detect crime, stands on weak constitutional footing," Justice Theis wrote. "Simply put, unless a request for identification is related to the reason for the stop, it impermissibly extends the stop and violates the Constitution." The justices explicitly overturned three lower court rulings that came to a different conclusion. Chief Justice Rita B. Garman dissented, arguing police have a hard job and should not have to justify asking for papers in every instance. A copy of the decision is available in a 90k PDF file at the source link below.
Source:

Illinois v. Cummings (Illinois Supreme Court, 3/20/2014)


Thursday, March 27, 2014
Australia: Territory Auditor Blasts ACT Speed Cameras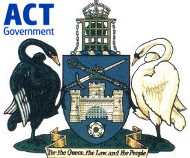 The Australian Capital Territory (ACT) has issued 721,802 speed camera tickets worth $106 million for the state government since 1999, yet a performance audit released Thursday questioned whether the ticketing operation involving 39 mobile and fixed photo enforcement cameras has any relation to improved safety. "The ACT is unlikely to have the right number of speed cameras in the right places," ACT Auditor-General Maxine Cooper wrote. "The effectiveness of speed cameras in the ACT has not been established. Speed camera reliability is poor... There is no strategic basis for making decisions for integrating the use of the ACT's speed camera systems as the ACT government does not have a speed camera strategy and its draft ACT road safety camera strategy (September 2013) is 'not a strategy.'" The audit presumes cameras can have a safety effect, despite the 1995 conclusion of the Australian Road Research Board that the devices did not reduce traffic collisions (read report). Auditors were upset by the lack of consistent principle in the state government's choice of how to use the cameras and the continuous expansion of the program without reference to any measurable goals. The state government in the ACT also assumes cameras work. "Although an increasing number of speed cameras and speed camera systems were implemented in the ACT from 1999 onwards, the ACT Government has not developed an evaluation framework to test the cumulative effectiveness of all its speed cameras on speeding and crashes across the whole ACT road network," Cooper found. The devices in use tend to be old, put in place more than a decade ago, with no plan laying out a rational basis for when and how they should be replaced. Maintenance has also proved to be lax. "The contractor is required to provide a monthly report (10th of the month) which includes a summary of the planned and reactive maintenance undertaken in the previous month," Cooper wrote. "This is not happening. While invoices with site reference numbers are submitted by the contractor confirm the number of visits and which camera sites have been inspected, these can only be used to confirm the number of visits, and not the completeness of maintenance checks." With recommended maintenance practices rarely followed, many of the citations end up being tossed out. "The ACT Traffic Camera Office has a relatively high rejection rate of potential infringements due to adjudication. Between 18 and 43 per cent of all potential infringements per year over the last fourteen years have been rejected during adjudication. Rejected infringements are deemed to have not met evidentiary requirements." The audit recommends that the territory's government create measurable objectives for the program. A copy of the audit is available in a 2mb PDF file at the source link below.
Source:

Speed Cameras in the ACT (ACT Auditor-General, 3/20/2014)


Wednesday, March 26, 2014
Louisana House Committee Approves Automated Freeway Speed Traps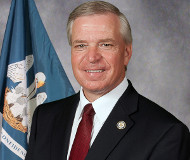 Louisiana lawmakers took on speed traps, both of the conventional and automated variety, on Monday. The state House Transportation, Highways and Public Works Committee unanimously approved two measures, one that would discourage small town police officers from hiding behind bushes with radar or laser guns, and another that would authorize the use of speed cameras in freeway "construction zones." The committee expressed extreme displeasure at the way small towns in Louisiana have been shaking down drivers in approving a bill forcing any town that makes more than half of its revenue from traffic citations to post a warning sign at the city limits. Failure to put up a sign would allow the state auditor and attorney general to confiscate the town's ticket revenue (
view bill, 20k PDF). "If the whole purpose is to provide public safety and slow down traffic going through this town, then having a sign that says 'Speed Trap Ahead' will make the motoring public aware," the bill's sponsor, state Representative Steve E. Pylant (R-Winnsboro) explained. "If somebody sees the sign with blinking lights on it, surely they're going to slow down. I'm opposed to them funding a town off of ticket writing." The mood of opposition to speed traps carried over to the topic of photo enforcement. Lawmakers were asked to vote on a bill that was supposed to prohibit the use of speed cameras on freeways, but the text of the legislation would have the opposite of the stated effect. There are no freeway cameras in Louisiana, so the bill would not shut down any existing ticketing operation. Instead, it creates a new opportunity to use them for any jurisdiction that puts orange cones on the side of an interstate highway to designate a "construction zone" where the bill allows speed cameras to lawfully issue tickets. "Local municipal authorities or local parish authorities shall not install or utilize automated speed enforcement devices to regulate traffic on interstate roadways within their corporate or territorial limits," House Bill 896 states. "The provisions of this Section shall not apply to highway construction zones where construction workers are present." The same legislative bait-and-switch technique was used to authorize photo enforcement in the state of Tennessee. There, lawmakers thought they were merely voting to ban the issuance of license points on photo tickets, but both the state attorney general (view opinion) and Tennessee Court of Appeals (view ruling) determined that the mention of the automated ticketing programs in the statute constituted a legislative blessing. The Louisiana bill's sponsor, state Representative Michael E. Danahay (D-Sulphur), never mentioned the construction zone provision in his committee testimony Monday. Committee members were encouraged to support the bill as a ban on highway photo radar. "As for the idea of placing automated speed enforcement devices on the highway in the name of public safety, this is without a doubt about generating revenue," Danahay said. "In a trial run, one of these devices was used on Interstate 10 here in Baton Rouge, and 86 tickets were issued in 41 minutes. That constitutes over 2 violations per minute." Danahay calculated that was equivalent to generating $12,000 in revenue per hour. Over the course of a year, it could generate $5 million per year. "With this legislation we can prevent these devices from proliferating on our interstate highway system," Danahay said. In Danahay's home town of Sulphur, 86 percent of residents voted to ban all forms of red light cameras and speed cameras in 2009. A copy of House Bill 896 is available in a 20k PDF file at the source link below.
Source:

House Bill 896 (Louisiana Legislature, 3/24/2014)




This is a journal covering motoring issues from around the world from a political perspective.


search tips | about us | site map

Subscribe
Receive free email or RSS news updates.

Key Documents
Documents, studies and memos about camera enforcement.

Archives
View previous news items.

Feedback
Contact the editors.

View Main Topics:

Popular Stories

-Missouri Cop Harassment Video

-Photo Enforcement Bans

-Most Popular Stories

Popular Studies

-Red Light Camera Study Roundup

-2007 Virginia DOT: Cameras Increase Injury Accidents

-2005 Washington Post: Accidents Doubled with Cameras

-2004 North Carolina: Red Light Camera Study (Burkey-Obeng)

-Majority Leader Armey Red Light Camera Report

-Longer Yellows Reduce Crashes (TX Transportation Institute)

-HOV/Carpool Lanes Cause Accidents




Since 1999, Washington, D.C. cameras have issued 4,500,103 tickets worth $312 million (as of 5/30/10).