top headlines:
Tuesday, February 10, 2015
Indiana: Traffic Cops May Not Open Pill Bottles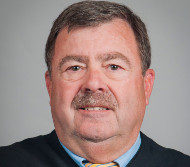 Police have no business looking through the pill bottles belonging to a motorist stopped for a routine traffic violation. That was the conclusion of a three-judge panel of the Indiana Court of Appeals, which last month reversed Antonio Garcia's conviction on drug charges because an Indianapolis Metropolitan Police officer violated the state constitution. At around 9pm on August 6, 2012, Officer Philip Robinett saw a white Chevrolet Trailblazer that did not have its headlights on. The SUV pulled over and parked on the side of the street without signaling. Officer Robinett hit his lights and ordered Garcia to get back in the car. Garcia is not a US citizen, so he was arrested for driving without a license. A frisk revealed that Garcia had a pill bottle in his pocket, and the officer could not resist taking a look inside. "Every time I've either -- I've located either some type of illegal substance or -- unless it is a pill that is properly prescribed," Officer Robinett testified. "That's the only time I've seen it to where the substance inside this cylinder is a legal substance." The container held half a pill with markings indicating it was hydrocodone, a painkiller for which Garcia had no prescription -- a class D felony. Under federal case law, Officer Robinett's search would be considered valid, but Indiana offers greater protection to its residents. "The degree of concern, knowledge, or suspicion that a criminal violation had occurred with respect to the pill vial was low prior to opening the container," Judge Terry A. Crone wrote for the three-judge panel. "Although there could be situations in which the police find an unfamiliar object on a person through a search incident to arrest that may justify further investigation, that situation did not occur here. There is no evidence in the record that Officer Robinett had any concern or suspicion that the container held anything that threatened his or the public's safety." Prosecutors admit that they would not have had enough evidence to go to a judge and seek a warrant to open the container, as there was no reason to suspect Garcia had illegal drugs. "There was no need for law enforcement to preserve evidence relating to the offense for which Garcia was arrested," Judge Crone wrote. "Also, there were no circumstances unrelated to the reason for the arrest that led Officer Robinett to suspect that Garcia was impaired, had engaged in any illegal drug use, or was involved in any illegal drug dealing." Because the search was unreasonable, the court dismissed the drug possession charge. A copy of the decision is available in a 180k PDF file at the source link below.
Source:

Garcia v. Indiana (Court of Appeals, State of Indiana, 1/30/2015)


Monday, February 09, 2015
France, UK: Traffic And License Plate Cameras Disabled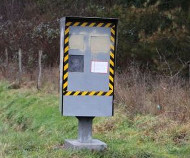 Vigilantes disabled a speed camera in Loriet, France last Thursday. According to La Republique, gold spraypaint covered the lenses of the speed camera on the RD952 in Les Coteaux. The perpetrators also added the slogan "and a good year" on the side of the device. In Derry, Northern Ireland, vigilantes destroyed a automated license plate reader (ALPR, also known as ANPR) on January 31. The automated ticketing machine was cut down and smashed, the Derry Journal reported.


Friday, February 06, 2015
Red Light Camera Profits Continue To Tumble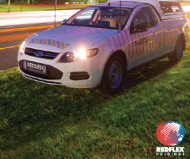 Red light camera vendor Redflex Trafic Systems saw its stock plummet more than 16 percent overnight as news of its dismal financial performance hit investors. The company on Thursday formally announced a $10 million trading loss for the financial year, even though the company had previously said it would break even. The promised "recovery" never happened, largely because of increasing dissatisfaction throughout the United States with photo enforcement. As the company admitted in January, New Jersey's statewide rejection of red light cameras and Ohio's new law "significantly reducing the viability of red light systems" will cost the Australian firm $4.4 million. Redflex realizes that it will have to move to other markets because of the shift in public opinion across America. "Given the impact of negative legislation and limited new growth opportunities in the US, we have increased our focus on entering and profitably expanding in new geographies, including in the UK and Canada where we have recently secured new contracts and both are markets that have significant demand for our core products," the company told Australian investors Thursday. "Our international business is performing in line with expectations and we expect this business to continue to grow." Redflex troubles do not end with New Jersey and Ohio. A serious effort is underway to outlaw red light cameras and speed cameras in the Arizona legislature, and insiders suggest that the votes are there for passage. Likewise, the Texas House has long sought to ban red light cameras, only to be blocked in the state Senate. State Senator Don Huffines (R-Dallas) has been working behind the scenes to clear away the hurdles to that have kept the ban from making its way to the governor's desk. "Red light cameras are unpopular, unsafe, and unjust," Huffines said in a statement. "Texans not only reserve the right to face their accuser in court, but they also deserve the respect, discretion and judgment of a peace officer instead of the cold and uncaring camera that generate images and revenue." Redflex has several highly lucrative contracts in Arizona and Texas. Losing those states would add to the $2.3 million loss brought on by the failed effort to turn school buses into automated ticketing machines. The company is desperate to find a way to position the buses so that they will maximize the number of tickets issued. "The balance of the Student Guardian installed base has generated lower incident volumes than anticipated, and we have slowed further contract implementations until we understand how the performance of these bus routes can be optimised," Redflex explained to investors.


Wednesday, February 04, 2015
Arizona Legislature Considers Banning Photo Radar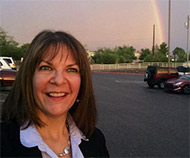 Arizona is home to the nation's two largest photo ticketing companies. American Traffic Solutions (ATS), which calls Tempe home, and Redflex Traffic Systems of Australia, which bases its US operations in Phoenix, would suffer a humiliating blow if the state outlawed their business. After a 5 to 1 vote in the state Senate's public safety committee on Wednesday, the firms may need to prepare for the possibility. State Senator Kelli Ward (R-Lake Havasu City) introduced the bill that would outlaw the use of red light cameras and speed cameras, repealing all authority under the state code for localities to outsource ticketing operations to private companies like ATS and Redflex. "A local authority or an agency of this state may not use a photo enforcement system to identify violators of article 3 or 6 of this chapter or of a city or town ordinance for excessive speed or failure to obey a traffic control device," Senate Bill 1167 states. While the police chiefs and other officials that answer to mayors and city councils attended Wednesday's committee hearing to oppose the measure, independently elected law enforcement expressed their approval. "In 2008 I promised Pinal County voters if elected as their sheriff, the first thing I would do was end photo-enforcement in our county," Sheriff Paul R. Babeu wrote in a letter to Ward. "I followed through with this promise and the first day I took office, I ended the Pinal County Sheriff's Office contract with the private photo-enforcement vendor. Photo radar tries to replace deputies and police officers. You cannot replace a deputy or police officer with machines or cameras." Anti-photo radar activists are optimistic that the bill will clear the next hurdle, a vote on the Senate floor. Insiders cite a number of developments since the last time the legislature considered a statewide ban. In Sierra Vista, 72 percent of voters cast their ballot to outlaw speed cameras. The recent guilty plea in the ongoing Redflex federal corruption case in Chicago, Illinois is also raising ethical questions. "With so many of the red light camera industry executives facing trial for fraud, we hope to speed things up by sending them back to Australia," Shawn Dow, Campaign for Liberty's Arizona state director, told TheNewspaper. "It's looking good getting the bill out of the legislature, and then it will be up to the governor to decide whether he'll do the will of the people or listen to his tempter, Kirk Adams." Adams became chief of staff to newly elected Governor Doug Ducey (R) after having served as speaker of the state House from 2009 to 2011. He used his powerful position to block any legislation on the House side that threatened to advance to final passage. In return, his 2012 attempt at running for Congress received financial support from ATS co-founder Adam Tuton. Adams was defeated in the primary by US Representative Matt Salmon. A copy of the bill is available in a 40k PDF file at the source link below.
Source:

Senate Bill 1167 (Arizona Legislature, 2/2/2015)

Texas Lawmaker Proposes Ban On Toll Road Land Confiscation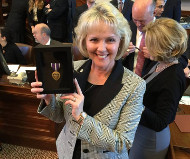 Opponents of toll roads in Texas no longer want to see the public gets the worst end of the bargain in "public-private partnerships. That is why state Representative Cindy Burkett (R-Sunnyvale) introduced legislation for the current session to strip private entities of the power of taking land from citizens for the use of toll road builders. Burkett's proposal, House Bill 565, would prohibit the Texas Turnpike Corporation from taking land through eminent domain as if it were a governmental entity. A law adopted in 1991 gave the corporation this exclusive authority. The issue came to light last year when the state quietly included construction of the Blacklands Tollway-Northeast Gateway corridor in its long-term transportation plan. This tolling project would have cut through Burkett's district, and her constituents turned out in large numbers at public meetings to express their disapproval, citing the corporation's ability to take homes away serving as a top concern. "Texas Turnpike Corp. is a proactive, private entity seeking to provide private sector support to regional goals in partnership with government agencies," a corporation presentation on the Blacklands project explained. "The Texas Legislature reaffirmed necessity of eminent domain in certain cases for public use. The law gives Texas Turnpike Corp. the ability to negotiate and ultimately pay a fair market price for property that is for public use. We pledge to work with every property owner who may be impacted by the project through the right-of-way acquisition process." Many of the cities that would have been affected by the project, including Caddo Mills, Fate, Josephine, Lavon, Murphy, Nevada, Princeton, Rockwall, Rowlett, Sasche and Wyle, adopted resolutions documenting their opposition. As a result, the state pulled the plug on the proposal. "While they still keep the corridor open for further study, this is a major short-term victory," the anti-tolling group Texans Uniting for Reform and Freedom said in a statement. "We need to stay vigilant to ensure they don't sneak the tollway into the plan at a later date, and we need to keep pressing the remaining cities to pass resolutions against it so that no toll road comes through our communities in the future." A copy of House Bill 565 is available in a 50k PDF file at the source link below.
Source:

House Bill 565 (Texas Legislature, 2/1/2015)




This is a journal covering motoring issues from around the world from a political perspective.


search tips | about us | site map

Subscribe
Receive free email or RSS news updates.

Key Documents
Documents, studies and memos about camera enforcement.

Archives
View previous news items.

Feedback
Contact the editors.

View Main Topics:

Popular Stories

-Missouri Cop Harassment Video

-Photo Enforcement Bans

-Most Popular Stories

Popular Studies

-Red Light Camera Study Roundup

-2007 Virginia DOT: Cameras Increase Injury Accidents

-2005 Washington Post: Accidents Doubled with Cameras

-2004 North Carolina: Red Light Camera Study (Burkey-Obeng)

-Majority Leader Armey Red Light Camera Report

-Longer Yellows Reduce Crashes (TX Transportation Institute)

-HOV/Carpool Lanes Cause Accidents




Since 1999, Washington, D.C. cameras have issued 4,500,103 tickets worth $312 million (as of 5/30/10).