top headlines:
Friday, October 31, 2014
Ohio Speed Traps Continue To Thrive Under Mayors Courts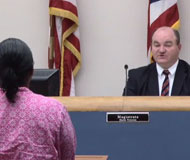 Motorists traveling through Ohio's speed traps often have no opportunity for their case to be heard in front of a neutral judge. In 310 small towns statewide, the mayor or someone he designates decides guilt or innocence of the accused driver, collects the fine and decides how to spend the revenue. Ohio and Louisiana are the only states that continue to allow "mayor's courts" to hear minor cases in towns that do not have their own municipal court. A mayor with some legal training can preside over cases, otherwise he will hand the responsibility over to a lawyer of his choosing. About one out of every five traffic tickets issued in the state comes from towns with mayor's courts. The late Supreme Court Chief Justice Thomas J. Moyer made it his mission to crack down on mayor's courts. In 2003, the General Assembly forced these small-town courts to report their activities to the state Supreme Court, which compiles and releases the data annually. Moyer was so disturbed by what he saw that he endorsed legislation that would have outlawed mayor's courts in 2007. The bill failed, and the justice did not live to see much improvement. The number of mayor's courts shrunk just 7 percent from 333 in 2004 to 310 in 2013. Statewide, mayor's courts handled 259,164 traffic tickets last year, with 249 traffic ticket trials being presided over by the mayor compared to 1158 for a designee. The vast majority of tickets, 149,457, were settled by the recipient paying the fine without attempting to contest the accusation. The total number of tickets processed by the mayor's courts is down 9 percent from 2004. Some of the towns with mayor's courts issue far more tickets than the statewide average, which is 18.6 cases for every 100 population. The report lists the most active speed trap towns as as Hanging Rock with 1060 tickets per 100 population, Linndale with 629, Arlington Heights with 332, North Hampton with 302, Owensville with 236, Mount Eaton with 215, Boston Heights with 216, Bratenahl with 207, Chesapeake with 180 and Lockland with 209. Last year the state legislature closed 8 mayor's courts by forbidding towns with a population below 200 from having their own court. A copy of the report is available in a 2.2mb PDF file at the source link below.
Source: Mayors Courts Summary 2013 (Ohio Supreme Court, 10/24/2014)


Thursday, October 30, 2014
Florida Judge Bans Public Vote On Red Light Cameras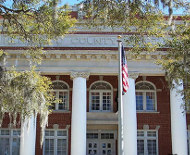 Red light cameras will not be on the ballot in Brooksville, Florida for Tuesday's election. Hernando County Circuit Court Judge Thomas R. Eineman ruled this week in favor of a private traffic camera vendor and the city in denying the right of citizens to vote on a charter amendment regarding automated ticketing machines. Judge Eineman blocked this vote on the grounds that, if successful, it might block a theoretical future vote on the issue. "The proposed charter amendment if passed would remove or eliminate the power of the Brooksville city council to take any action that may result in the authorization of the use of red light cameras in the future," Judge Eineman declared. "For example, the Brooksville city council would be prohibited from submitting to the electors of the city by ordinance a proposed charter amendment authorizing the use of red light cameras in the future. However, the explicit language of Chapter 166.031, Florida Statutes, allows for the governing body of a municipality by ordinance to submit to the electors of a municipality a proposed amendment to the charter." More than two dozen cities across ten states have outlawed red light cameras or speed cameras at the ballot box (view list), but Judge Eineman, a divorce lawyer elevated to the bench in January, sided with the ticketing industry's argument that such matters are not for the people to decide. Judge Eineman declared that the ballot measure violates the same statute requiring uniformity of traffic laws that the Florida Supreme Court used earlier this year to declare illegal all red light camera programs that operated in the state prior to 2010 (view ruling). As a result, the judge granted Brooksville's motion for summary judgment, blocking the election without giving any consideration to the petition circulators who argued the city has a legal duty to place the item on the ballot. Lower court judges have attempted to block anti-camera initiatives in other states only to be overturned on appeal. The Ohio Supreme Court last month chided Maple Heights for attempting to block the vote (view ruling). In 2012, the California Court of Appeal overturned a county judge who attempted to stop a city that ultimately voted to get rid of the cameras, saying it was premature to stop a vote before it happens because voters might say no to the proposal (view ruling). In the biggest rebuke of all, the Fifth Circuit US Court of Appeals slammed lower court federal Judge Lynn N. Hughes, who has close ties to the camera industry, for interfering with the public vote in Houston (view ruling). Though it ultimately sided with the traffic camera industry on the legality of an anti-camera ordinance on a 5-4 vote, the Washington Supreme Court refused to block a vote on the issue. A copy of the ruling is available in a 550k PDF file at the source link below.
Source:

Brooksville v. Miketiniac (Hernando County, Florida Circuit Court, 10/27/2014)


Wednesday, October 29, 2014
Court: No Relief For Man Falsely Accused Of Running Red Light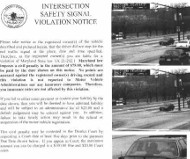 Lawrence E. Armstrong, a white man, was penalized because he shared a similar name with a Mitsubishi-driving black man who was photographed in California running a red light. In that state, red light camera tickets carry license points, so Armstrong's insurance rates went up. Armstrong filed a lawsuit against American Traffic Solutions (ATS) and Amco Insurance over the incident, but a federal judge last week decided there was nothing the court could do about it. Armstrong and his attorney had no way of knowing who was responsible hiking Armstrong's insurance rates, so they charged every company that could have been involved with violating the federal Driver's Privacy Protection Act (DPPA) for misusing his personal information. US District Court Judge Jesus G. Bernal was not persuaded. ATS could not be sued for inserting the Mitsubishi owner's private personal information into the plaintiff's record. Because, if ATS did so, the firm would have violated the Mitsubishi owner's privacy, not Armstrong's. Armstrong had no right to sue on anyone else's behalf. The insurance company also could not be charged because the privacy law was crafted to prevent a different kind of abuse. "The DPPA does not protect against improper rating of his insurance policy; it protects against improper use of plaintiff's personal information," Judge Bernal ruled. "At various points, the [Armstrong's complaint] admits that AMCO relied on the information in plaintiff's DMV record to rate his insurance policy, thus its use appears to be within the scope of permissible purposes." The judge suggested that a government employee was most likely the culprit in mistakenly adding a conviction to Armstrong's record. "Pursuant to California Vehicle Code Section 1803, the clerk of a court, not an insurance company or agent of a city, is responsible for reporting conviction information to the DMV," Judge Bernal wrote. "Accordingly, plaintiff provides no facts from which one could plausibly conclude that either AMCO or ATS had the ability to add or change conviction information in a driver's record or that they, as opposed to the DMV or clerk of the court, plausibly performed the actions alleged." Judge Bernal gave Armstrong a chance to amend his complaint to clarify his argument, but the motorist did not take advantage of the second chance -- nor did he follow up with an appeal filed in the Ninth Circuit US Court of Appeal. Accordingly, the case was dismissed. A copy of the dismissal is available in a 40k PDF file at the source link below.
Source:

Armstrong v. Allied Insurance (US District Court, Northern District of California, 10/22/2014)


Tuesday, October 28, 2014
Oregon Appellate Court Says No To Courtroom DUI Test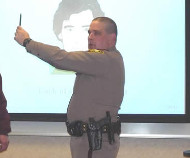 There is nothing surprising about a motorist pulled to the side of the road being told he has no right to refuse testing when suspected of driving under the influence of alcohol (DUI). Oregon's Court of Appeals considered a rather unique twist on this scenario last week as a driver was told she had absolutely no right to refuse a DUI test in front of a jury in a courtroom. Christine Ann McCrary had been stopped for allegedly running a red light just before pulling into a grocery store parking lot. Officer Powell drove up, confronted her and ordered her to perform the standard field sobriety tests. This included the horizontal gaze nystagmus test in which a pen is held about a foot away and McCrary was asked to track its movement without turning her head. Her performance was inadequate, so she was arrested. A breathalyzer estimated her blood alcohol content at 0.12, well above the 0.08 legal maximum. At trial, McCrary challenged the validity of the field testing. Officer Powell admitted that some people react to the nystagmus, or involuntary eye movement, test while they are completely sober. Powell said he tested McCrary to see if she had any natural eye movement by watching her eyes at rest, but did not record any observations in his notes. So prosecutors asked the officer to test McCrary in the courtroom during the trial. McCrary's lawyer immediately objected, but Yamhill County Circuit Court Judge John L. Collins overruled and said the defendant had no choice. "Defendant doesn't have a constitutional right not to participate because it is not testimonial evidence," Judge Collins said in front of the jury. "However, I am not going to force her to participate in the evaluation." McCrary appealed her conviction, arguing that the forced choice to consent or refuse a test in front of the jury amounted to a violation of her state constitutional right against being compelled to testify against herself. The three-judge appellate panel agreed, pointing to precedent that finds field sobriety tests are a search. "Insofar as this search was to be imposed upon defendant without a warrant or without an exception to the warrant requirement, the search would have been unconstitutional," Judge Joel S. DeVore wrote for the Court of Appeals. "Having concluded that this test would constitute an unlawful search, we must also conclude that the court erred by advising the jury that defendant had no right to refuse to cooperate in the examination. The midtrial instruction was mistaken." The appellate court found the error was not harmless insofar as the court has no idea of knowing which particular facts persuaded the jury to enter a guilty verdict. McCrary's conviction was reversed. A copy of the opinion is available in a 40k PDF file at the source link below.
Source:

Oregon v. McCrary (Court of Appeals, State of Oregon, 10/22/2014)


Monday, October 27, 2014
Analysis: Guilty Plea Spells Trouble For Redflex In Corruption Trial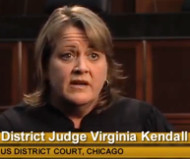 Redflex Traffic Systems, the embattled Australian photo ticketing company, faces an uphill battle maintaining its innocence now that a key party is turning state's evidence. On Wednesday, Martin O'Malley notified US District Judge Virgina M. Kendall that he would change his plea from not guilty to guilty at a December 10 hearing in the Chicago, Illinois red light camera bribery case. O'Malley, a Redflex contractor, was a friend of John Bills, the Chicago official in charge of the nation's most profitable photo enforcement program. According to prosecutors, O'Malley leveraged his relationship to transfer $2 million from Redflex to Bills in return for landing and expanding the lucrative contract that ultimately earned the Australian company $126 million. O'Malley worked for Karen Finley, the head of US operations for Redflex. O'Malley's guilty plea changes the dynamic of the trial for Finley and Bills, each of whom entered not guilty pleas at a September 10 hearing on various counts of taking and giving bribes. Filing charges is easy, but proving beyond a reasonable doubt that a company gave gifts to a public official in return for favorable treatment is exceedingly difficult. In a similar bribery case in Edmonton, Canada in 2008, a judge dismissed charges against police officers who accepted hockey tickets, trips and additional services from an Affiliated Computer Services (ACS, now Xerox) in return for awarding a $90 million no-bid contract. Unlike in Edmonton, there are now individuals directly involved who admit to bribery. O'Malley presumably will join former Redflex Executive Vice President Aaron M. Rosenberg in testifying, as Rosenberg has already admitted he bribed public officials in a dozen states at Finley's request. Judge Kendall, an appointee of President George W. Bush, is not likely to give a sympathetic ear to individuals who take shortcuts in life. "I grew up as the fourth out of five children in a big Irish Catholic family in Skokie, Illinois where all of us felt like we had enough, we never had too much, and we all just studied hard and that was expected," Judge Kendall said in a video profile. "As I was getting older and deciding what I wanted to do, I really wanted to be a journalism major, not a lawyer." Judge Kendall dropped journalism and attended law school at night after having her fourth child. She spent ten years as a prosecutor, including time on the public corruption unit, before being appointed to the federal bench in 2006. Bills and Finley may also find it difficult to maintain their innocence in light of sophisticated surveillance techniques used by the government, which US Attorney Zachary T. Fardon petitioned the court to keep concealed. "The discovery to be provided by the government in this case includes sensitive information, whose unrestricted dissemination could adversely affect law enforcement interests and the privacy interests of third parties," Fardon wrote in court filings. Finley is charged with nine counts of mail fraud, three counts of wire fraud, three counts of federal program bribery, and one count of conspiracy. The court will hold a status hearing on the trial of Bills and Finley on February 6, with all pretrial motions due on January 12. O'Malley, Finley and Bills remain free on bail, but their travel is severely restricted. Bills had to petition the court for permission to attend his daughter's wedding in Arizona in September. The guilty plea in the Chicago bribery case is not the first. Shawn Brown, then-mayor of St. Peters, Missouri, was convicted for soliciting bribes from Redflex in 2006. Brown was released from prison in 2008. Jay Morris Specter, a salesman for Redflex, was released from federal prison in 2010 after serving time on fraud charges related to a previous business deal.




This is a journal covering motoring issues from around the world from a political perspective.


search tips | about us | site map

Subscribe
Receive free email or RSS news updates.

Key Documents
Documents, studies and memos about camera enforcement.

Archives
View previous news items.

Feedback
Contact the editors.

View Main Topics:

Popular Stories

-Missouri Cop Harassment Video

-Photo Enforcement Bans

-Most Popular Stories

Popular Studies

-Red Light Camera Study Roundup

-2007 Virginia DOT: Cameras Increase Injury Accidents

-2005 Washington Post: Accidents Doubled with Cameras

-2004 North Carolina: Red Light Camera Study (Burkey-Obeng)

-Majority Leader Armey Red Light Camera Report

-Longer Yellows Reduce Crashes (TX Transportation Institute)

-HOV/Carpool Lanes Cause Accidents




Since 1999, Washington, D.C. cameras have issued 4,500,103 tickets worth $312 million (as of 5/30/10).