top headlines:
Wednesday, March 04, 2015
Texas: Judge Rejects Traffic Camera Company Attempt To Block Public Vote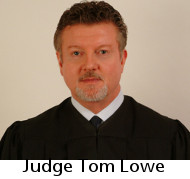 A Tarrant County, Texas judge on Tuesday did not buy the argument of a red light camera company that the public had no right to vote on whether cameras should be used in their community. American Traffic Solutions (ATS) filed for an emergency injunction last week in an attempt to keep the residents of Arlington from casting a ballot in the upcoming May election on the subject of automated ticketing. The Arizona-based firm found someone local who claimed he would suffer injury if fellow residents were allowed to vote. "Plaintiff is Jody Weiderman, who is a resident and taxpayer and voter within the city limits of the city of Arlington," ATS lawyer Andy Taylor wrote. "If this election takes place... the plaintiff, and others, would be irreparably harmed." Except Weiderman is not actually a voter, according to the Arlington Tea Party's Kelly Canon, who looked up Weiderman's voter registration form only to find that it had been filed on February 18, a week before the lawsuit was filed on February 25, and was not yet processed by the system. "I looked him up and lo and behold, he's not there," Canon told TheNewspaper. "I just had six months of experience looking up the people who signed our petition [to ensure they were valid registered voters]." Citizens for a Better Arlington asked to intervene in the lawsuit to defend the ballot initiative against the attack from the traffic camera vendor. The group has been pleasantly surprised at the support they have received from the city attorney's office, which has strongly defended the public's right to vote. In College Station and Houston, by contrast, the city put up an intentionally weak defense of the ballot initiative. "In comparison with the denial of the rights of the people and their duly elected representatives to timely respond to their electorate, the clear decision would be to allow the election, and then if the proposed Charter Amendment passes, the parties can revisit the issue," Warren V. Norred, lawyer for Citizens for a Better Arlington, argued. Judge Tom Lowe agreed, saying it would be entirely premature for him to intervene in the election. Even if the harms ATS claimed were assumed to be entirely true, there is no guarantee that the public would reject the automated ticketing machines. It just is not likely that the cameras would survive a vote, as Texans have voted them out at every opportunity in Conroe, Dayton, Houston, Baytown, League City and College Station.


Tuesday, March 03, 2015
Federal Appeals Court Endorses Suspicionless Detention Of Air Force Officer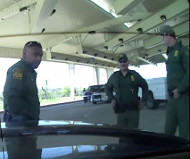 An Air Force major detained at a suspicionless roadblock five years ago will not be able to sue for damages. A sharply divided Fifth Circuit US Court of Appeals panel concluded on Thursday that Border Patrol agents could hold Major Richard Rynearson indefinitely simply because they did not care for his attitude. Rynearson was driving to work on March 18, 2010 along Highway 90 in Uvalde, Texas, when he was stopped at an immigration roadblock set up 67 miles from the border with Mexico. Rynearson recorded the incident and posted in on YouTube (view video). Although Rynearson offered his passport and other identification to establish his citizenship, the Border Patrol agents were annoyed that the officer refused to get out of his vehicle or roll down his window fully on their command. After 34 minutes, Rynearson was released, but the agent in charge of the station sent a letter to Lt. Colonel Richard L. Nesmith, Rynearson's commanding officer, in retaliation for the major's refusal to roll down his window. Rynearson agued his Fourth Amendment right to be free from unreasonable seizure had been violated. The panel majority disagreed, calling Rynearson's assertion of his rights an 'unorthodox tactic.' "We have not discovered nor been shown any authority supporting Rynearson's claim that the constitutional rights he chose to stand on were clearly established," Judges Thomas Morrow Reavley and Leslie H. Southwick wrote. "Accordingly, we conclude that these governmental officials, at worst, made reasonable but mistaken judgments when presented with an unusually uncooperative person, unusual at least in the facts described in any of the caselaw. Because we hold that no constitutional right of which all reasonable officers would have known was violated, we need not consider whether Rynearson actually had some limited Fourth Amendment right to refuse to cooperate." Judge Jennifer Walker Elrod, who had slammed the Border Patrol's conduct during oral arguments in the case last year, filed a dissent blasting her colleagues for mischaracterizing the nature of the stop. "While he provided the information needed to prove his citizenship, Rynearson explained several times that he would not indulge the officers' commands when he thought that they exceeded the limited scope of the immigration checkpoint inquiry," Judge Elrod wrote. "Standing on one's rights is not an 'unorthodox tactic.' It is a venerable American tradition." She pointed out that under US Supreme Court precedent, the border roadblocks are specifically limited to asking motorists "a brief question or two" regarding their citizenship status. "One cannot escape the impression that Agent Lands's refusal to look at the passports and Agent Perez's irrelevant phone calls to Rynearson's employer operated as retribution against Rynearson for asserting his rights," Judge Elrod concluded. "Agents Lands and Perez failed to demonstrate their entitlement to qualified immunity because the law is clearly established that immigration officials may not detain travelers longer than reasonably necessary to investigate their citizenship status." Rynearson has not yet decided whether he will appeal the ruling. "I am disappointed by the decision and I am considering my options for further review," he told TheNewspaper. A copy of the ruling is available in a 250k PDF file at the source link below.
Source:

Rynearson v. US (US Court of Appeals, Fifth Circuit, 2/26/2015)


Monday, March 02, 2015
Australia, France, Germany, Saudi Arabia: Speed Cameras Smashed, Bashed, Crashed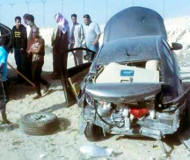 A motorist in Queensland, Australia rammed a photo radar van on Sunday night. According to the AAP news service, a white Ford ute damaged the speed trap that had been set up on Kings Road in Pimlico. In Saudi Arabia, a photo radar van, known as "Saher," was involved in a serious accident last Friday. Akhbaar 24 reports that there were severe injuries after the automated ticketing van on the Abu Hadriyah Highway failed to prevent the collision involving two other vehicles. A speed camera also caused an accident in Canapville, France on Saturday. According to Le Pays d'Auge, a driver slammed on his brakes when he saw the automated ticketing machine because he feared receiving a citation in the mail. The driver behind the man was not able to stop in time. No injuries were reported from the resulting collision. In Lot-et-Garonne, vigilantes set fire to a speed camera on February 22. Sud Ouest reports that the automated ticketing machine on the RD930 near Moncrabeau was completely destroyed by burning tires. In Burscheid, Germany, vigilantes pelted a traffic camera with rocks at around 2:15am last Thursday. Norhein-Westfalen Polizei reported that a local resident heard the noise and called the authorities who found the automated ticketing machine on Lungstrasse had its lenses smashed.


Friday, February 27, 2015
Florida: Appellate Ruling Hits Cities, Traffic Camera Firm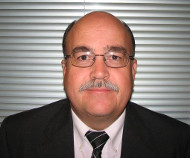 The Florida cities that use red light cameras, and their vendors, are realizing the full impact of having the courts turn against them. Last October, the state Court of Appeals reversed its previously held position and decided that the outsourcing of traffic ticket issuance and review to private, for-profit companies could not be tolerated (view the Hollywood v. Arem decision). Ft. Lauderdale felt the sting of this case on Monday as a Broward County magistrate cited the ruling and tossed out the $158 photo ticket that American Traffic Solutions (ATS) had mailed to Mary Welsh Wesolowski. After reviewing the evidence in the case, hearing officer Thomas M. Wich was not impressed by the effort Ft. Lauderdale puts into reviewing the citations. "If the representative of the city of Fort Lauderdale Police Department determines that a violation has occurred, he or she presses the 'accept button' as discussed in the Arem decision," Wich wrote in his ruling Monday. ATS does not send over all the raw footage it takes at an intersection. Instead, it uses an automated system to extract data from the images that an employee quickly checks before determining guilt and sending to the client city. After the city hits the accept button, ATS takes over once again. "ATS then converts the information contained in the notice of violation for the particular 'accepted' entry into a uniform traffic citation and the city's representative/officer's signature and corresponding badge number are digitally attached to the citation in Arizona, the home state/place of business of ATS," Wich explained. "Testimony presented confirmed that the city representatives/officers of the city of Fort Lauderdale Police Department never see an actual copy of the ATS generated uniform traffic citation unless the matter goes to trial in the county court." This arrangement is precisely what the Court of Appeals said was illegal. That was enough for the Broward court to throw out the citation. "The city has given ATS unfettered discretion in determining who receives a citation, in direct violation of Florida Statutes 316.0083 and the holding in the City of Hollywood v. Arem," Wich concluded. "As such, the defendant's motion to dismiss is granted, and this case is dismissed." Some Florida cities have responded to the decision by suspending their red light camera programs. Throughout the state, the programs had grown less popular even before the ruling. So far, Boca Raton, Brooksville, Clermont, Collier County, Cocoa Beach, Coral Springs, Dunellon, Hallandale, Haverhill, Hialeah, Kenneth City, Margate, Melbourne, Palm Bay, Royal Palm Beach, St. Petersburg and Winter Springs have either rejected installation of cameras or dropped an existing ticketing program. A copy of Monday's decision is available in a 45k PDF file at the source link below.
Source:

Ft. Lauderdale v. Wesolowski (Broward County, Florida Court, 2/23/2015)


Thursday, February 26, 2015
Federal Bill Promotes Speed Cameras Over Red Light Cameras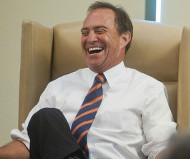 A member of Congress wants to establish a federal preference for speed cameras over red light cameras with a new law. US Representative Ed Perlmutter (D-Colorado) last week introduced what he called a bill to prohibit automated traffic enforcement, but the actual text of the legislation gives federal approval to the use of certain types of speed cameras. The proposal would, if enacted, allow state or local government authorities to deploy photo radar on "any segment of roadway open to traffic and immediately adjacent to land on which repair, maintenance, construction or related work is being conducted" or "any segment of roadway that is not more than 300 feet from the property of a school." Perlmutter's bill would ban all red light cameras and some speed cameras, but Perlmutter's description of his bill makes no mention of the exceptions it contains for school and repair zone photo radar. "Police officers are the only sure way to apprehend seriously impaired, reckless or other dangerous drivers," Perlmutter said in a statement. "All of us are concerned with reducing accidents and reckless driving but it is not evident photo radar cameras improve highway safety, reduce accidents or improve traffic flow... My constituents tell me these cameras are excessive and seem to do little to improve public safety." While a ban on red light cameras would be a setback for the photo enforcement industry, speed cameras generate far more revenue and represent a more important business opportunity. The language of Perlmutter's bill is similar to that found in Maryland, where "school zone" cameras are frequently placed where there are no children, such as adult education centers and administrative offices where no classes are held. The photo ticketing industry has on several past occasions advanced its legislative agenda through bills that appear on the surface to be restrictions on the use of photo enforcement. In Tennessee, for example, the General Assembly never directly authorized the use of red light cameras. Lawmakers instead introduced a one-sentence bill that prohibited the issuance of points on the licenses of photo ticket recipients. The courts and the state attorney general (view opinion) said that was proof of the legislature's acceptance of widespread red light cameras and speed camera use. A copy of House Bill 950 is available in a 250k PDF file at the source link below.
Source:

House Bill 950 (US House of Representatives, 2/23/2015)




This is a journal covering motoring issues from around the world from a political perspective.


search tips | about us | site map

Subscribe
Receive free email or RSS news updates.

Key Documents
Documents, studies and memos about camera enforcement.

Archives
View previous news items.

Feedback
Contact the editors.

View Main Topics:

Popular Stories

-Missouri Cop Harassment Video

-Photo Enforcement Bans

-Most Popular Stories

Popular Studies

-Red Light Camera Study Roundup

-2007 Virginia DOT: Cameras Increase Injury Accidents

-2005 Washington Post: Accidents Doubled with Cameras

-2004 North Carolina: Red Light Camera Study (Burkey-Obeng)

-Majority Leader Armey Red Light Camera Report

-Longer Yellows Reduce Crashes (TX Transportation Institute)

-HOV/Carpool Lanes Cause Accidents




Since 1999, Washington, D.C. cameras have issued 4,500,103 tickets worth $312 million (as of 5/30/10).