top headlines:
Thursday, December 05, 2013
Texas: Suspicionless Roadblock Case Heads To Appeals Court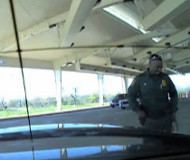 An Air Force major on Tuesday asked the Fifth Circuit US Court of Appeals to reinstate his lawsuit against Border Patrol agents who stopped and detained him without any reason to suspect him of wrong-doing. Richard Rynearson was driving on Highway 90 in Uvalde, Texas on March 18, 2010 when he came upon the Border Patrol roadblock 67 miles from the border with Mexico. The entire encounter was recorded on video. "Is this your vehicle, sir?" asked Border Patrol Agent Justin K. Lands. "It is," Rynearson replied. "Can you roll down your window, is that as far it will go?" Lands asked. "No, it can go down more," Rynearson said while rolling it down more. After the 13-second exchange, Lands ordered Rynearson to pull over into the secondary screening area. Once there, the major was told to exit his vehicle. He refused to do so without being given cause. He displayed his military ID, his passport and his driver's license to establish his citizenship and identity. "Doing the things you're doing, I don't believe that you're being a United States citizen," Lands explained. "You're [not] rolling down your window, you won't roll it down." After Border Patrol Captain Raul Perez established Rynearson was a citizen more than fifteen minutes into the stop, he asked for information on Rynearson's commanding officer, then left the major waiting while he called Laughlin Air Force Base to speak with Rynearson's boss. In total he was kept for thirty-four minutes. After a video of the incident was posted on YouTube (view video), the chief Border Patrol Agent for Del Rio, Robert L. Harris, wrote a three-page letter to Lt. Colonel Richart L. Nesmith to complain about Major Rynearson and his refusal to roll down his window. "We believe MAJ Rynearson's conduct is unbecoming of such a high-ranking officer in the United states Air Force," Agent Harris wrote. The Border Patrol insists that the agents' actions were entirely appropriate and that no reasonable suspicion is needed to detain a motorist at a secondary inspection. A federal district court judge sided with the agency and refused to allow Rynearson's attorney access to internal reports, documents and witnesses who could have shed light on the truth of the agents' claims. On September 30, a US District Judge threw out the lawsuit on the grounds that not rolling down a window far enough can constitute evidence of criminal activity. "Although the thirty-four minute stop of Rynearson was longer than some stops that occur at checkpoints, the length of the detention did not exceed a constitutionally permissible time," Judge Alia Moses ruled. "Rynearson's own behavior caused the delays. Agent Lands, as a result of Rynearson's abnormal behavior, developed reasonable suspicion that Rynearson was involved in some criminal activity." The Border Patrol agents say they are just doing their duty and upholding the Constitution. In 2003, Rynearson was awarded the Distinguished Flying Cross with combat "V" for valor. "The actions of Captain Rynearson contributed directly to the successful capture of the Al Faw petroleum pipeline intact, paved the way for the American-led ground war and ultimately saved thousands of coalition lives," the Air Force citation reads. "The outstanding heroism and selfless devotion to duty displayed by Captain Rynearson reflect great credit upon himself and the United States Air Force."

Georgia Court Invalidates Search Over A Misplaced License Decal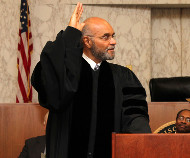 The Georgia Court of Appeals divided 3 to 2 last month on the question of whether police were wrong to search a motorist merely because he appeared nervous and had his license plate decal on the wrong corner of the plate. On July 24, 2009, a patrolman stopped James Heard hoping to issue a ticket for a tag violation when he did not see a 2009 registration sticker. The officer had also been on the lookout for the type of Chevy S-10 truck Heard was driving. Stopped on the side of the road, Heard explained his registration was up to date and handed over proof, along with his license and insurance card. In the course of the stop, two other officers arrived and surrounded the pickup truck. The patrolman noted that Heard appeared nervous, then checked and confirmed that there was a license decal on the left side of the license plate instead of the right side. At this point, the officer testified in court that his investigation of the traffic violation had ended, but the officer decided to ask consent to search the pickup truck. Heard said no. Heard then understood the officer to order him out of the vehicle, and he was frisked for weapons. He was asked about a search once again, and after he consented the officers found six pieces of crack cocaine. Heard moved to throw out the evidence obtained by the search on the grounds that the officer was conducting an drug investigation after the legitimate reason for the traffic stop had concluded. The appellate majority agreed that the officer had no right to ask for consent to search in the first place. "In fact, the officer could lawfully verify the registration, driver's license and insurance information, and check for outstanding warrants; but any subsequent interrogation or request for consent had to be supported by reasonable suspicion of criminal activity," Chief Judge Herbert E. Phipps wrote for the majority. The majority found an unsubstantiated anonymous tip and unease while being surrounded by cops provided no articulable cause to think something criminal was going on. "Nervousness is not sufficient to justify an investigative detention," Judge Phipps wrote. "Even when we consider together the lookout information and Heard's nervousness, we cannot conclude that the officer was aware of circumstances sufficient to create a reasonable suspicion that Heard was involved in criminal activity other than the suspected traffic violation." Because the stop was illegally prolonged, the evidence was suppressed. A copy of the decision is available in a PDF file at the source link below.
Source:

Heard v. Georgia (Court of Appeals, State of Georgia, 11/22/2013)


Wednesday, December 04, 2013
Congressman Pushes $27 Billion Tax Hike On Drivers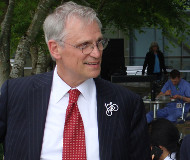 The leading advocate of bicycling in the US Congress wants drivers to pay an extra $27 billion a year at the gas pump. US Representative Earl Blumenauer (D-Oregon) this morning will hold a press conference to unveil his legislative proposal to add 15 cents to the existing 18.4 cent tax on gasoline. The new revenue would be sent to the Highway Trust Fund to back a massive increase in spending on bicycle paths, light rail and related transit programs. In the long term, Blumenauer would like to replace the gas tax with per-mile tax on drivers, and he would spend $150 million to promote the concept. "In order to fund all economically justified projects, the Department of Transportation estimates that Congress would need to provide $83 billion a year in addition to current funding," Blumenauer explained in a statement on his bill, which he calls the Update Act. "When the current surface transportation authorization ends at the end of Fiscal Year 2014, Trust Fund balances will nearly be exhausted. In order to maintain current funding in the following years, the Highway Trust Fund will need almost $15 billion a year (in addition to current gas tax receipts). If we do not find a way to make the Highway Trust Fund solvent, the continued disinvestment will mean an over 30 percent drop in federal transportation spending by 2024. " To justify the increased taxes and spending, Blumenauer cites the recommendations of the Simpson-Bowles deficit reduction commission and two surface transportation panels that advocated higher motoring taxes. Representatives from various transportation unions and other prospective recipients of new funding also endorse the concept. Blumenauer cites opinion surveys that support the imposition of a GPS tracking tax on motorists. "A number of states, including Oregon, Nevada, Minnesota, Iowa, Texas, and New York have tested pilot projects where they charged drivers for the number of miles they traveled rather than the fuel they consumed," a statement from Blumenauer's office explained. "The tests have proved convenient for drivers, demonstrated strong protections for personal privacy, and have been easily administrable." As chairman of the Congressional Bicycle Caucus, Blumenauer last month introduced HR 3494, which would require the US Department of Transportation to measure the number of injuries and fatalities for pedestrians and cyclists in the same way that the department measures automobile accidents per vehicle mile traveled.


Tuesday, December 03, 2013
Iowa Appellate Judge Upholds Anti-Traffic Camera Ruling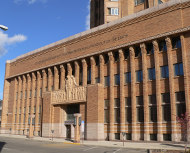 The days of speed camera use in Sioux City, Iowa may be numbered. In the face of widening criticism from state officials, including Governor Terry Branstad (R), the city last month lost its appeal of a decision that found the ordinance establishing the automated ticketing program failed to establish the guilt of the accused. In June Woodbury County District Court Judge John C. Nelson tossed the ticket that Redflex Traffic Systems of Australia issued to Craig Krueger after his Toyota Corolla rental car was photographed on Interstate 29 (view ruling). The city immediately challenged the finding, and upon review, District Court Judge Edward A. Jacobson found the city attorney's arguments entirely missed the point. "Ironically, the briefs of both parties deal with the constitutionality of the municipal ordinance in question and issues of whether the Code Section 10.12.080 was either void for vagueness or violated procedural due process standards," Judge Jacobson wrote in his November 22 appellate ruling. "Judge Nelson neither found the statute void for vagueness nor a violation of procedural due process." Sioux City's speed camera ordinance says that the registered owner should be sent a ticket and that owner alone can "nominate" someone else to receive the citation. The evidence presented at trial showed the $168 ticket was issued directly to Krueger, not the registered owner, Enterprise Rent-a-Car. There was no evidence that a nomination took place. As such, the ticket could not be upheld under the statute. "While clearly Judge Nelson's opinion leaves open the possibility that the ordinance could be found unconstitutionally vague, it is not necessary for this court to address the constitutionality issue," Judge Jacobson concluded. "The associate district court found that the city had failed to prove that the defendant was either the owner of the vehicle or a nominated party under the ordinance. This court agrees that no evidence of either is in the record of these proceedings." Iowa's legislature never gave cities permission to use red light cameras and speed cameras. Instead, the state Supreme Court in 2008 ruled that a city ordinance implementing the use of photo ticketing did not conflict with state law (view ruling). The high court was very clear in its ruling that it only considered a "narrow legal issue" and that the issue should be settled by voters and the legislature. A copy of the ruling is available in a 90k PDF file at the source link below.
Source:

Sioux City v. Krueger (Woodbury County, Iowa District Court, 11/21/2013)


Monday, December 02, 2013
Ohio Court: Polite Drivers Are Not Suspicious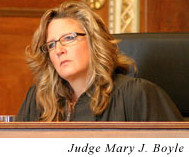 The second highest in Ohio decided on Wednesday that police have no business searching a motorist during a routine traffic stop for being too polite. The Court of Appeals suppressed the evidence that allowed police to seize a .40 caliber Sig Sauer and a small bag of marijuana from Joshua A. Fontaine at 2:27 am on December 12, 2012. On that day, Ohio State Highway patrolman Jared Haslar was running a speed trap on Pearl Road in Strongsville, where the speed limit is 35 MPH. Patrolman Haslar claims his radar gun clocked Fontaine at 45 MPH, so he pulled him over. In the course of the stop, Fontaine cheerfully handed over his license, proof of insurance, and registration. This caused the officer to suspect criminal activity. "While speaking to Mr. Fontaine I felt that his body language and his behavior was a little bit unusual," Patrolman Haslar testified. "He was extremely -- like almost overly polite, and he was breathing heavily at times while I was talking to him." Patrolman Derek Feierabend was called in to bring a drug dog to sniff Fontaine's car while Patrolman Haslar wrote out a warning for speeding. Fontaine was ordered out of his car and searched for weapons. "It's an officer's safety issue for the canine handler as he's walking the dog around because his attention is focused on running the dog around the vehicle, conducting a sniff, and it's difficult to be watching a person inside the vehicle and do the job with the canine as well," Patrolman Haslar testified. The dog identified the small bag of marijuana in Fontaine's glove compartment. The three-judge appellate panel considered only the question of whether the initial search of Fontaine's car violated the Fourth Amendment protection against unreasonable searches. The court found that as soon as Patrolman Haslar finished writing the warning, he could not justify the search for drugs without some evidence that criminal activity was afoot. "And here, we find that no such evidence exists," Judge Mary J. Boyle concluded. "We agree with the trial court that 'overly polite' and 'heavy breathing' are not sufficient indicators that give rise to a reasonable suspicion of criminal activity. These factors considered collectively simply do not support such a finding. Since Patrolman Haslar did not have a reasonable suspicion of criminal activity to warrant the canine sniff, the prolonged detention to do so violated Fontaine's constitutional Fourth Amendment rights." A copy of the decision is available in a 45k PDF file at the source link below.
Source:

Ohio v. Fontaine (Court of Appeals, State of Ohio, 11/27/2013)




This is a journal covering motoring issues from around the world from a political perspective.


search tips | about us | site map

Subscribe
Receive free email or RSS news updates.

Key Documents
Documents, studies and memos about camera enforcement.

Archives
View previous news items.

Feedback
Contact the editors.

View Main Topics:

Popular Stories

-Missouri Cop Harassment Video

-Photo Enforcement Bans

-Most Popular Stories

Popular Studies

-Red Light Camera Study Roundup

-2007 Virginia DOT: Cameras Increase Injury Accidents

-2005 Washington Post: Accidents Doubled with Cameras

-2004 North Carolina: Red Light Camera Study (Burkey-Obeng)

-Majority Leader Armey Red Light Camera Report

-Longer Yellows Reduce Crashes (TX Transportation Institute)

-HOV/Carpool Lanes Cause Accidents




Since 1999, Washington, D.C. cameras have issued 4,500,103 tickets worth $312 million (as of 5/30/10).