8/14/2023
Austria, France, Italy: Speed Cameras Slashed
Revolt against speed cameras stepped up in Italy last week as photo radar devices in Austria, Belgium, France and Germany were disabled.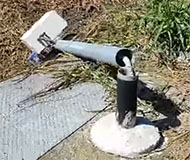 By Richard Diamond/Staff Reports

The resistance movement against speed cameras in Italy stepped up to a new level Wednesday as a spectacular blast destroyed the most-profitable speed camera in Cadoneghe. The device had been issuing automated tickets on the SR307 since June until an explosive placed at its base sent flames high enough to torch the camera machinery. A second photo radar unit in the area was also shot with a pellet gun. In Bonate Sotto, opponents of automated ticketing unbolted the speed camera pole, slashed the wiring and bashed a license plate reader camera. On the outskirts of Galatina, vigilantes smeared paint over multiple speed camera warning signs along the SS101. In Taglio di Po vigilantes cut down the speed camera on the SP46 on Sunday, August 6. This represents the fourth camera in the area attacked since May.

French resistance to automated ticketing relied heavily on spraypaint last week. In Saint-Quentin on Friday, vigilantes covered the lens of the speed camera on Avenue Charles-de-Gaulle with orange paint. The day before that, bright orange paint also blocked the lens of the speed camera on the RN13 in Tollevast. In Kruth, the speed camera on the RD13bis was disabled with orange and red spraypaint. In Silenrieux, Belgium, white paint blinded the speed camera on Rue Royale.

The speed camera in Wels, Austria, on the Vogelweiderstrasse was destroyed on Tuesday, August 1, after it failed to prevent an accident. A man swerved to avoid hitting an animal on the road and ended up plowing into the automated ticketing machine.

Police in Blankenheim, Germany, admitted that the speed camera on Landstrasse 115 caused an accident on Monday, August 7. A 40-year-old Belgian motorcyclist was afraid of getting a ticket after noticing the camera and hit the brakes so hard that he lost control and eneded up sliding across the pavement and into a sign on a traffic island. On Sunday, a pair of speed cameras on Niederbieger Strasse were disabled in Weingarten. Police have no idea who might be responsible.