9/12/2022
Spraypaint And Gunfire Defeats Speed Cameras In Belgium, France, Italy
White spraypaint takes out three French speed cameras, a saw and a gun disabled two Italian cameras and a Belgian camera was rammed last week.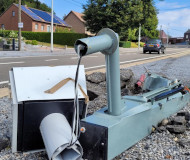 By Richard Diamond/Staff Reports

On Thursday, vigilantes in Menoncourt, France, used white spraypaint to blind the speed camera on the RD83. In Saint-Vulbas, the same shade of paint was used to thwart the speed camera on the RD20 and convey a message against President Emmanuel Macron. On Sunday, September 4, pink spraypaint covered the lens of the speed camera on the RD155 in Normanville. The frequently attacked speed camera on the CD945 in Mazerolles was also disabled with a coat of white paint.

In Belgium, the speed camera on the N3 in Thimister-Clermont was knocked down and left a pile of rubble in the street on Friday. The device had not yet been activated.

On Tuesday, unknown vigilantes shot the speed camera on the SS1 in Arma di Taggia, Italy, multiple times. On Friday, September 2, a pair of eighteen-year-olds used a battery-powered cutting tool to slice the speed camera on the Via Piana d'Oriente in Mussolente. The device was then loaded into a car that drove away. Police initially accused six people of taking the device, but later only charged two.