8/15/2022
Speed Cameras Tipped, Torched In Germany, France, Luxembourg
A half-dozen speed cameras were disabled by knocking them over, smashing them or setting them on fire in Europe last week.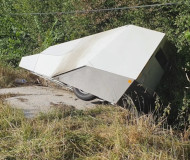 By Richard Diamond/Staff Reports

In Lipperscheid, Luxembourg, vigilantes on Saturday cut down the pole-mounted speed camera on the N7. This was the country's third most profitable photo radar unit, generating 89,200 tickets between 2016 and 2020.

Also on Saturday, opponents of automated ticketing in Jena, Germany, smashed the lenses of the mobile photo radar unit on Isserstedter Strasse. In Niederkruchten, a pair of unknown vigilantes on motorcycles torched the speed camera that had been issuing automated citations on Damer Strasse on Sunday, August 7. Police issued a statement saying a "motorcross-style" motorcycle and a machine "believed to be a Kawasaki Ninja" were allegedly involved. The notice asks for informants to turn in any motorcyclists seen riding together with "this combination of machines."

On Thursday, vigilantes in Audelange, France, knocked the speed camera on the RD673 off its base before spraypainting the device's lenses and setting the whole machine on fire. Similarly in Menerval, the speed camera on the RD915 was disabled on Friday, August 5, by knocking the device off its concrete base and into a ditch. The massive device weighs over a ton, and police have no idea how it was moved.