7/11/2022
Australia, France, Italy: Speed Cameras Blocked And Burned
Opponents of automated ticketing thwarted the use of speed cameras in a handful of ways last week in Australia and Europe.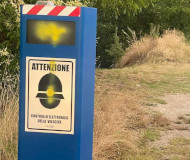 By Richard Diamond/Staff Reports
A pair of Australian vigilantes interfered with the generation of automated tickets on Sunday. One parked on the side of the road behind a photo radar van, preventing the camera from taking a clear photo. Another, a teenager named Beau Jackson, held up a hand-made sign warning of a speed camera, alerting motorists to the device's presence.

In Sulmona, Italy, on Saturday, vigilantes thwarted the speed camera by painting its lens yellow. In Roseto Capo Spulico, vigilantes on Saturday torched the speed camera on the SS106. The pole-mounted speed camera installed a week ago on the RD8043 in Auvillers-les-Forges, France, was disabled Friday with the application of red spraypaint.