2/1/2021
France, Italy: Speed Cameras Burn
A handful of speed cameras were blinded, bisected and burned in France and Italy last week.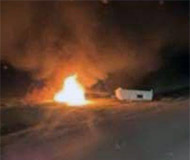 Vigilantes in Ribemont-sur-Ancre, France, successfully eliminated the pole-mounted "turret" speed camera on the RD929 at around 3am on Saturday. The device was cut down and then set on fire. On Wednesday, the speed camera on the RD916 in Cassel lost its ability to issue automated tickets after its lenses were blinded with blue paint less than 24 hours after being installed. On Tuesday, red paint was used to blind the photo radar on the RD928 in Audincthun, with the word "COVID" painted under the camera lens. On January 24, the turret speed camera in Toutainville was toppled and torched in the night.

In Bari, Italy, local officials continue to be frustrated by vigilantes who have successfully destroyed five speed cameras in the past several days. The most recent incident involved an orange Velo OK radar unit that was knocked over and then sliced in half.