8/17/2020
Colorado, Australia, France, Germany, UK: Speed Camera Opponents Fight Back
Australian speed camera employee union warns of massive inaccuracy. Spraypaint and fire disabled cameras in US and Europe last week.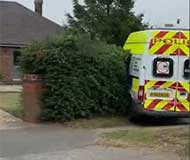 The organization that represents speed camera van drivers is threatening to go on strike once again in Victoria, Australia. The Community and Public Sector Union is upset by cuts to working hours and has raised the alarm about massive inaccuracies in the new "T-Series" radar units made by Sensys Gatso of Sweden.

"We have been advised the issues could be widespread," the union's state secretary, Karen Batt, told the Brisbane Times newspaper. "Operators indicated there were problems around configuration and calibration and that was going to cause some significant accuracy concerns for any speed fines that may arise."

Meanwhile, in Hoppers Crossing, Australia, vigilantes wearing masks as required by the government approached a speed camera car that was issuing tickets on Mossfiel Drive on August 6 and told the automated ticketing vehicle's driver inside to leave. That driver, an employee of the pro-profit vendor Serco, refused to do so and called the police.

Vigilantes in Colorado Springs, Colorado, disabled about half of Verra Mobility's red light cameras in the city last week by painting their lenses with blue spraypaint. A photo radar van in Horncastle, England, caused property damage after causing an accident on Friday. The automated ticketing vehicle hit a car before knocking down a garden hedge on Boston Road. In Leverkusen, Germany, vigilantes blinded the freshly installed speed camera on Gustav Heinemann Strasse with white spraypaint.

Vigilantes in Ruisseauville, France, on Saturday used spraypaint to prevent the speed camera on the RD928 from issuing any tickets. Around the same time on Guadeloupe, an archipelago in the Caribbean, opponents of automated ticketing torched the Mesta Fusion 2 speed camera on the RN5 in Dubedou. Back on the continent, vigilantes in Condren on Friday torched the speed camera on the RD1032. On Tuesday, the freshly installed pole-mounted "turret" speed camera in Parthenay was cut down and left lying on the ground. On Wednesday, vigilantes blinded the speed camera on the RD952 near Bray-en-Val with spraypaint. The device had just been put into place two weeks earlier. Likewise, bright pink spraypaint neutralized the automated ticketing machine that had been operating on the RD781 in Hennebont. The turret speed camera on the RD813 in Saint-Hilaire-de-Lusignan ended up toppling onto the hood of a passing car as it failed to stop a collision on August 10.