Related News
Australia, Italy: Speed Cameras Disabled
Belgium, Canada, France, Italy, UAE: Speed Cameras Disabled
Australia, Belgium, Italy, Russia, UK: Speed Cameras Disrespected, Destroyed
Gemany Italy, UK: Speed Cameras Oiled, Painted, Exploded
Missouri, France, Saudi Arabia: Traffic Cameras In Fires, Crashes, Scandals
View Main Topics:


Subscribe via RSS or E-Mail
Back To Front Page
6/29/2014
France: Speed Camera Painted
Green paint stops a French photo radar unit from generating citations.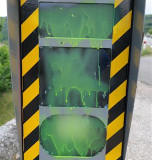 Vigilantes in Ardeche, France disabled a speed camera last weekend by covering its lenses with green paint, Le Dauphine reported. The automated ticketing machine was located on the RD82 at the entrance to Saint-Etienne-de-Valoux.