1/9/2019
New Mexico Appeals Court Shuts Down Car Confiscation Program
State appeals court ruling drives final nail in coffin of Albuquerque, New Mexico car seizure enterprise.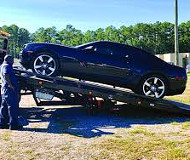 The New Mexico Court of Appeals last month pulled the plug on Albuquerque's automobile seizure program. The city had leaned on the program to generate $13.5 million in profit over the last eight years by cutting legal corners. Earlier this year a federal judge declared the program in violation of the US Constitution (view ruling), while the latest state Court of Appeals decision found it in violation of state law.

In 2015, New Mexico lawmakers grew uneasy about how many cars the city was grabbing and the lack of due process protections for innocent owners. The legislature unanimously enacted a law requiring cities to obtain a criminal conviction before initiating a forfeiture action. The city continued taking cars anyway.

Albuquerque enacted an ordinance authorizing the "immediate" taking of cars from people accused of drunk driving or driving on a suspended license. According to testimony presented at trial, as many as half of the vehicles that were seized were grabbed from people who were not the vehicles' owners. They had neither done anything wrong, nor been convicted of a crime. Lawyers for motorist Wilfredo Espinoza insisted the ordinance violated the 2015 law, a notion Albuquerque vigorously fought in court. A three-judge state panel sided with Espinoza.

"The New Mexico Forfeiture Act (NMFA)... restricts forfeiture to criminal proceedings and imposes specific requirements on any criminal forfeiture proceedings that must comport with the provisions of the NMFA," Judge Stephen G. French explained. "The ordinance, however, allows the city to accomplish precisely what the legislature intended the NMFA to eliminate: civil forfeiture."

More importantly, Albuquerque's ordinance forced the vehicle owner to prove he "could not have reasonably anticipated" the car would be misused in order to have a chance at recovering his property. State law, by contrast, placed the burden of proof on the government.

"The ordinance and the NMFA are functionally at odds with one another," Judge French wrote. "Because the procedures set forth in the ordinance are different from and contrary to the procedures outlined in the NMFA, we conclude that the ordinance is so inconsistent with the terms of the NMFA that the NMFA is the equivalent of an express denial of the city's authority to enact the ordinance."

A copy of the ruling is available in a 300k PDF file at the source link below.