10/11/2019
Innocent Motorist Fights Alabama Car Confiscation
Lawsuit challenges Alabama law that allows confiscation of cars without any hearing before a judge.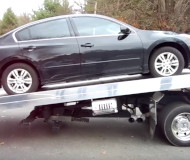 An innocent Georgia motorist is suing the state of Alabama for taking away her car. Halima Tariffa Culley lost her 2015 Nissan Altima when police officers pulled over her son in Satsuma, Alabama, on February 17. The 23-year-old college student allegedly had a small amount of marijuana on him, and for that the car was confiscated under the state civil asset forfeiture law. Halima Culley, the car's owner, was not charged with any crime.

"This case is not about the initial seizure, or the ultimate decision at trial in civil forfeiture actions," Cullley's attorney, Brian M. Clark, wrote. "It is about the fact that the state, in conjunction with the city of Satsuma, Alabama, seizes vehicles and other property and retains custody of it while the civil forfeiture action, which could take months, if not years to resolve, is pending."

Under Alabama law, cars can be seized on the mere accusation that the property has some connection to drugs. There is no preliminary hearing held promptly to determine whether there might be sufficient probable cause to proceed with the seizure. After several months when the civil trial is scheduled, the owner has the burden of proving innocence.

Culley's lawsuit seeks to have the forfeiture statute overturned as a violation of constitutional due process rights, as well as a violation of the Eight Amendment protection against excessive fines. The state wants to keep the law in place because it seizes hundreds of cars and millions of dollars every year, including from people who have not been charged with crimes.

"The state district attorneys' offices often take a percentage of the money awarded in civil forfeiture actions they bring, and the study cited above reports that 42 percent of the proceeds from civil forfeitures went to police departments," Clark explained. "This is 'policing for profit,' police personnel are incentivized to seize property, knowing much of it will be forfeited on default, because it ends up in the department's coffers."

The proposed class action suit seeks to force the state to institute immediate hearings that allow a judge to decide whether there is probable cause to believe the owner of a seized car had any complicity in its unlawful use. The case also asks for refunds for the innocent motorists who lost their property without due process.