9/13/2019
Alabama Cop Busted For Towing Cars From Lawn
Alabama Court of Appeals says police officer can be sued for confiscating without due process cars parked on a lawn.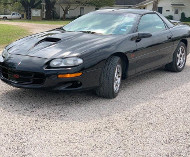 A police officer and a tow truck company are on the hook for taking a pair of dirt-covered cars from a resident's lawn in Center Point, Alabama. The Alabama Court Of Civil Appeals last month ruled that Dorothy McDonald could hold both deputy sheriff Robert Keahey and Foster Wrecker Service personally liable for grabbing a 2002 Chevy Camaro and a 1984 Buick Regal from her property.

A city ordinance prohibited storing junked cars in locations readily visible from the street or to neighbors. On November 9, 2016, Center Point's code inspector, Keith Evans, entered McDonald's property to take a closer look, but McDonald's ex-husband, Byron Steele, ordered him to leave. Evans then called Deputy Keahey, who sent Steele back inside the home. Evans handed Steele a written order to remove the cars immediately.

Three weeks later, Deputy Keahey returned to the property and saw the Camaro and Buick were still there. He called the towing company and had the car impounded. McDonald was not informed of any way she could contest the seizure, since the city has no such procedure. So, McDonald sued the deputy, the city and the towing company, claiming they had no right to take and sell her property without due process. The three-judge appellate panel rejected the immunity claims of the officer and Foster Wrecker Service.

The judges noted that the deputy was clearly acting under the color of state law, and the towing company operating under his orders may be considered a "state actor" at this stage in the litigation. They could be held personally liable for violating McDonald's constitutional rights through the warrantless seizure of her cars located so close to her home.

"If the vehicles were within the curtilage of the home, then the warrantless seizure would be subject to the heightened scrutiny afforded invasions into the sanctity of the home -- such as if the vehicles had been parked in McDonald's living room," Judge Chad Arthur Hanson wrote for the three-judge panel. "Unless some recognized exception to the warrant requirement applies, the warrantless intrusion into the curtilage of McDonald's home to seize her vehicles was unquestionably a violation of the Fourth Amendment."

The lack of due process added a claim under the Fourteenth Amendment.

"Here, Keahey should have been aware that McDonald was due some minimal process before the removal of her vehicles from outside her home, and, because Keahey was the official who made the decision to abate the nuisance, he was in the unique position to know that she had not had an opportunity to be heard," Judge Hanson wrote.

The judges want the factual questions in the case to be resolved by the trial court. A copy of the ruling is available in a 200k PDF file at the source link below.