5/30/2018
US Supreme Court Rejects Driveway Snooping
US Supreme Court declares it a violation of the Fourth Amendment for a cop to sneak onto a driveway and search under a vehicle cover.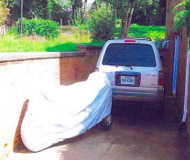 Police may not walk up to a driveway and look under a car or motorcycle cover without a warrant. In an 8 to 1 ruling handed down Tuesday, US Supreme Court justices refused to expand the wide-ranging automobile exception to the Fourth Amendment requirement that police receive approval from a neutral magistrate before conducting a search.

Albemarle County, Virginia Police Officers Matthew McCall and David Rhodes on two separate occasions tried and failed to pull over a motorcycle with a distinctive orange and black paint job and extended swingarm. After receiving a call from the Department of Motor Vehicles that Ryan Austin Collins was trying to register a motorcycle that was reported stolen, the officers called up the man's Facebook page and found photos of the motorcycle they could not catch.

Officer Rhodes tracked down the likely location of the motorcycle to the home of Collins' girlfriend. He saw a vehicle in the driveway covered by a tarp that seemed to be longer than an ordinary motorcycle. So the officer decided to walk up to the vehicle and peek under the tarp. He took a photo and returned to his car, where he waited to arrest Collins.

The question before the high court justices was not whether Collins deserved to be arrested, but whether it was appropriate for the officer to walk onto private property and conduct a search without a warrant when there were no exigent circumstances. The court considered the covered portion of the driveway, which was right next to the house, to be part of the "curtilage" entitled to the same protection as the house itself.

"Can the officer, acting without a warrant, enter the house to search the motorcycle and confirm whether it is the right one?" Justice Sonia Sotomayor asked in the ruling. "Surely not."

The justices insisted that the court's "automobile exception" doctrine could not be invoked here because it was the driveway invaded, not a vehicle to which the exception applies.

"To allow an officer to rely on the automobile exception to gain entry into a house or its curtilage for the purpose of conducting a vehicle search would unmoor the exception from its justifications, render hollow the core Fourth Amendment protection the Constitution extends to the house and its curtilage, and transform what was meant to be an exception into a tool with far broader application," Justice Sotomayor concluded.

A copy of the ruling is available in a 200k PDF file at the source link below.