8/3/2018
Federal Judge Declares New Mexico Car Seizure Program Illegal
Multimillion-dollar Albuquerque, New Mexico car seizure program shut down as unconstitutional.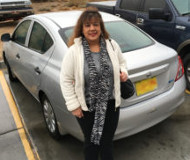 A federal court on Saturday could see no defense for the way that the city of Albuquerque, New Mexico, seizes automobiles. US District Judge James O. Browning declared the program an unlawful cash grab.

"The court concludes that the city of Albuquerque has an unconstitutional institutional incentive to prosecute forfeiture cases, because, in practice, the forfeiture program sets its own budget and can spend, without meaningful oversight, all of the excess funds it raises from previous years," Judge Browning wrote. "Thus, there is a realistic possibility that forfeiture officials judgment will be distorted by the prospect of institutional gain -- the more revenues they raise, the more revenues they can spend."

The city's program has raised $13.5 revenue in profit over the last eight years, drawing the ire of some state lawmakers. As soon as a motorist is accused of driving under the influence of alcohol (DUI), the car is grabbed, regardless of who the owner happens to be. It is up to any innocent owner to pay a $50 fee to ask for a hearing in which he would then have to prove that he could not have "reasonably anticipated" its use by a drunk driver. Failure to request a hearing results in the car being declared "abandoned" so that the city can auction it and keep the profits.

Some owners found it cheaper to buy their car back from the auction than to pay all costs involved to get it back through the official process. The city is known to force innocent owners to pay the hefty storage and towing fees, even if they win. The city attorney also offers settlement deals, for example asking the innocent owner to pay $4000 to get the car back -- with a boot immobilizing it for 18 months.

The court found the arrangement distasteful because the seizure program created a slush fund allowing the officials who impound the cars to spend as much as they want on whatever they want.

"On those facts, there is a realistic possibility that the forfeiture program prosecutors' judgment will be distorted, because in effect, the more revenues the prosecutor raises, the more money the forfeiture program can spend," Judge Browning explained.

Arelene Harjo filed the suit with the help of the Institute for Justice after her 2014 Nissan Versa was taken on April 23, 2016. The city will have to substantially modify its seizure ordinance to pass muster before Judge Browning.

"I'm glad this is going to help people in the same situation," Harjo said in a statement. "It's totally wrong what the government is doing. Hopefully now more people will fight back, and courts will say this has to stop."

A copy of the ruling is available in a 350k PDF file at the source link below.