2/17/2005
Speed Camera Sends UK Man to Jail
A man spends a week in a UK prison for refusing to pay a speed camera fine.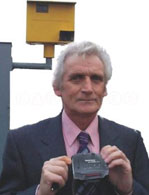 Ernie Harbon, a 64 year-old British painter, became the first known speed camera victim to be jailed. He spent a week in Leicester Prison for refusing to pay a £60 fine after a speed camera accused him of driving 38 MPH in a 30 MPH zone.

Released early for good behavior (he had been sentenced to two weeks in prison), Harbon has lost his driver's license because he continues in his refusal to admit the offense. He will take his case to the European Court of Human Rights.

A resident of Derbyshire, Harbon commented on that city's police chief, David Coleman, being caught in a BMW doing 97 MPH: "It sends out a message that there is one law for him and one for us."
Article Excerpt:
Breakfast the next morning made him ill. Ernest was taken to the doctor. Prisoner JH7915 was asked: "What are you in for?" Mr Harbon replied: "I'm making a stand against speed cameras." The doctor shook his hand with a firm grip of congratulation. Other prison staff were proud of Ernest too - Ernest had become a hero in his new world.
Source: Jailed Speed Camera Victim Hits Back (Carpages, 2/17/2005)

Regional News:
Other news about England



Permanent Link for this item
Return to Front Page