3/3/2021
Speed Camera, Tolling Giant Loses $3.4 Million
Tolling slump and speed camera installation misconduct sent Verra Mobility profits into the red in 2020.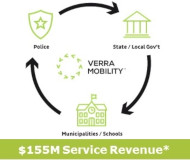 The scare continues to take a toll on the biggest player in the US speed camera and toll road ticketing arena. Verra Mobility announced a 12 percent drop in revenue and an overall loss of $3.4 million in 2020, largely as a result of plunging vehicle traffic and loss of photo radar revenue from school closures. Verra Mobility, formerly American Traffic Solutions (ATS), merged with Highway Toll Administration and is in the process of merging with scandal-plagued red light camera provider Redflex Traffic Systems. Profits may not recover until 2022.

"The largest portion of revenue in the commercial services segment is highly correlated to rental car volume," Verra CEO David M. Roberts said in a call with investors Monday. "And while we are optimistic in the trend line we are seeing, we still anticipate ongoing pressure to this business segment until late 2021, a view that is widely shared by many companies in travel-related industries."

Verra has deals with all the major rental car companies that charge motorists a substantial "convenience" fee every time they use a toll road in an arrangement that the state of Florida said was deceptive. Red light camera and speed camera revenue in New York City also fell short because officials withheld a $99 million payment on two contracts as an investigation was launched into improper camera installation.

"In late 2019, we concluded that some of our system installations under the legacy contract did not meet New York City requirements related to the depth of the buried electrical conduit and color of grounding wire, and we disclosed those issues to the Department of Transportation," Roberts explained. "We learned in January of this year that the city of New York is investigating matters related to the company's past installation practices, including the conduit depth issue that is being remediated."

Verra's photo enforcement division would have lost $80.4 million were it not for the proliferation of speed cameras in the Big Apple, with officials adding 420 more photo radar units (for a total of 720) in 2020.

"While we have experienced difficulties associated with this global event, we are quite optimistic about the future that lies ahead," Roberts said.

Verra still carries over $1 billion in debt.