4/11/2019
Florida Settles With Hertz Over Inflated Toll Road Fees
Florida attorney general forces concession from rental car firm over PlatePass toll road fees.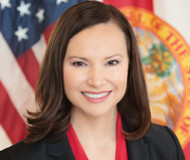 Rental car customers who were shocked by the daily "convenience" fees that accumulated after driving just once on a Florida toll road have until July 7 to claim a refund. Under a settlement approved at the beginning of the year, motorists who were misled by the confusing terms of their Dollar and Thrifty rental contract can recover up to $75 thanks to the lawsuit initially filed by Florida attorney general Ashley Moody's predecessor.

"Companies owe it to their consumers to be upfront about all of their services and the prices and fees that accompany them," Moody said earlier this year. "I am hopeful that this settlement will provide relief to consumers harmed by the company's actions and prevent future harm."

Verra Mobility (formerly called American Traffic Solutions) runs the PlatePass toll road and red light camera collection service under a deal with Dollar and Thrifty, which is owned by Hertz. Those who were mistakenly billed or were misled about the PlatePass pricing terms are entitled to a refund of all fees. Those who did not know about how PlatePass worked until they received a credit card statement in the mail can request a refund of PlatePass fees of up to $75.

Florida opened the investigation from receiving numerous complaints from aggravated rental customers. The National Motorists Association (NMA) supplied the attorney general's office with a collection of PlatePass horror stories from 700 members in 2014.

"Florida is a great place to visit for business and for leisure," NMA president Gary Biller wrote at the time. "The rental car companies that prey on tourists by charging outrageous fees for electronic toll collection are damaging that industry for Florida."

In a recent response to Biller, consumer protection chief Laura Boeckman sought the group's help in spreading the word about the refunds to affected members.

"We share the concerns you and your organization expressed in your previous correspondence to us and are seeking to ensure that individuals that may have been charged these toll fees and PlatePass charges by Dollar or Thrifty during the above-noted timeframe and without proper disclosure have an opportunity to seek refunds," Boeckman wrote. "We therefore ask that you assist us by sharing this information with your members so that as many eligible consumers as possible can apply for refunds before the July 7 deadline."

The agreement also forces rental companies to provide fuller disclosure of toll service fees as well as alternative options to rental car customers before contracts are signed. Information on filing for a refund is available from the attorney general's office.