10/29/2020
Washington Activist Blasts State Efforts To Block Future Car Tax Cuts
Attorney general in Washington state seeks lifetime ban political activist who has led public revolt against car taxes.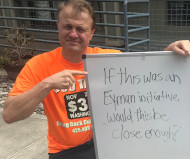 On the day Washington state motorists began submitting ballots for the 2020 election they learned the state Supreme Court had nullified a hotly contested decision they made in 2019 -- and perhaps permanently. With 55 percent of the vote last year, motorists endorsed Initiative 976 which was supposed to roll back legislative increases in car registration fees, known as car tabs. Earlier this month, high court justices accepted the argument of car tax beneficiaries that voters must have been confused by the measure's wording. On Tuesday, initiative sponsor Tim Eyman blasted state attorney general Bob Ferguson (D) not only for losing the high court case on purpose but also seeking to ban Eyman from introducing ballot initiatives in the future.

"By spending nearly $2 million of taxpayer money aggressively attacking me and my family, Ferguson hoped to break me," Eyman explained in an email to supporters. "During mandatory arbitration a few months ago, the attorney general told my attorney Richard Sanders that the state would only stop if I 'voluntarily' agreed to the lifetime ban."

Eyman rejected the offer as an attack on his First Amendment rights. The political activist has become a high-profile target from his introduction of dozens of statewide initiatives, many passed by voters, that reduce taxes -- including three car tab fee reduction initiatives. He also led the successful ballot effort that banned red light cameras in his hometown of Mukilteo. Eyman claims his measures have saved voters $43 billion, but Ferguson has filed a lawsuit that says Eyman may have violated campaign finance rules to make that happen. Losing the suit could end Eyman's initiative-writing career.

"That's what it's always been about -- shutting down the most effective taxpayer protection organization in state history," Eyman said.

The Washington Supreme Court said in its ruling earlier this month that "the average informed lay voter" did not understand that voting in 2019 to reduce car fees would also repeal a subset of taxes that had been approved previously by voters. It also argued the measure violated the rule requiring initiatives to be about only one subject. Eyman said the justices were applying a different standard to his measure after upholding far more confusing proposals introduced by special interest groups.

"When an initiative is approved by voters, judges are required to bend-over-backwards to uphold them -- initiatives, and legislative laws, are assumed to be constitutional and there's a very heavy burden to prove they're not," Eyman said.