1/22/2021
Verra Mobility Buys Rival Red Light Camera Provider
Verra Mobility announces its intention to buy Redflex, the second largest operator of red light cameras and speed cameras in the US.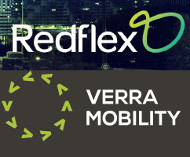 The two largest operators of red light cameras and speed cameras are merging. Verra Mobility (formerly American Traffic Solutions or ATS) told investors on Wednesday that it would buy the Australian-based Redflex Traffic Systems for A$146.1 million (US $112.7 million).

"We are delighted at the prospect of welcoming the Redflex team and their customers to the Verra Mobility family," Verra Mobility CEO David Roberts said in a statement about the deal.

Despite its significant share of the photo enforcement market, Redflex stock was depressed by its inability to turn a profit since it was caught in a massive bribery scandal in 2014. Top Redflex executives handed envelopes filled with cash, made large campaign donations and gave other "lavish gifts" to politicians in Arizona, California, Colorado, Florida, Georgia, Massachusetts, New Jersey, New Mexico, Tennessee, Virginia and Washington in return for their endorsement of automated ticketing. A Federal Bureau of Investigation sting operation secured felony convictions for Karen Finley, the head of US operations and a board member of the Australian parent company, for corruption in Chicago, Illinois, and Ohio. More than twenty politicians, photo enforcement executives and public officials have been jailed in similar schemes (view a complete list).

This is not the first time that Redflex and Verra Mobility's predecessor company, ATS, have merged. Redflex formed in 1995 as a communications technology provider for the Australian military, but it soon found that operating automated ticketing machines on behalf of local governments was a more profitable line of business. Redflex undercut rivals with lower prices by, among other things, cutting corners on obtaining regulatory approvals and licenses. By 1999, Redflex was strong enough to buy out ATS (then known as American Traffic Systems) for $1.8 million.

Once their non-compete agreement expired in 2002, the original founders of ATS, Jim and Adam Tuton, created American Traffic Solutions. The Tutons built the company into the largest photo radar and red light camera operator in the United States, often clashing in nasty courtroom battles with its rival Redflex.

"ATS unleashed a crusade against Redflex, its biggest competitor in the photo traffic enforcement industry, to damage it," a Redflex lawyer said at the time.

In 2017, the Tutons cashed out their ownership stake and sold ATS to Platinum Equity, a merger and acquisition firm. The equity firm created Verra Mobility, whose latest purchase proposal requires the approval of Redflex shareholders and government regulators. The company expects the transaction to be completed by May.