8/30/2016
Redflex Lobbyist Jailed, Bribe Taker Sentenced
Redflex lobbyist begins federal prison sentence as red light camera bribe taker sentenced to ten years.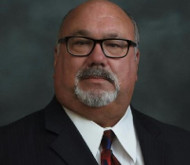 John P. Raphael became the first participant in the unfolding red light camera scandal to be put behind bars last week. The 61-year-old lobbyist for Redflex Traffic Systems of Australia on Thursday began serving his sentence at Williamsburg Federal Correctional Institute in Salter, South Carolina wearing a jumpsuit stamped with his new identity, prisoner number 73379-061.

He will soon be joined by John Bills, the former Chicago, Illinois transportation official who was sentenced to ten years on Monday. Bills was convicted last year of taking $2 million in bribes from Redflex in return for his help in securing the most lucrative red light camera contract in the country. Judge Virginia M. Kendall showed little mercy, and expressed irritation at his lawyer's last-ditch effort to have the jury's guilty verdict nullified by citing the US Supreme Court's decision to overturn the bribery conviction of former Virginia Governor Bob McDonnell.

"Now, in the eleventh hour and only one business day before his sentencing, Bills moves the court to reconsider its order based on McDonnell v. United States, a decision that was handed down on June 27, 2016, nearly two months ago," Judge Kendall wrote. "Regardless of this late filing, an analysis of McDonnell and the facts of this case show that the jury's verdict was sound both then and now."

Last October, Raphael admitted that he solicited bribe money from Redflex for distribution to city councilmen in Columbus and Cincinnati, Ohio. While public finance records show campaign donations did make their way to various public officials, Raphael refused to turn on his political allies in return for a lighter sentence. Raphael is scheduled for release on September 25, 2017.

Raphael is far from the first photo enforcement employee imprisoned. Shawn Brown, the former mayor of St. Peters, Missouri spent a year in prison for soliciting bribes from Redflex in 2006. A Washington, DC police officer was also busted for embezzling speed camera cash in 2008. Redflex salesman Jay Morris Specter was convicted of check fraud in 2007. He served his time and was released from Edgefield Federal Correctional Institution in South Carolina in 2010.

The list will soon grow, as former Redflex US operations chief Karen Finley and Redflex bagman Martin O'Malley await sentencing for their role in the Windy City scandal. In return for providing evidence on her co-conspirators, Finley's plea bargain prevents her from serving an additional sentence for cutting the bribery checks for Raphael in Ohio. Prosecutors on Monday asked for O'Malley to be sentenced to home confinement because he became an informant against Redflex.