6/26/2018
American Traffic Solutions Goes Public
ATS becomes publicly traded under the name Verra Mobility after an $800 million acquisition and merger.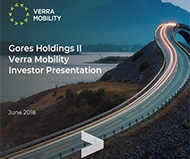 The largest US operator of red light cameras and speed cameras will soon become part of a publicly listed company. Gores Holding II announced last week it would merge with the automated ticketing company formerly known as American Traffic Solutions (ATS). Upon the deal's closing, the new combined entity, Verra Mobility, will be a publicly listed on the Nasdaq.

As part of its first disclosure, ATS revealed its revenue from red light cameras, photo radar and bus cameras was $138 million last year. With Atlanta, Austin, Chicago, New York City, Seattle and Washington DC as its flagship clients, the firm boasted a 46 percent market share in red light cameras, 48 percent in bus cameras and 55 percent in speed cameras. The lucrative deals it signs with municipalities bring in $46,200 per year from every red light camera and $53,000 for each speed camera. The company's hardware and installation costs are paid off less than 18 months into the contract.

Going public represents a massive shift in the way the company has operated in the past. American Traffic Systems, later American Traffic Solutions, was founded by James Tuton in 1994 and kept as a closely held private company with brother Adam Tuton and a handful of investors to avoid the need to disclose financial performance data and other information. In 2010, the Tutons sold a minority stake in the company first Goldman Sachs for $58 million. In June 2017, they decided to cash out, selling the company outright to Platinum Equity, a merger and acquisition firm founded by Tom Gores. ATS announced its rebranding as as Verra Mobility earlier this month.

In addition to its photo ticketing business, ATS had created a highly lucrative tolling business, with the three top car rental agencies subscribing to the firm's PlatePass tolling service. The merger team now running Verra Mobility has expanded this into an international operation by acquiring the firm Euro Parking Collection. The newly combined entity generates an additional $168 million in tolling management revenue, $28 million in tolling violation tickets and $11 million in registration revenue from car rental agencies.

Verra Mobility stressed the immense profitability of the expanded business which has seen 8.2 percent annual growth over the past three years. The company's school bus ticketing cameras are seeing "double digit growth rates" while red light cameras are flat and speed camera growth is "low single digit" for a total of $8 to $10 million in additional photo ticket profit projected compared to $30 million in tolling profit.

"As discussed, we believe the strong industry tailwinds including increased cashless tolling, an increase in the number of toll roads and new types of tolling systems, such as congestion pricing, will drive the number of tolls incurred by... drivers," Verra Mobility CEO David Roberts told investors in a conference call Thursday.

The transaction is expected to close by October.