11/23/2010
Speed Camera Firm a Millionaire Factory
The four principals of American Traffic Solutions pocket millions from photo radar tickets.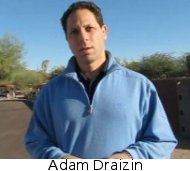 Millions of dollars paid by motorists in red light camera and speed camera fines end up in the pockets of a handful of individuals. In the United States, American Traffic Solutions (ATS) is responsible for about 41 percent of the nation's photo enforcement business, but as a private company its dealings are well concealed from public scrutiny. Based on a review of documents marked "confidential -- attorneys' eyes only," the ATS leadership team has reaped significant personal profit in a short amount of time.

"I paid through sweat equity of becoming a member of the leadership, and I made a financial investment in the company," former Wall Street analyst Adam Draizin explained in a December 3, 2009 deposition discussing his joining ATS in May 2004.

Draizin's contribution was $500,000 for which he earned an share equal to that of the company's other three partners. That investment paid off in a big way when Goldman Sachs became the largest shareholder in 2008 with a 30 percent stake. Draizin, John Petrozza, Adam Tuton, James Tuton each share an equal 16.7 percent stake. James Investment (Robert Alpert) held a 3 percent share.

Goldman paid $58 million for its slice of the automated ticketing industry, of which $45 million was invested in the company. The original four partners pocketed $3,250,000 each -- a six-fold return for Draizin, a Harvard Business School graduate. Goldman retains significant influence over the business. The deal required that ATS change from a subchapter S corporation to a C corporation, that Goldman representatives sit on the ATS board of directors and that the board meet on a quarterly basis.

"They had a requirement to -- I think if there were any -- I think if there were any, you know, significantly material transactions that we undertook, like an acquisition of size, they would have to approve that," Draizin said. "I think if we made any significant changes to the capitalization of the business, they would have to be able to participate in that decision. I think those are the big ones."

Draizin early on attempted to expand the ATS business line to include consulting for businesses like BP.

"We were considering having fuel services consulting as part of our line of business, and so we folded that contract in," Draizin explained. "At the time, it was helping oil companies -- helping -- well, in that case helping British Petroleum market to its customers better and improve their efficiencies with how they managed information."

As part of the Goldman transaction, ATS Consolidated Inc was set up as a holding company for the firm's real estate and commercial services business. Other subsidiaries include PlatePass LLC, which allows rental car companies to charge for toll road use through rental agreements; Easy Shield LLC, which no longer operates but has a patent for a device that shields toll transponders; Mulvihill ICS and Mulvihill Electrical Enterprises, the company that provides automated ticketing machines to New York City; ATS Processing Services LLC, which handles processing business for commercial services; Cary 503 LLC, a piece of real estate in New York housing Mulvihill's operations; and American Traffic Solutions Inc, the main company.