1/25/2021
Canada, France: Speed Cameras Burned And Blinded
Vigilantes in Canada and France took out a half-dozen speed cameras last week.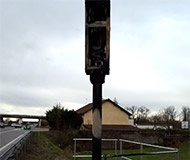 In Hamilton, Canada, vigilantes on Thursday toppled the speed camera that had been issuing automated tickets on Lawrence Road.

In Druillat, France, on Saturday vigilantes blinded the speed camera on the RD1075 with red and blue spraypaint. The device had just been installed the day before. Earlier in the week on Thursday, another speed camera on the RD1075 in Amberieu-en-Bugey was destroyed by fire. In Pont-de-Roide, the speed camera on the RD437 on Wednesday was blinded with black spraypaint and the message "we say thank you."

On Guadeloupe, an archipelago in the Caribbean, vigilantes on Friday torched the speed camera in Deshaies -- the second device destroyed at the location in the past few weeks. Likewise, the recently installed speed camera on the RD120 in Anse-Bertrand was knocked out of service by being shot.