5/21/2020
North Carolina Appeals Court Refuses To Hear Red Light Camera Challenge
The disinterest of the state attorney general in a challenge to red light cameras saves photo ticketing in Greenville, North Carolina.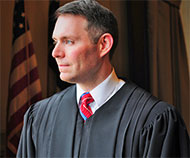 The North Carolina Court of Appeals is not interested in ruling on the constitutionality of red light cameras. The court on Tuesday threw out a challenge brought by motorist Mary Sue Vaitovas on technical grounds. She argued that a recent state law designed to evade the state constitutional requirement directing traffic ticket revenue to schools should be overturned. The three-judge appellate panel threw out the challenge because North Carolina Attorney General Josh Stein did not bother showing up to hearings on the case.

"We took a dismissal as to the attorney general," Vaitovas's attorney explained during a lower court hearing. "The state is still in it, they just apparently don't care who wins."

The appellate court insisted this view was incorrect, and that the lower court had not entered a final decision on whether to throw out the challenge or not. The court found the attorney general, as the state's legal representative, should have a chance to weigh in.

"This lawsuit is a facial constitutional challenge to a state law that names the state as a party," Judge Richard Dietz wrote for the appellate panel. "Before this court hears the matter and addresses the constitutionality of that law on the merits, the appeal should include a judgment entered as to the state, so that the state, if it chooses, can appear and advocate for its position on that constitutional question."

In 2007, the North Carolina Supreme Court upheld a decision directing all red light camera revenue to the state school system (read final opinion). The court found that the state constitution's requirement that the "clear proceeds" of all fines be sent to the schools meant just that -- no less than 90 percent of the cash collected from motorists had to go to schools. One by one, cities throughout the state -- including Cary, Charlotte, Fayetteville, Greenville, Greensboro, High Point and Rocky Mount -- allowed their contracts with red light camera operators to expire, as the jurisdictions found no way to generate a profit under the court ruling.

To get around this, the state legislature created a revenue sharing arrangement using local laws that authorized the money to be sent to the schools before being redistributed back. In 2018, for example, the red light cameras in Fayetteville generated $2.5 million for the local school district, but $800,000 for private vendor Verra Mobility. Under the 90 percent rule, the schools should have received $3 million and Verra Mobiliy $250,000.

Vaitovas and her attorneys argued the arrangement violates the constitutional provision that forbids local laws "related to health." The appellate ruling sends the case back to the Wake County Superior Court. A copy of the ruling is available in a 100k PDF file at the source link below.