3/16/2005
Greensboro, NC Shuts Down Red Light Cameras
Greensboro, North Carolina shuts down its red light camera program.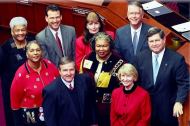 Greensboro joins High Point and Greenville as the third North Carolina city to shut down its red light camera program following a ruling of the Guilford County court. The Greensboro city council voted unanimously to shut down the cameras because they were no longer economically feasible under the judge's ruling that that 90 percent of camera revenue must be given to the local schools.

The cameras will shut down Thursday at midnight.
Article Excerpt:
If the lawsuit is resolved in High Point's favor, Greensboro will have the option to reinstate its contract with Peek Traffic. The company owns and operates the cameras that photograph cars that run red lights at the intersections.
Source: Red-light cameras suspended by city (Greensboro News and Record (NC), 3/16/2005)

Regional News:
Other news about Greensboro, North Carolina



Permanent Link for this item
Return to Front Page