8/10/2007
Greenville, North Carolina Officially Cancels Red Light Contract
City council in Greenville, North Carolina officially votes to unplug red light cameras that never issued a single ticket.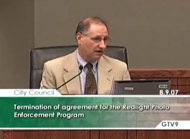 Greenville, North Carolina's attempt to generate revenue with a red light camera ticketing system ended yesterday with the city itself paying a $36,000 penalty. The city council voted unanimously, and without debate, to pull the plug on the program it had started in March 2004 without having issued a single ticket to a motorist.

Greenville had cameras installed at two intersections by December 2004, but before any citations could be issued, a lower court judge ruled that the city of High Point had to pay 90 percent of revenue collected from its red light camera programs to the public schools. In Greenville's case, this would have meant paying $47 to Redflex and $45 to the city schools out of each $50 ticket issued.

"This created a problem for the continuance of our program because it made it economically infeasible to continue," City Attorney Dave Holec said.

Greenville decided to suspend all plans to issue citations until the issue had played out in the courts. Now that the state supreme court has upheld all of the previous rulings (read final opinion), the city has no alternative but to officially cancel the program "for convenience." The city rejected the idea that what was originally described as a public safety program had benefits that were worth $42 per citation.

So far, Charlotte, Fayetteville, Greensboro, High Point and Raleigh have followed suit and shut down their red light camera programs. Many of the remaining cities that have camera programs have yet to comply with the court's order.

A copy of the cancellation ordinance is available in a 78k PDF file at the source link below.