2/24/2020
New York, Pennsylvania, France, Italy: Speed Cameras Protests, Destruction
Drunk-driving cop unintentionally destroys a speed camera in Pennsylvania while the devices are intentionally destroyed elsewhere in Europe.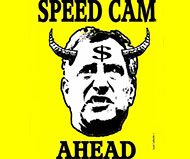 In Philadelphia, Pennsylvania, a speed camera on Roosevelt Boulevard was destroyed after it failed to prevent an accident on February 16. Officer John Sears was driving drunk while off-duty when he apparently flipped his car and slammed into the automated ticketing machine and another vehicle. In Staten Island, New York, artist Scott LoBaido staged a protest on Saturday against New York City Mayor Bill DeBlasio and his reliance on speed cameras to generate revenue. LoBaido and several supporters held yellow "speed camera ahead" signs featuring DeBlasio with horns and a dollar sign on his head that warned of nearby traps. He intends to return later today during rush hour.

"It's awesome," LoBaido said while livestreaming the event. "People are going crazy, they're beeping their horns and giving thumbs up. [The cameras] are all over and they don't tell you where they are. They're popping up every day... We're getting people riled up, and that's the point here."

In Tremblay, France, vigilantes on Sunday cut down and torched the pole-mounted "turret" speed camera located on the RD155. On Thursday, the speed camera on the D625 in Saint-Quentin-la-Tour was destroyed by fire. On Wednesday, the speed camera on the road leading into Virandeville was blinded with a coat of white spraypaint across its lenses. Around the same time, a flatbed Ford truck rammed the speed camera on the RD200 in Montataire, creating a massive fire that consumed the vehicle and the automated ticketing machine.

On Friday, a speed camera on the SS48 in Pontina, Italy, caused two chain reaction accidents within minutes of one another, creating a massive traffic backup. Drivers slammed on their brakes in order to avoid receiving a ticket in the mail, and the cars behind were not able to stop in time. No injuries were reported. On Thursday, the speed camera on the SS534 in Cassano all'Ionio was ripped right out of the ground, foundation and all, by a large tractor.