2/12/2020
Virginia House Passes Speed Camera Bill
Virginia House of Delegates quietly adopts legislation giving any jurisdiction in the state authority to set up speed cameras.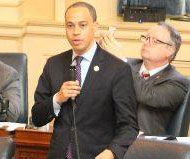 Speed cameras could be a common sight in Virginia if the state Senate approves legislation that cleared the House of Delegates last week. By a 53 to 44 vote, lower chamber lawmakers advanced a proposal allowing private, for-profit companies to issue automated $125 speeding tickets on freeways and in school zones. The measure introduced by Delegate Jay Jones (D-Norfolk) combined the features of several competing speed camera bills that already gained the support of powerful legislators, including the new speaker of the House, Eileen Filler-Corn (D-Fairfax).

As happened the last time the General Assembly adopted a speed camera bill, lawmakers have been careful to avoid mentioning the legislation in public.

"For anyone who said that [Virginia House Democrats] weren't moving fast enough or didn't know what we're doing," Jones wrote on Twitter on the day his bill cleared the state House. "If you're following you'll see we're grinding out bills at a rapid clip."

Neither Jones nor his party listed passage of the bill among the House accomplishments on February 5. When judged by votes cast at the ballot box, automated ticketing machines have proved unpopular throughout the country. In thirteen states, members of the public turned to the petition process to set up community votes to overturn the decisions of local politicians who signed deals with private companies to install the devices (view list). Virginia does not have process for members of the public to initiate a referendum.

Under the House-passed bill, any local government can hire private companies to set up automated speed traps in "school zones" or highway "work zones." School zones are loosely defined as any street "in the vicinity of" a school. There is no requirement that children be nearby or that school be in session, as other school zone camera laws require in other states.

Likewise, the work zone applies to any area so designated with a sign. There will be no shortage of potential locations on high-volume freeways. Orange cones have already become a permanent feature of Northern Virginia's freeways. The Springfield Interchange, where the Capital Beltway, Interstates 95 and 395 meet, spent a dozen years under construction.

A copy of the legislation, as passed by the House of Delegates, is available in a 50k PDF file at the source link below.