6/28/2019
Redflex Describes Transition Away From Red Light Cameras To Tolling
Red light camera firm Redflex tells Australian investors about plans to transition into tolling and parking market.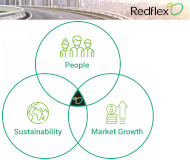 Red light cameras and speed cameras continue to fall out of favor in the US market, and the industry is responding. Redflex Traffic Systems on Monday revealed to investors detailed plans for transitioning existing company assets into systems than can profit from traffic congestion.

Redflex, which has failed to turn a profit in the past five years, will lose an additional $12 million annually following the decision of Texas lawmakers to outlaw automated ticketing machines. The Australian camera operator told investors that it would shift from red light and speed cameras into "intelligent motorways and urban traffic management," entering the much larger $21 billion tolling market.

The primary revenue drivers in this new market are electronic toll collection and parking management. Redflex, however, does not intend to entirely give up ticketing in European markets. The company recently sold camera systems to the UK government for use on "smart motorways" with lanes of travel that appear and disappear as well as speed limits that can be remotely lowered. Redflex will send tickets in the mail to motorists confused by the changes in available lanes and allowed speeds. The UK also continues to use average speed cameras and bus lane cameras.

Smart motorways cameras are automated license plate readers (ANPR), creating real-time surveillance network that tracks motorists as they drive. When the journey ends and it is time to park, a camera would record when it enters (and leaves) the lot so that Redflex can both charge a fee and monetize the location data. Redflex also wants a shot at operating New York City's congestion tax, which will charge a toll to drivers entering the city south of 61st Street.

Redflex predicts it will take at least a year to build its tolling platform, and it would need up to three years to "expand data management and intelligence capability -- progressing from deep learning to artificial intelligence and automation."

American Traffic Solutions (ATS), the Arizona-based leader in red light and speed cameras already proved that toll roads represented the future of profits in the industry. ATS founders recently cashed out, turning over their company over to a private equity firm that last year merged ATS with Highway Toll Administration and Euro Parking Collection.