6/6/2019
Texas Cities Dump Red Light Cameras In Response To Ban
At least 33 Texas cities confirmed this week their intention to cease red light camera ticketing.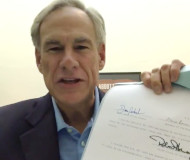 With the stroke of a pen Saturday, Texas Governor Greg Abbott (R) signed a partial ban on red light cameras into law (view statute). Since then, nearly three dozen dozen cities throughout the Lone Star State have announced their intention to comply fully with the legislature's intent.

"We respect the decision of our elected officials and immediately started the process to suspend our red light camera program to comply with the law," the city of Plano explained in public notice. "The Plano Police Department's contract with the vendor provides the ability to terminate the contract based on a change in the law. We are exercising our right to terminate the contract and working out the details with the vendor."

So far, officials in the following cities have confirmed pulling the plug on automated ticketing: Amarillo, Austin, Balch Springs, Bedford, Burleson, Cedar Hill, Coppell, Dallas, Denton, Diboll, Duncanville, El Paso, Farmers Branch, Frisco, Ft Worth, Garland, Grand Prairie, Haltom City, Hurst, Irving, Little Elm, Lufkin, Magnolia, Marshall, Mesquite, North Richland Hills, Plano, Richland Hills, Roanoke, Southlake, Sugar Land, Watauga and Willis. Amarillo says it will cancel the contract after a ninety day waiting period, but the rest have decided to end ticketing immediately. Mesquite has removed red light camera information from its website.

A handful of cities are holding out on confirming their response. A few others intend to be scofflaw cities, exercising a narrow loophole that was inserted into the ban legislation by supporters of automated ticketing companies. Only cities that explicitly removed a common contract provision allowing for program termination in the event of "adverse state legislation" can continue using the devices until their deals with private vendors expire. Humble wants to run red light cameras until 2024, Balcones Heights until 2034 and Leon Valley until 2038. It will be up to attorney general Ken Paxon to decide whether the wording of their deals with private vendors actually meets the legal standard.

Redflex told its Australian investors that the company expects to lose $12 million a year in revenue as a result of these developments. Redflex rival American Traffic Solutions -- now known as Verra Mobility -- expects to lose even more.

"Verra Mobility Corporation has contracts to operate photo enforcement programs in Texas that total approximately $15 million in annual projected 2019 revenue, which includes both red light and school bus stop arm programs, and it is evaluating the impact of this anticipated change in law on its programs and revenue in the state of Texas," the firm told investors. "In addition to potential revenue impacts, the company may also incur up to $7.2 million in related impairment of assets."

Verra Mobility hopes to keep as many red light camera programs running as possible with the loophole. The ban bill's author, state Representative Jonathan Stickland (R-Bedford), anticipated this. He added a loophole of his own to protect motorists. Under the new law, the state may no longer refuse to renew vehicle registrations for individuals who fail to pay a photo ticket. That means payment of the $75 red light camera tickets in cities that choose to retain red light cameras is entirely optional.