2/5/2019
Virginia Moves To Drop License Suspensions For Overdue Tickets
Legislation passed by the Virginia Senate would restore the right to drive to 626,537 motorists who could not afford to pay traffic tickets.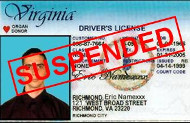 Low-income Virginia motorists may soon be able to keep driving, even if they they cannot afford to pay an outstanding traffic ticket. Under legislation adopted by the state Senate in a 36 to 4 vote, a single missed payment would no longer result in a mandatory license suspension. Currently, 626,537 Virginians have no license because they were unable to make the immediate, up-front payment of a traffic fine that is required by statute.

Under the proposal presented to the state House Committee for Courts of Justice last week, licenses would no longer be suspended for non-payment. In addition, those who already had their license taken away on purely financial grounds could pay a $145 fee to have it restored, regardless of whether any other fines are overdue. The measure would become law if adopted by the full House and signed by embattled Governor Ralph Northam (D).

License suspensions have been a moneymaker for the commonwealth, bringing in $10,727,275 in revenue last year, but the practice has stirred controversy. States like California, Georgia, Kentucky and Wyoming have prohibited such suspensions, while courts in Tennessee and Michigan have joined the US Department of Justice in questioning the constitutionality of financial suspensions. States like New Jersey are also considering reform.

In an early attempt to ease the hardship of traffic ticket payments, the General Assembly in 2015 enacted a law allowing payments to courts to be accepted in person at any Department of Motor Vehicles office. Last month, DMV Commissioner Richard D. Holcomb told the General Assembly that his agency was too busy with Real ID to offer this service.

"DMV will not be in a position to move forward with this project until after customer volumes return to typical levels after 2020," Holcomb wrote.

In other issues, the Virginia Senate on Thursday rejected a bill promoted by Governor Northam and senior Republican leaders that would have tolled all 325 miles of Interstate 81. The Senate Finance Committee instead adopted a new plan that sets up a commission to study how to fund improvements to the road. The new legislation no longer contains any mention of tolling or photo ticketing.

A copy of the bill is available in a 500k PDF file at the source link below.