1/23/2019
Virginia Considers Cameras To Issue Tickets On Alternate Routes Around Toll Road
Plan to toll Virginia interstate creates photo ticketing system to cite people who take alternate routes to avoid tolls.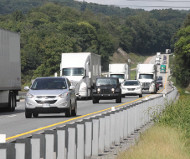 Drivers who take a highway exit to avoid having to pay a toll on Virginia's Interstate 81 could end up paying far more after a ticket arrives in the mail. The state Senate Transportation Committee will consider a proposal later today that would authorize tolling on I-81. Introduced by state Senator Mark D. Obenshain (R-Harrisonburg), the measure would also allow private companies to operate a new type of automated photo enforcement camera that issues tickets based on a motorist's choice of route. Those attempting to save a bit of money by taking a side street could be subjected to a fine set by the Commonwealth Transportation Board.

"The operator of a vehicle that the board determines is through traffic or that is subject to a through travel restriction... shall be considered to be in violation... if the operator (i) exits the interstate highway to travel on a parallel route in proximity and prior to a toll collection point and (ii) re-enters the interstate highway after the same toll collection point that demonstrates the routes traveled were selected to avoid paying the toll at such toll collection point, determined by the board," Senate Bill 1716 states.

Earlier this month, Governor Ralph Northam (D) joined Republican leaders in announcing their support for converting all 325 miles of I-81 into a toll road to generate $150 million in annual profit for the state. Obenshain's implementation legislation includes a number of provisions designed to place the greatest toll burden on out-of-state vehicles. His legislation sets the cost for driving the length of I-81 at no more than $36 for cars in the first year, with limits on how much the tolls are raised on a regular basis. The plan would allow local commuters to register so that they can pass one toll gantry north and one south each day without paying. Residents who need to drive farther on a regular basis can pay a "reasonable" fee for an unlimited annual pass allowing toll-free driving on I-81.

The American Trucking Associations (ATA) is threatening to sue if the plan is approved by the General Assembly. Truckers carry $312 billion worth of goods along I-81 each year, representing 42 percent of the state's big rig traffic. The group insists the plan is unconstitutional.

"The car-only annual pass proposal is unlawful under the US Constitution because it represents an impermissible burden on interstate commerce," ATA general counsel Jennifer Hall wrote in a letter to Northam. "The proposed toll scheme discriminates against interstate commerce by favoring noncommercial vehicles over commercial vehicles -- ie, the very vehicles by which interstate commerce moves."

In their report to the legislature on the plan, state transportation officials calculated that raising the gas tax in the I-81 corridor to the rate already paid by motorists in Northern Virginia and Hampton Roads would generate the same amount of revenue as tolling. Opponents pointed out that a significant amount of money paid by motorists under the tolling plan would be taken by overhead costs.

"We need every dollar generated to go toward improving the interstate, not spending it on collecting, administering and enforcing tolls," Alliance for Toll-Free Interstates spokesman Stephanie Kane said. "SB 1716 simply props up a fiscally irresponsible government bureaucracy to waste taxpayers' money on toll administration, enforcement and collection."

A copy of the legislation is available in a 30k PDF file at the source link below.