10/11/2018
Los Angeles, California Court Forced To Reform Traffic Fine Policies
Los Angeles and the state of California update policies to limit the suspension of drivers licenses over unpaid traffic tickets.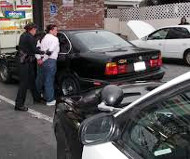 Low-income motorists in Los Angeles, California, will no longer have to worry about being plunged into debt by traffic tickets and drivers' license suspensions. The American Civil Liberties Union (ACLU) announced Monday that the Los Angeles Superior Court had adopted new license suspension policies as part of a resolution to a legal dispute. Statewide, 4.2 million California motorists had their licenses taken away over unpaid tickets between 2006 and 2013.

"Courts are required by law to look at a person's ability to pay a fine before ordering the suspension of a driver's license," Western Center on Law and Poverty attorney Antionette Dozier said in a statement. "In Los Angeles, they didn't follow the law."

The Western Center on Law and Poverty and the ACLU sued the Los Angeles court two years ago over the way it treated indigent drivers. Gloria Mata Alvarado and Toneshawa Jones, the plaintiffs in this case, lost their right to drive because they could not afford to pay the court. Alvarado's simple seatbelt citation ballooned into a $712 fine. The judge in her case was only willing to reduce the penalty to $600, an amount she could not afford, so her license was suspended. The court also made it impossible for her to contest the suspension.

The court has since agreed to retrain judges to emphasize their ability to suspend or lower fines that a ticket recipient has no money to pay. The court will also update its information handouts to explain to ticket recipients that community service and payment plan options are available. Motorists who are unable to pay their fine in full before the due date can also petition the court to have fees reduced.

Solano County Judge Leslie C. Nichols last month formally dismissed the lawsuit while retaining jurisdiction to ensure the Los Angeles court sticks to terms of the agreement. The court will turn over statistics on traffic tickets and a random sample of 250 reduced payment petitions for review. The court also cut a check for $87,500 to pay attorneys' fees to the Western Center on Law and Poverty.

The court's decision was forced in part by a new law enacted as a budget amendment which ended license suspensions over minor moving violations unrelated to safety. The state Department of Motor Vehicles in March reinstated 200,000 licenses that were suspended over the inability to pay a ticket.

Correction: The story has been updated to correctly identify the budget as the source of the changed suspension policy. SB185 did not pass.