9/14/2018
Illinois: Federal Court Rules Bankruptcy Requires Return Of Seized Cars
Federal judge rules Chicago, Illinois violated bankruptcy law by refusing to return seized cars to debtors.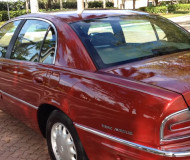 Motorists who have their car confiscated by officials in Chicago, Illinois, have a way to get back their ride. A federal bankruptcy judge last Friday ruled in favor of Timothy Shannon, who filed for Chapter 13 bankruptcy after the Windy City took his 1997 Buick Park Avenue, worth just $2675, because Shannon allegedly owed $1645 in parking tickets -- some more than twenty years old.

In 2015, another Chicago resident realized that he could secure the release of cars from city impound lots by filing fake Chapter 7 bankruptcy petitions. After the scheme was exposed, officials promised that they would actually read the bankruptcy petitions before accepting them. In 2016, the city went further by passing an ordinance saying they did not have to release any cars without payment in full of the claimed ticket debt and penalties.

So Chicago dug in its heels and refused to return Shannon's car. In May, the city issued a new claim that the parking ticket debt had risen to $5600. That amount came from $1000 in tickets, $150 for the towing fee and $2190 in storage fees. The city did not explain how that added up to $5600.

When Shannon filed his bankruptcy plan, he made sure to list the city as an unsecured creditor. The city never filed an objection to his bankruptcy plan, so the US Bankruptcy Court for the Northern District of Illinois ruled that Chicago cannot legally seek the full amount as if it were a secured claim.

"In United Student Aid Funds v. Espinosa, the Supreme Court held that a provision in a confirmed plan bound a creditor who had actual notice of the bankruptcy, filed a proof of claim, but failed to raise a timely objection," Judge Carol A. Doyle wrote. "The city is bound by the terms of Shannon's confirmed plan, and that plan treats its claim as unsecured... The bottom line here is that the city is not entitled to payment as a secured creditor in this case."

Taking cars is a profitable enterprise in Chicago, and the court would not allow the city to argue its ignoring of bankruptcy law was a legitimate exercise of its public safety authority.

"The city raises over $260 million per year from parking and red light ticket violations, a significant portion of its budget," Judge Doyle noted. "The city's purpose in this case is to collect money, which falls outside the police power exception... The ordinances do not distinguish between violations in which a driver has done something unsafe and violations of laws that are strictly money-raisers, like failing to pay for parking."

Under federal bankruptcy law, debtors are allowed to use their assets while a payment plan is worked out. The courts have noted that impounding cars hinders this process by making it more difficult for the creditor to hold a job. As a result, the court found Chicago had become the scofflaw.

"The city's continued possession of Shannon's car, combined with its demand for payment before it will release the car, is an act to enforce its lien," Judge Doyle ruled. "The city violates the automatic stay every day that the city refuses to return possession of the car to Shannon for the purpose of enforcing its lien. Thus, by refusing to return Shannon's car to him, the city has violated at least three provisions in the automatic stay."

Judge Doyle issued an order for the immediate return of the Buick.