7/25/2018
Texas Court Smacks Buspatrol With $421,910 Fine
Scandal plagued school bus camera company forced to pay legal fees of competitor after overplaying legal hand.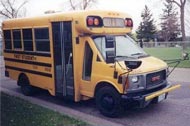 A Texas judge on Monday ordered one automated ticketing company to write a big check to its main rival. BusPatrol, the company that acquired the IP assets of the scandal-plagued school bus camera operator Force Multiplier Solutions must pay $421,910 in legal fees to American Traffic Solutions (ATS), which is now known as Verra Mobility.

The companies began their dispute in April, after BusPatrol convinced a Dallas County judge to approve a rushed "ex parte" order against ATS. The judge sided with BusPatrol's assertion that ATS was stealing the firm's technology and that this issue was urgent enough to demand emergency legal action. Within a week, a federal court slammed the brakes on that line of thinking. US District Judge Sidney A. Fitzwater ruled that nothing in the record justified such a hasty order (view ruling).

BusPatrol argued that ATS had dispatched spies to the Dallas County Schools to learn the secret behind the "superior" school bus camera technology the school district had been using. ATS countered that it had the full legal right to examine the equipment because the firm was working with the school system to negotiate a deal to take over the camera program after Force Multiplier Solutions was caught delivering $3 million in bribes to the former head of Dallas County Schools. Dallas voters showed their displeasure in November by overwhelmingly approving a ballot initiative that dissolved the school system.

BusPatrol decided to withdraw its complaint after losing in federal court. ATS decided to press its advantage by demanding that BusPatrol pick up the tab for the case.

"Only reasonable attorney fees can be awarded and the court agreed that our legal spend was reasonable given the amount of effort needed to appropriately defend ourselves in this frivolous lawsuit," ATS/Verra Mobility spokesman Charles Territo told TheNewspaper.

Dallas County Judge Eric V. Moye ordered BusPatrol to pay ATS lawyers their standard billing rate of between $450 and $925 per hour for the 680 hours needed to defend against the suit. Judge Moye did not go so far as to approve sanctions against BusPatrol.

"On June 29, 2018, the court issued an order finding that plaintiff's legal action is based on, relates to, or is in response to ATS's exercise of the right of free speech," Judge Moye ruled. "The court further found that plaintiff BusPatrol America LLC cannot establish by clear and specific evidence a prima facie case for each essential element of its claims against ATS... The court dismissed all of plaintiff's claims against ATS with prejudice."

A copy of Monday's ruling is available in a 100k PDF file at the source link below.

Note: This article has been updated.