4/25/2018
Bus Camera Companies Fight In Federal Court
School bus camera scandal in Dallas, Texas triggers court battle between photo ticketing companies.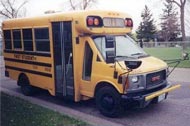 BusPatrol claims American Traffic Solutions (ATS) stole its secret technologies. The upstart photo ticketing vendor told a Dallas County, Texas, judge that ATS surreptitiously obtained one of the firm's bus cameras so it could be reverse engineer the process used for ticketing motorists from a school bus. Judge Martin Hoffman last week found the allegation serious enough that he immediately issued an ex parte order forcing ATS to return all BusPatrol equipment. "Ex parte" refers to the decision having been made based solely on BusPatrol's assertions without any prior notice of the proceedings being given to ATS.

ATS attorneys quickly fought back by having the case moved to a friendlier federal venue. On Monday, US District Judge Sidney A. Fitzwater reversed the state judge's order.

"First, this court would not have granted a temporary restraining order ex parte," Judge Fitzwater ruled.

The federal judge saw no realistic evidence that BusPatrol would suffer "irreparable harm" necessitating such an extraordinary order. He held that the case could proceed normally with each side on an even footing.

BusPatrol acquired the IP assets of Force Multiplier Solutions, a bus camera firm caught delivering $3 million in bribes to the Dallas County Schools. Earlier this month, the former head of Dallas County Schools admitted he accepted those bribes. Dallas voters showed their displeasure in November by overwhelmingly approving a ballot initiative that dissolved the school system. After Force Multiplier Solutions closed its doors, BusPatrol acquired the ticketing business. It now alleges that ATS tried to take advantage of the bribery scandal.

"When Dallas County Schools began contemplating the sale of its assets to try and get out from underneath its suffocating debt, ATS saw an opportunity and devised a scheme to do something it otherwise would not be able to do: get its hands on BusPatrol's BusStop technology and trade secrets so that it could understand how it worked, replicate its features, and better compete with BusPatrol's superior product," BusPatrol attorney Robert L. Rickman alleged. "Simply put, ATS got behind the curtain -- it improperly saw how BusPatrol's confidential technology, methods, and processes actually work"

BusPatrol alleges that ATS sent an employee to meet with Dallas County Schools police chief Scott Peters who showed off all of the components of the bus camera system. ATS employees Bruce Van Etten, Jeff Hughes and Pat McGrory sent multiple emails asking for technical details about the bus camera system to various Dallas County Schools staffers. The school then shipped two complete camera units to ATS. ATS attorney Phillip B. Philbin insisted there was nothing wrong with this because ATS lawfully obtained property owned by the school system while trying to negotiate a deal.

"In attempt to mitigate the harm to taxpayers from its stop arm camera program, Dallas County Schools contacted defendant American Traffic Solutions Inc as early as December 2016 and offered to sell its program and equipment to ATS," Philbin explained. "Through ATS's discussions with DCS, DCS sent hardware and equipment purchased by DCS, to ATS."

ATS backed up the assertion with a copy of the bid proposal it submitted to buy the school system's camera assets from the "dissolution committee" set up to sell the assets of the now defunct school system.

"In short, after Force Multiplier Solutions facilitated Dallas County Schools's purchase of millions of dollars of equipment and technology, FMS's apparent successor -- the plaintiff in this case -- proposed to buy back that same equipment for pennies on the dollar while, at the same time, attempting to use the state court's ex parte temporary restraining order to frustrate the dissolution committee's ability to work with a new vendor in ATS to protect the taxpayers of Dallas County, Texas," Philbin wrote.

The federal judge issued a gag order sealing documents related to the companies' "trade secrets" as the case proceeds. A copy of Monday's order is available in a 30k PDF file at the source link below.

Note: This article has been updated.