8/25/2014
California: Red Light Camera Companies Ignore Reporting Law
Embattled Redflex Traffic Systems issued $48 million worth of tickets to cars making safe, right hand turns in California.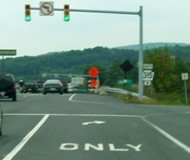 Red light camera companies have been ignoring new reporting requirements set by California law, and the judiciary has overlooked the ongoing violation. In 2012, the state legislature adopted a measure that was supposed to "make sure that drivers' rights are protected." Among other things, it required camera vendors to file an annual report with the state Judicial Council listing the number of violations captured; the number of citations issued with a breakdown of how many were right-hand turns; the percentage of tickets tossed out by the court; and the number of collisions before and after camera installation.

The Highwayrobbery.net website last month asked the Judicial Council for a copy of all of the reports that should have been filed. The council could provide no documents.

"At this time, no reports required by Vehicle Code section 21455.5(i) have been submitted to the Judicial Council," a spokesman for the judiciary said on July 21.

Word of the Highwayrobbery.net request spread, and Redflex Traffic Systems, with its former executives under indictment for corruption, decided belatedly to send in reports on August 12. The Australian firm runs more of the camera programs in the Golden State than any of its competitors, including American Traffic Solutions, which has not complied with the statute.

"We have not yet received reports from other suppliers," a spokesman for the Judicial Council explained. "Hopefully, additional reports will be available in the near future."

The report Redflex supplied showed that the Australian firm issued 269,324 tickets in 38 cities worth $126 million last year. Thirty-eight percent of the total, or $48 million, came from right-hand turns. Data from federal agencies (view report) and the city of Los Angeles (view report) show rolling right hand turns rarely cause accidents.

Some cities earn almost all their revenue by allowing Redflex to issue right turn tickets. Elk Grove, Newark and San Leandro are at the top of the chart, with over 90 percent of profit coming from rolling rights. A total of fourteen cities earned more than half their revenue from boulevard stops. Only Santa Clarita, Los Alamitos and Del Mar obtained less than 10 percent of revenue from right turn tickets.

An analysis of Redflex-issued citations in California is available in a 60k PDF file at the source link below.