6/1/2012
California Senate Votes for Red Light Camera Bailout
Unanimous California state Senate vote rescues photo ticketing firm from serious constitutional challenge.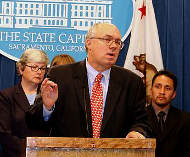 The California Senate voted unanimously Thursday to relieve red light camera companies of their most significant legal liability. At issue is whether the Confrontation Clause principles recently upheld in the 2009 US Supreme Court case Melendez-Diaz v. Massachusetts (view case) apply to the evidence generated by automated ticketing machines.

Based on the high court's precedent, red light camera photos could be considered hearsay unless the technicians at the red light camera company responsible for generating the evidence subjected themselves to cross examination in court. The legislation introduced by state Senator Joe Simitian (D-Palo Alto) would force the courts to dispense with any cross examination in a photo ticketing case.

"The printed representation of computer-generated information, video, or photographic images stored by an automated traffic enforcement system does not constitute an out-of-court hearsay statement by a declarant," Senate Bill 1303 states.

California courts have split on the issue of whether evidence produced by a red light camera company is hearsay. The Court of Appeal, number-two in the state's judicial hierarchy, issued a pair of rulings within a few weeks of one another that arrived at contradictory conclusions (view case). A federal class action suit is underway, and several lower courts have sided with motorists, following the reasoning of the Orange County Superior Court's appellate division in the 2010 Khaled decision (view case).

Simitian moved his rescue language in a little-noticed amendment added on Tuesday to a bill he styled in a press release as something that will "protect the rights of drivers by regulating red light cameras." His office did not respond by press time with an explanation of how solving a legal difficulty for the photo ticketing industry would "curb red light camera abuses" by the same industry.

"This bill is designed to establish some ground rules around the use of red-light cameras, and make sure that drivers' rights are protected," Simitian said in his written statement yesterday. "We want to be sure that if drivers get a ticket that they shouldn't have, they have a way to contest the ticket that's relatively quick and convenient."

The bill changes warning sign requirements to ensure signs are posted at intersection approaches monitored by cameras, eliminating an option that allowed cities to post signs only at the major entrances to the jurisdiction. It requires red light camera vendors to produce annual reports with basic ticketing information.

Simitian's bill also codifies the practice where vendors mailed unofficial "snitch tickets" that appeared to be real tickets but were not. These notices attempt to fool vehicle owners into identifying who should receive the $500 ticket when the driver's actual identity is not clear from the photo. California law requires a positive identification of the driver because the ticket carries a point against the recipient's license. The bill also creates a presumption that red light camera evidence is accurate, placing the burden on a ticket recipient to prove otherwise.

Simitian's bill must pass the Assembly and be signed by Governor Jerry Brown (D) to become law. A copy of SB1303 is available in a PDF file at the source link below.