8/14/2014
Redflex Officials Charged With Bribery, Fraud, Conspiracy
Federal grand jury hands down corruption indictment against former top Redflex Traffic Systems executive Karen Finley.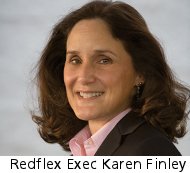 The former head of US operations for Redflex Traffic Systems was indicted Wednesday by a federal grand jury. Karen Finley, 54, was charged with nine counts of mail fraud, three counts of wire fraud, three counts of bribery and one count of conspiracy to use bribes to win and expand a lucrative red light camera contract with Chicago, Illinois worth $124 million.

"Rooting out public corruption remains one of the FBI's highest priorities," Robert J. Holley, special agent-in-charge of the Chicago office of the Federal Bureau of Investigation, said in a statement. "Today's indictment underscores our commitment to work in a collaborative effort to promote honest and ethical government at all levels and to prosecute those who allegedly violated the public's trust."

In May, federal prosecutors indicted John Bills, Chicago's deputy transportation commissioner, for accepting $643,000 worth of cash and benefits from Redflex in return for his providing essential insider information on how to win the lucrative contract for what became the world's largest municipal red light camera program.

The money and gifts were delivered through Martin O'Malley, a Redflex contractor who was friends with Bills and was also indicted Wednesday for his role in the plot. Prosecutors say that they have emails that show Finley not only knew what she was doing, but also that she tried to cover it up in 2007 after O'Malley accidentally sent an invoice to a Redflex employee who was not aware of what was going on.

"In an e-mail exchange with Individual A [Aaron M. Rosenberg] regarding the drafting of documents that would give Redflex an advantage in obtaining the contracts, defendant Finley admonished Individual A that Individual A's discussions with O'Malley about the drafts should not be in writing and advised that Finley was deleting her e-mails regarding the drafts as she was sending them," the indictment states.

On September 23, 2008, Finley signed an economic disclosure statement for Chicago falsely certifying that no Redflex employee had attempted to bribe any Chicago employees.

When Bills retired from the city, Finley and Rosenberg arranged to have the Traffic Safety Coalition, a front group funded and controlled by Redflex, hire Bills. When Bills left the group, Redflex hired his girlfriend.

Federal prosecutors are looking to seize $613,400 plus the proceeds of the sale of a condominium in Gilbert, Arizona as funds directly related to the bribery scheme. Finley faces up to twenty years in prison for each count of wire fraud. In a statement to Australian investors on Thursday, Redflex shrugged off the charges by pointing to a hundred jurisdictions that have renewed automated ticketing contracts in spite of the cloud of corruption hanging over the Australian company.