Related News
Redflex US Chief Calls It Quits
Redflex Profit Plunges 414 Percent
Red Light Camera Profits Continue To Tumble
Red Ink Mounts At Redflex
Redflex Employment Bias Trial Proceeds
View Main Topics:


Subscribe via RSS or E-Mail
Back To Front Page
5/15/2014
Illinois: Feds Charge Chicago Official Over Red Light Camera Bribes
US attorney files criminal complaint against ex-Chicago, Illinois official for accepting red light cameras bribes from Redflex.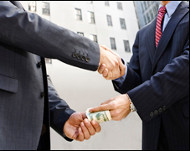 The fallout from the red light camera bribery scandal in Chicago, Illinois could mean ten years in prison and $250,000 in fines for those involved. The US attorney for the Northern District of Illinois on Tuesday filed charges against John Bills, the Windy City's deputy transportation commissioner, because he allegedly took bribes from Redflex Traffic Systems, the Australian firm that until recently ran Chicago's red light camera program.

Redflex allegedly paid Marty O'Malley, a friend of Bills, $2 million to be a consultant on the program that netted the firm $124 million over the life of the contract. According to the indictment, the "consultant" bought a $177,000 condominium in Gilbert, Arizona that Bills used on nearly two dozen occasions between 2008 and 2012. He also bought a 2000 Mercedes CLK 320 convertible for Bills and covered $643,000 worth of personal expenditures and debts for the city official.

Hotel rooms, car rentals, a laptop computer, meals and golf games for Bills worth $23,000 were expensed to Redflex.

The indictment says "confidential source 1," a former Redflex employee who fits the description of Redflex Executive Vice President Aaron Rosenberg met with Bills months before the contract was finalized in 2003. Rosenberg says Bills wanted to get money in exchange for his help in securing contract approval. Rosenberg paid for a hotel stay in Los Angeles along with drinks and meals for the Chicago official throughout the bidding process. Bills and the source met on May 26, 2003 and "strategized to ensure a favorable result." Bills and Rosenberg selectively took the worst test photos from a competing red light camera company and compared them with the best Redflex test photos and used them to argue in favor of the Australian company at an official contract evaluation meeting. It worked, and Redflex won the bid the next day.

As is a very common practice in the industry, Bills told Redflex that he expected a job at the company when he retired on June 30, 2011. Redflex did not hire him because a Chicago ordinance requires an official for working for the city to wait a year before going to work for a contractor. So Redflex instead set him up with a gig at the Traffic Safety Coalition, a front group for Redflex, identified as "Company B" in the indictment. Redflex increased payments to the front group to cover the salary for Bills.

Prosecutors worked with the Federal Bureau of Investigation, the Internal Revenue Service and investigators of the city of Chicago's inspector general to follow the money trail first made public in a series of Chicago Tribune articles. The question now becomes whether Karen Finley, the head of Redflex operations in the US at the time of the scandal, will be indicted next for her role in approving the bribery payments submitted by Rosenberg.

Rosenberg -- identified as CS1 -- has an immunity deal. He agreed to testify in the trial against Bills and signed a deal to avoid prosecution for bribery in another jurisdiction, which all but ensures that municipal officials in another city will be charged.

"In February 2013, the US Attorney's Office for the Northern District of Illinois gave CS1 letter immunity and thereafter, CS1 provided detailed information to federal law enforcement about Redflex corruption in Chicago and elsewhere," the criminal complaint explains. "In February 2014, CS1 entered into a Pre‐Trial Diversion Agreement in another district based on corruption in which CS1 had been involved in that district."

A spokesman for the US attorney's office would not confirm whether more indictments are forthcoming, but the investigation is ongoing.