8/23/2013
Southern California Cities Further Reject Red Light Cameras
Escondido, California city council votes to end photo ticketing immediately.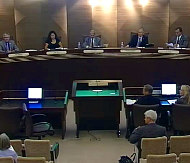 Embattled red light camera vendor Redflex Traffic Systems has lost another contract. The Escondido, California city council voted unanimously Wednesday to allow the Australian company's right to issue near $500 tickets expire on December 12, and ticketing will cease even sooner.

"If the council's direction is to terminate the contract December 12, 2013, I will be leading my staff to stop issuing citations immediately," Police Chief Craig Carter said. "That's my plan."

Redflex began issuing tickets in 2004 through the program that now monitors seven intersections. According to city data, five intersections saw a reduction in "red light running" collisions, a measurement that does not count rear end accidents. Three of these intersections had yellow times increased after camera installation, affecting the result. Excluding those locations, two camera-enforced intersections saw accidents go down and two saw them go up. During the same period, overall city accidents dropped 30 percent.

"Staff's analysis is the data on accident rates is inconclusive," Escondido Assistant Director of Public Works Julie Procopio said. "We didn't find any difference between photo enforced intersections and citywide. You're just as likely to be injured at a photo enforced intersection as you are citywide. So we didn't find anything to demonstrate that severity had been reduced."

The majority of Escondido's Transportation and Community Safety Commission recommended removal on August 8. Councilman Olga Diaz said that although she voted for red light cameras at her very first council meeting, she has changed her mind.

"Some of the best footage of really drastic collisions comes from red light cameras," Diaz said. "The cameras are there, the collisions still happen.... For a long time I've wanted to get rid of these."

Other councilmen were swayed by the $89,000 cost per intersection to run cameras compared to $2400 to coordinate signal timing and $5000 per year to add protected left-hand turns.

"Photo enforcement has the highest cost of all the countermeasures," Procopio said.

Currently Escondido loses $177,000 a year on the program while Redflex and the county and state governments profit from it. That turned out to be too high a financial cost for other city officials who otherwise support photo ticketing.

"I think the amount of money that we're losing doesn't justify it," Councilman Ed Gallo said. "The thing that really screwed this whole thing up was when we started this, we were paying a per-citation fee. And then the state of California got lobbied heavily, by the red light camera folks I'm sure, to make it a flat fee, because they could see that the citation numbers were decreasing."

Recent California cities to drop their red light camera programs include Corona, El Cajon, Emeryville, Yuba City, Glendale, Gardena, Grand Terrace, Hayward, Loma Linda and Whittier, Los Angeles, Moreno Valley, Pasadena, Poway, Rocklin, San Carlos, San Diego, Union City, Yucaipa and Costa Mesa. Berkeley, Burlingame, Cupertino, Compton, El Monte, Fairfield, Fresno, Fullerton, Indian Wells, Irvine, Maywood, Montclair, Paramount, Rancho Cucamonga, Redlands, Roseville, San Jose (photo radar), Santa Fe Springs, Santa Maria, Santa Rosa, and Upland have also canceled their contracts.