3/11/2013
Redflex Sues Its Own Employee Over Chicago Red Light Camera Scandal
Redflex Traffic Systems throws its executive vice president under the bus over Chicago, Illinois scandal.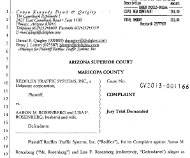 Red light camera companies have been known to sue their own customers, as well as one another. Now a photo ticketing firm is suing its own senior management. Redflex Traffic Systems has been dragged down by allegations of widespread corruption, and the firm is seeking to transfer the blame with a lawsuit against former Executive Vice President Aaron M. Rosenberg.

"This action arises out of Mr. Rosenberg's intentional and secret scheme while Redflex's executive vice president of sales to misappropriate funds from Redflex and to commit other dishonest and unethical acts in violation of Mr. Rosenberg's agreements with, and obligations to, Redflex," the lawsuit claims. "Redflex seeks in this action both compensatory damages for the substantial injury to its business caused by Mr. Rosenberg's misconduct and exemplary damages to deter him and others from engaging in similar misconduct in the future."

The suit was filed in Maricopa County, Arizona Superior Court on February 20, the same day Redflex fired Rosenberg. The suit names both Rosenberg and his wife, Lisa, as defendants. Rosenberg had been with Redflex for eleven years where he was responsible for business development and account management at the Australian firm. Rosenberg reported directly to the CEO from the day he was hired through an executive recruiting firm. Previously, he had worked for the failed DotCom bubble firms such as Verticalnet. Redflex blames Rosenberg for the extra effort he put in to secure the Chicago, Illinois red light camera contract -- the most lucrative photo ticketing contract in the entire country.

"Mr. Rosenberg's misconduct includes: numerous submissions to Redflex for reimbursement of thousands of dollars in expenses of a personal nature, wholly unrelated to the business of Redflex; ...inappropriate payments and gifts on behalf of Redflex to employees or agents of Redflex customers; [and] attempts to conceal his misconduct by, for example, submitting expense reports without supporting documentation, altering the dates the charges were incurred and altering the description of the charges on the expense reports so as to disguise their true nature," the lawsuit claims.

Redflex alleges Rosenberg used his expense account to funnel gifts, sports tickets and lavish vacations to a contracting official with the city of Chicago. The scheme would have gone unnoticed had a whistleblower not tipped off the Chicago Tribune, which has doggedly pursued the story. The scandal has sent Redflex stock tumbling below the 82 cent mark -- the lowest it has been in a decade. The company issued a statement to Australian shareholders Thursday advising them of more bribery cases on the horizon.

"The investigation by Sidley Austin has identified potential issues involving Redflex Traffic Systems Inc and certain former employees in two additional geographies in the United States," the statement explained. "As the investigation is continuing, Redflex is presently unable to advise the extent of the potential issues and will keep the market informed of developments in this regard."