Related News
Tennessee Legislature Scales Back Future Speed Cameras
Tennessee Lawmakers Water Down Traffic Camera Ban
Texas: Red Light Camera Firm Makes Second Attempt To Block Vote
Ohio Judge Puts Freeze On Traffic Camera Limitation For Toledo
Ohio Supreme Court Takes Up Another Speed Camera Case
View Main Topics:


Subscribe via RSS or E-Mail
Back To Front Page
10/4/2012
Maryland Governor Pushes Photo Ticketing Agenda
Maryland governor pushes agenda of speed camera and toll road enforcement firms.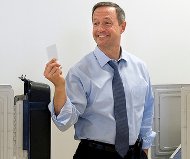 While New Jersey Governor Chris Christie (R) dropped his endorsement of photo enforcement last week, Maryland Governor Martin O'Malley (D) took to the airwaves Tuesday to defend it. In an interview on WTOP Radio's "Ask the Governor" show, O'Malley sung the praises of a program run by a corporations that provided thousands in donations to his campaign.

Since its inception, the statewide program run by Affiliated Computer Services (ACS, now a subsidiary of Xerox) has issued one million photo tickets worth $40 million since November 19, 2009. ACS stations cameras in freeway "work zones" where the speed limit has been reduced, issuing the majority of citations at times when no construction is taking place or when no workers were present. The General Assembly resisted attempts in the most recent session to re-write the statute to prohibit ticketing in workerless work zones.

"While the county has the ability to do them in school zones, our state has the ability to put them up in work zones," O'Malley explained. "It's clearly working in the state where we have those speed cameras up in the work zones."

According to state campaign finance records, ACS handed $4000 to O'Malley's campaign in 2007. The Dallas-based firm sent another $1000 to the Prince George's County Democratic Party. ACS was one of four corporations actively lobbying to land the lucrative contract, with the issue generating a grand total of $707,725 for the campaign warchests of O'Malley and members of the General Assembly from all parties with a direct financial stake.

O'Malley addressed another issue of great interest to the photo enforcement industry. A reported $6 million in unpaid photo tickets have been issued from the state's toll roads. O'Malley focused on rental car firms.

"There's a lot of conversations going on with regard to collecting money with regard to the rental car companies," O'Malley said. "The broader challenge, what we need to do is amend an ambiguity in the law, whether the Maryland Toll Authority has the power to suspend drivers' registrations. That was a bill we had in the General Assembly to make that clarification... That bill will be coming back in the coming session. In the meantime, I've directed the department to use all available means to collect these tolls."

O'Malley explained the state should prosecute the rental car companies and individuals regardless of whether it has the legal authority to do so.

"If there's some ambiguity as to whether they have the authority to suspend those registrations, they should let the scofflaws raise that defense and not be raising it against themselves," O'Malley said.

Such prosecution of rental car companies is what drove at least four of the top firms to sign deals with the American Traffic Solutions (ATS) subsidiary called PlatePass which automatically deducts the price of photo tickets from the credit cards of rental customers, plus an added $30 fee. ATS principals Jim Tuton, Adam Tuton and Adam Draizin cut checks totaling $1500 to the Maryland governor's campaign, even though they all reside 2300 miles away in Arizona.