10/2/2012
New Jersey Governor Reverses Course on Red Light Cameras
Chances of legislative action to curb red light cameras increases with support of New Jersey governor.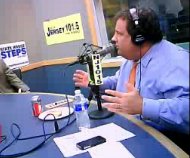 The days may be numbered for red light camera programs in New Jersey. Governor Chris Christie (R) announced his support for legislation that would curb the program while taking questions from callers on New Jersey 101.5 radio's "Ask the Governor" show on Thursday.

"The fact is, we need to make some changes to the program, and those changes can only be made legislatively," Christie said. "I can't by executive fiat do anything other than suspend the program -- which I did once -- to verify that it was in compliance with current law, which it was... Believe me, this wasn't my idea in the first place, so I got no stake in this thing."

Only two months earlier, Christie appeared on the same program to say he had no problem with automated ticketing machines. Since then, he has heard loud and clear from members of the public and the legislature interested in shutting down the program.

"I get the emails all the time," Christie said.

He refused to support an outright camera ban without sitting down with the original proponents of photo ticketing to hear their side of the issue.

"I also as governor can't go off and say things like 'let's abolish it' without taking time to really hear from the folks who wanted it in the first place," Christie said. "So we're engaged in that process, we're engaged with Declan O'Scanlon, who's doing a good job with this, and we're going to try to fix it."

Assemblyman Declan J. O'Scanlon Jr. (R-Monmouth) on Thursday introduced legislation that would significantly lengthen the amount of yellow warning time given to motorists at camera intersections. In achieving this goal, O'Scanlon departs from the approach taken in the states of Ohio and Georgia where one second is added to the existing yellow timing at photo enforced intersections. Instead, O'Scanlon's proposal modifies the existing statutory formula to set a minimum yellow time of 4 seconds. If the speed of traffic exceeds 35 MPH, the yellow must be at least 5 seconds, 5.5 seconds above 40 MPH and 6.0 above 45 MPH. The bill would serve as a de facto prohibition on camera use at intersections with average speeds over 50 MPH because it would require yellow time in excess of 6 seconds, in violation of federal regulations.

O'Scanlon's bill would also limit the number of tickets issued for split-second, technical violations by setting a 0.5 second grace time after the light turns red before a ticket may be issued -- a provision taken Virginia's red light camera law. He would also reduce the cost of a ticket to $20.

"He's all over this issue, cares about it deeply," Christie said. "We're willing to work with him. And hopefully the Democratic legislature will be willing work with him, too, so we can get a solution to the problem."

Christie also addressed pending legislation that would fine drivers $20 if they were pulled over with an unrestrained dog in the vehicle.

"It's the stupidest thing I ever heard in my life," Christie said. "This will tell you everything you need to know about the New Jersey state legislature under the Democrats. They're actually spending their time on this... Let's make sure that our dogs wear seat belts. This crap makes us the laughingstock of the country.... I will veto that so fast... I don't want my name anywhere near something that stupid."

A copy of O'Scanlon's red light camera legislation is available in a 45k PDF file at the source link below.