7/9/2012
Italy: Police Chief Busted in Speed Camera Scam
Top cop in Pistoia, Italy under house arrest after being accused of rigging a lucrative speed camera contract.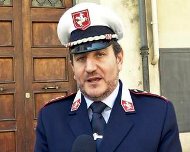 The top cop in Pistoia, Italy was placed under house arrest on Friday, accused of rigging a contract with a speed camera company. Police Chief Giuseppe Napolitano is suspected of working with businessman Carlo Alberto Diddi in accepting gifts or other benefits for the contract worth 39,950 euros (US $49,030) to install an automated ticketing machine on the highway.

The contract was awarded on February 9 to Diddi in an amount that was just 50 euros under the threshold that triggers a public procurement process. Prosecutors argued that the amount was intended only as the first step in the financial arrangement between the company and Pistoia. Another 23 city officials and various company employees were arrested on June 11 as part of a wider procurement scandal involving road construction and a music festival. The investigation used resources of several law enforcement agencies, including the Guardia di Finanza which gathered information using wiretaps.

Despite the seriousness of the fraud charge, the Tuscan city's top political leader lined up in support of Napolitano. He also appointed an interim police chief to take over Napolitano's day-to-day duties.

"In a civilized country, the presumption of innocence should apply to all until final judgment," Mayor Samuele Bertinelli wrote on his Facebook page. "I hope that Chief Napolitano can fully demonstrate the facts alleged against him are not true. Meanwhile I will give my full support to the municipal police so that it can continue its work without interruption under the authoritative leadership of Annalisa Giunti."

Italy's financial crimes unit, the Guardia di Finanza, has been particularly aggressive against photo enforcement. Last year, there were four raids with a pair of police officers arrested on charges of soliciting bribes from people falsely accused of speeding. Seven were arrested in Frosinone for rigging speed camera contracts. In March 2011, the Guardia di Finanza announced five indictments in Brescia. In August 2009, speed cameras were shrouded in black plastic as up to 200 officials faced charges in Caserta. In September, a judge ruled that a group of 15 mayors, cops, speed camera company employees should stand trial on fraud charges.