8/6/2009
Italian Authorities Conduct Third Speed Camera Raid
Local officials and speed camera contractors in Caserta, Italy under investigation for fraud.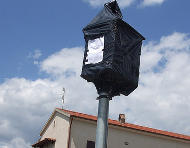 Motorists who passed by speed cameras and red light cameras yesterday in the province of Caserta, Italy were greeted by the sight of the devices shrouded in black plastic trash bags. They were not vandalized. The carabinieri -- a national police force -- affixed official warning notices explaining that the cameras were in "protective custody under Article 321." An investigation is underway into possible fraudulent conduct on the part of local officials in thirty-three municipalities as well as fourteen private companies who operated the equipment under contract.

In addition to seizing camera equipment, documents were taken from the offices of both photo enforcement companies and local police chiefs and mayors. The raids were directed by the public prosecutor in Santa Maria Capua Vetere. Investigators are looking at a number of issues including the failure of municipalities to properly record the amount of fines in budget documents, the use of unlawful contract arrangements with private companies and the irregular handling of sensitive personal information. The cameras have been a source of public complaint in the area as they are most frequently used in hidden locations and on curves in the road, contrary to official policies. As many as 200 individuals face charges that include perjury by a public official, abuse of office and fraud.

This is the third major investigation into photo enforcement fraud so far this year. In June, the Guardia di Finanza raided a speed camera maker in Brescia over the issue of cloned serial numbers. In January, the carabinieri arrested red light camera maker Stefano Arrighetti and seized automated ticketing machines from 54 municipalities that used the "T-Red" brand of intersection camera on charges of contract irregularities and the shortening of yellow light timing at intersections.

The consumer watchdog group Codacons insisted that motorists be provided with full refunds.

"Money that was taken through fraud using speed cameras discovered to be rigged in Caserta must be returned -- with interest, of course -- to the people affected by high penalties and illegal equipment," Codacons President Carlo Rienzi said in a statement. "If this is not done automatically, necessary legal action must be taken against municipalities that are found guilty."

Rienzi also called for the investigation to be extended to cover every city in Italy that uses photo enforcement.

"The story clearly demonstrates how municipalities are using illicit tools and violating the law to make cash," Rienzi said.