10/27/2008
Canada: Judge Lets Cop Walk in Photo Radar Bribe Case
Judge completes the task of clearing all players in the Edmonton, Canada photo radar bribery scandal.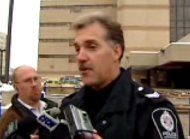 A judge in Edmonton, Canada last week cleared the last remaining participant of all charges in the city's photo radar bribery scandal. Sergeant Tom Bell, 50, accepted lavish gifts from Affiliated Computer Services (ACS) between 1998 and 2004 while the company was attempting to land the right run the city's lucrative speed camera operation. Bell even had an affair with a blonde ACS employee. While several other Edmonton Police Service employees, including Staff Sergeant Kerry Nisbet and former Chief Darryl da Costa, accepted similar benefits, Bell alone stood accused of returning the favor.

On March 1, 2004, Bell wrote a memo falsely stating that ACS alone was capable of running Edmonton's speed camera program and that the company should be awarded a no-bid contract worth $90 million. Court of Queen's Bench Justice Bryan Mahoney believed this amounted to ordinary conduct and that it did not amount to a "serious and marked departure from the norm." For that reason, he could not find Bell guilty of taking bribes despite "some poor choices and errors in judgment," as reported in the Edmonton Sun newspaper.

Mahoney discarded the testimony of Bell's ex-wife, Sayler Reins, claiming that she was motivated by bitterness. Reins had asserted that Bell's primary motivation in writing the false memo was the hope that he would be rewarded financially after leaving the police force.

"He wanted ACS to get the contract before any of the other companies had a chance to apply for it," Reins testified. "By securing the contract for ACS, he thought it might help him secure a job with ACS, not in their Edmonton office, but in Arizona."

ACS routinely hires police officials who are helpful to their cause, often using them to lobby former colleagues in other cities to install photo ticketing systems. Instead of believing Reins, Mahoney put his trust in the testimony of three ACS officials who claimed that Bell was never promised a job. In 2006, the two top executives at ACS were forced to step down after admitting to unethical conduct.

Edmonton has a history of clearing police involved in scandal. In 2005, no charges were brought against police officers who attempted to frame Edmonton Sun columnist Kerry Diotte for drunk driving because he wrote a column criticizing the city's photo radar program.